Making the Case for B2B Content Marketing: Why Professional Services Executives Should Care
As a professional services executive, you have a lot on your plate. Between concerning yourself with billing rates, recruitment, retention and overall firm growth, B2B content marketing can struggle to make your list of priorities. You might know it's important, but you still aren't quite clear on the purpose.  
Take a conversation we recently had with a CEO of a multi-million dollar firm. After mentioning he was pleased with the outcome from our recent work in re-launching the firm's website and developing a content marketing strategy, he asked, "So, about this content marketing—what exactly is it again?" Despite knowing his firm needed content marketing and even taking steps to provide it, he still didn't know what he was getting.
So, what is content marketing?
Content marketing is the process of producing informative and valuable content to help your target audience educate themselves. These materials can come in the form of blog posts, videos, eBooks, webinars or white papers. The key is providing information without directly promoting your firm.
Content marketing works by building the brand strength of your firm. Consider your brand strength as a combination of your firm's reputation multiplied by your visibility in the marketplace. Content marketing helps increase both. By providing educational content, you give prospective clients a taste of what it may be like to work with you and help to establish your firm as an authority in your field. Plus, search engines love content. Producing content helps increases your ability to be found in search (SEO) and makes you more visible to prospective clients.
Now, you might be thinking, "…aren't we already doing this on our website?" Unfortunately, the answer in most cases is no.
The challenge of content marketing
The reason behind this is that content marketing isn't easy. It requires the frequent generation of educational content that your target audience will find interesting and engaging—that's a tall order. Many firms struggle to get into the swing of continuous production. Why? It's one thing to identify the issues and topics for content, but it's another thing to create content that is appropriate to the various consumption channels (video, blog, webinars, etc.). Once that content is created, it still needs to be pitched and promoted so as to extend its reach (think publishing beyond your firms' website).
It's also important to remember the disconnect between producing "marketing content" and  "content marketing." Marketing content serves the purpose of selling and promoting the firm overtly and is usually produced by internal staff. B2B content marketing requires a complete shift in mindset and execution. Since the purpose is to discuss topics of interest to your target audience, your content should be completely externally focused and almost never talk directly about what the firm does.
While this type of content can be produced by an internal staff, succeeding at this process requires a myriad of skill sets—skills that likely can't be satisfied by one in-house person. Instead, you need input from a spectrum of specialties and specialists. A typical B2B content marketing team might look like this:
Marketing strategists
Online marketers
Writers
Designers
Outreach strategists
With such a diverse skill set, it's no wonder that many firms opt to work with external providers. While you could certainly hire people to fulfill all the requirements of a successful content marketing strategy, external providers are professionals who are used to keeping up with the changes in the marketing landscape.
What should you do now?
As a C-Suite individual, it's important to know if you're asking the right questions of your staff. Don't just stick your head in the sand and let the phenomenon of content marketing pass you by. If you're not moving forward, you can bet your competitors are.
The concern is no longer with whether professional services buyers are searching for providers online—they are. Now it's time to be concerned with whether your firm is getting found. Content marketing is the fuel for your website and, more importantly, search engines. Creating high-quality content helps the right prospects find you for the right reasons.
Additional Resources:
How Hinge Can Help:
Hinge has developed a comprehensive plan, The Visible Firm℠  to address these issues and more. It is the leading marketing program for delivering greater visibility, growth, and profits. This customized program will identify the most practical offline and online marketing tools your firm will need to gain new clients and reach new heights.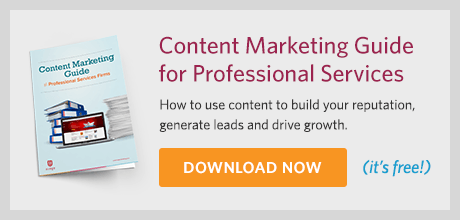 Industries & Topics