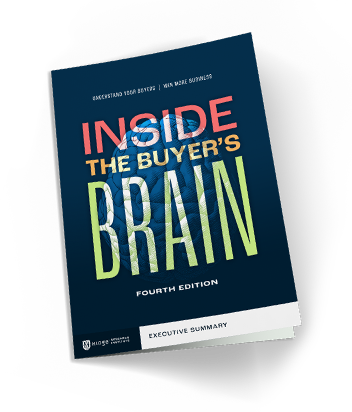 Free Research Report
Inside the Buyer's Brain, Fourth Edition: Executive Summary
Read the latest findings from the largest study of professional services buyers and sellers to date. It's free!
How well do you really know your buyers? Probably not as well as you think. In fact, buyer behavior has changed in significant ways over the past two years. 
Introducing the 4th Edition of our signature research study, Inside the Buyer's Brain. In this executive summary, we explore how buyers find and select their professional services firms, as well as how they approach the buying process. We explain exactly how buyer behavior is different today—and what you can do about it.
This research report includes over 40 pages of data, analysis and practical insights on buyer behavior—including nearly 2,000 professional services buyers across five industries. Use these insights to keep abreast of changing market conditions, anticipate the evolving needs of your buyers and make better decisions, sooner.
What you'll learn:
How have buyer challenges and priorities changed up over the past two years?

How are buyers searching for and evaluating professional services firms?

How does your industry compare to others in the professional services?

How do you address changes in buyer behavior and engage your critical key audiences?
About the sample:
Conducted between 2020 and 2022
1,914 buyers and 3,160 sellers sampled
Five major industry groups represented and compared
Interested in diving deeper into your industry? For a limited time, you can pre-order the industry report of your choice for 40% off. Hurry! This offer expires when the reports are released in early October.