What does it take to deliver a successful rebranding strategy? What can you expect from the process? And what do the final results look like?
If you are thinking about bringing new life to your professional services firm brand, this article can help you answer questions like these and lay a path to a smooth and successful outcome. While every firm is different, there are a set of rebranding strategies that are proven to work for any firm, whatever its size or industry.
In this article we explore common reasons firms undergo a rebrand. Next, we take you through a proven seven-step rebranding strategy that will deliver strong differentiators and positioning, clear messaging, and a fresh visual identity. Finally, we examine two real-world examples of firms that have undergone a rebrand. 
Let's begin by answering an essential question: why?
Purpose of Rebranding
There are many reasons why a professional services firm might consider rebranding. Here are four of the most common:
Refresh a tired brand.

The marketplace is continually evolving. After a few years of neglect, a brand can lose its relevancy, look and sound dated, and become a drag on a firm's success. 

Address a merger or acquisition.

A merger or major acquisition can create a major shift in target audience or business strategy. It may even require a new name.

Overcome a public relations crisis.

Rebranding can be an effective way to change negative public perceptions and begin the process of rebuilding a firm's reputation.

Reposition the firm.

Most professional services firms lack strong differentiators or a compelling reason for buyers to choose them over competitors. Rebranding can uncover your differentiators and tell a powerful story.
These four reasons have one thing in common: firms need to connect at an emotional level with their audiences. Rebranding equips firms with the messaging, visuals, and credibility to stand apart—and stand for something. In a crowded and confusing marketplace, a strong brand gives buyers a reason to notice you. And to care.
If you have read this far in this article, you are probably at least thinking about a rebrand. Whatever specific reason is driving your interest, you have to consider one more thing: how do you rebrand your firm in a way that yields the business result you desire?
That's what we're going to cover next. What is the right strategy to rebrand your professional services firm? Let's find out! (For more in-depth coverage, check out our Rebranding Guide.)
A 7-Step Rebranding Campaign
If you go into it without a plan, rebranding your firm can take many wrong turns and waste a lot of time and money. But if you approach it methodically and lay a solid foundation, the process should be smooth and exciting. The rebranding strategy below is based on two decades of experience with professional services firms of all stripes. It works because it builds on each piece that comes before. 
1. Start With the Business Reason
Any rebranding strategy should start with a thorough understanding of the business reason behind the rebranding. Is it driven by a need to accelerate growth? Does your firm need to compete with larger, more established competitors?
Some of these business cases are very easy to make, such as a merger of two firms. Others are more subtle, such as outgrowing your image. If you are not clear about the business reason driving the effort, you run the risk of wasting a tremendous amount of resources. Some of the other top reasons to rebrand your professional services firm includes:
You need to compete at a higher level or in a new market.
Your brand no longer reflects who you are.
Your firm is spun off from an existing brand.
You have a legal reason compelling you to change.
You need to simplify and focus your message.
You have a new marketing team.
You are launching a new service line.
2. Research Your Firm and Your Target Clients
When you are clear on the business case for a rebranding, the next step is to conduct independent research on your firm and your clients. If you are attempting to move into a new market, that research should include your new target clients as well. The goal is to have an objective understanding of your current brand perception and competencies.
Without this research, you will be operating from an internal perspective only. Our own research on professional services buyers and sellers shows that virtually all firms have blind spots and distort how the marketplace sees them. After all, we are all human. Without objective research, you will build a brand on false assumptions.
3. Use Positioning and Messaging to Capture Your Brand Strategy
As you develop your firm's market positioning and messaging architecture, you will uncover the essence of your brand strategy. Your market positioning is a brief description of where you fit into the market space. Are you an innovative leader or a low cost provider?
This positioning will drive many of your subsequent decisions. But you can't just make something up. It needs to balance who you are as a firm and who you want to become. You must be able to support your positioning or your brand will be hollow.
Your messaging architecture articulates your messages to each of your main audiences. These messages must be consistent with your overall brand and supportable. This is not marketing copy. It is the skeleton upon which marketing copy is built.
4. Build Your Brand Identity
This is the part of the rebranding strategy where you develop the visual elements that will communicate your brand. Think firm name (if needed), logo, tagline, colors, business card design, stationary, and the like. These elements are often described in a brand style guidelines document, which provides a set of parameters to ensure your brand is implemented consistently across all of your marketing materials.
Many folks confuse these elements with your brand. Your brand is your reputation and your visibility, not your firm's name or its logo. Your brand identity is a sort of visual shorthand for your brand.
5. Build Your Website and Online Presence
Your website is your single most important communication and business development tool. It is the place where you can tell a compelling story to each of your audiences. It is the first place a prospective client or employee will turn to learn more about your firm.
It is no exaggeration to say that a website and your online presence are the heart of a modern professional services firm. All rebranding strategies eventually involve your website. In a very real way, a website is built on the framework of your messaging architecture. Together with your remaining online presence (think social media, for example), it is the full expression of your positioning.
6. Marketing Collateral
At this point in your rebranding strategy, you will develop all of the marketing materials that you need to communicate your brand and services messages. Think pitch decks, proposal templates, brochures, one-sheet fliers and trade show booths.
These are the tools that you will use to communicate your message. They should be firmly anchored in your brand strategy.
7. Brand Building Plan
The final element of your rebranding strategy is to develop a plan to promote and strengthen your new brand. How will you launch it internally? In professional services, it is essential that your employees embrace the new brand. After all, they are your product.
It's also important that you build the brand in a way that communicates your firm's reputation and expertise, as well as its name. It must communicate your market positioning. Brand building is different for professional services.
Some rebranding strategies fail because they try to shortcut the process. Others fail because they picked the wrong partners to work with. But it doesn't have to be that way.
Start with a sound rebranding strategy. Find an experienced partner. Give rebranding the attention it deserves and the rewards will follow. A well-positioned firm that clearly communicates its brand is a formidable competitor indeed.
Rebranding Strategy Examples
To help you understand how a strategy like this plays out in the real world, we'd like to share two examples from our own practice at Hinge. In this way, you can see with your own eyes how and why rebranding works. 
Example 1: Jones CPA Group
Strickland & Jones was a 3-office accounting firm in the Tidewater region of Virginia. One of two founding partners had just left the firm, and the remaining owner—Stephen Jones—wanted to reconceive the firm and position it for growth.
Hinge took the firm through the rebranding process, including interviewing 43 clients, influencers and staff members and renaming the firm Jones CPA Group. During the research phase, we discovered that what clients valued most from the firm was their accessible, friendly, approachable style. We decided to position them as great communicators. While communication may not be a unique trait among CPA firms, none of their competitors were talking about it, much less building their brand upon it. And Jones was prepared to go all-in.  
To bring this concept to the fore, we did two things: we developed the tagline, "Let's talk success," and we created a logo that incorporated a speech bubble element. Together, they delivered a clear message that anyone could understand.
We also created a suite of stationery and collateral they could use to carry their message to the marketplace.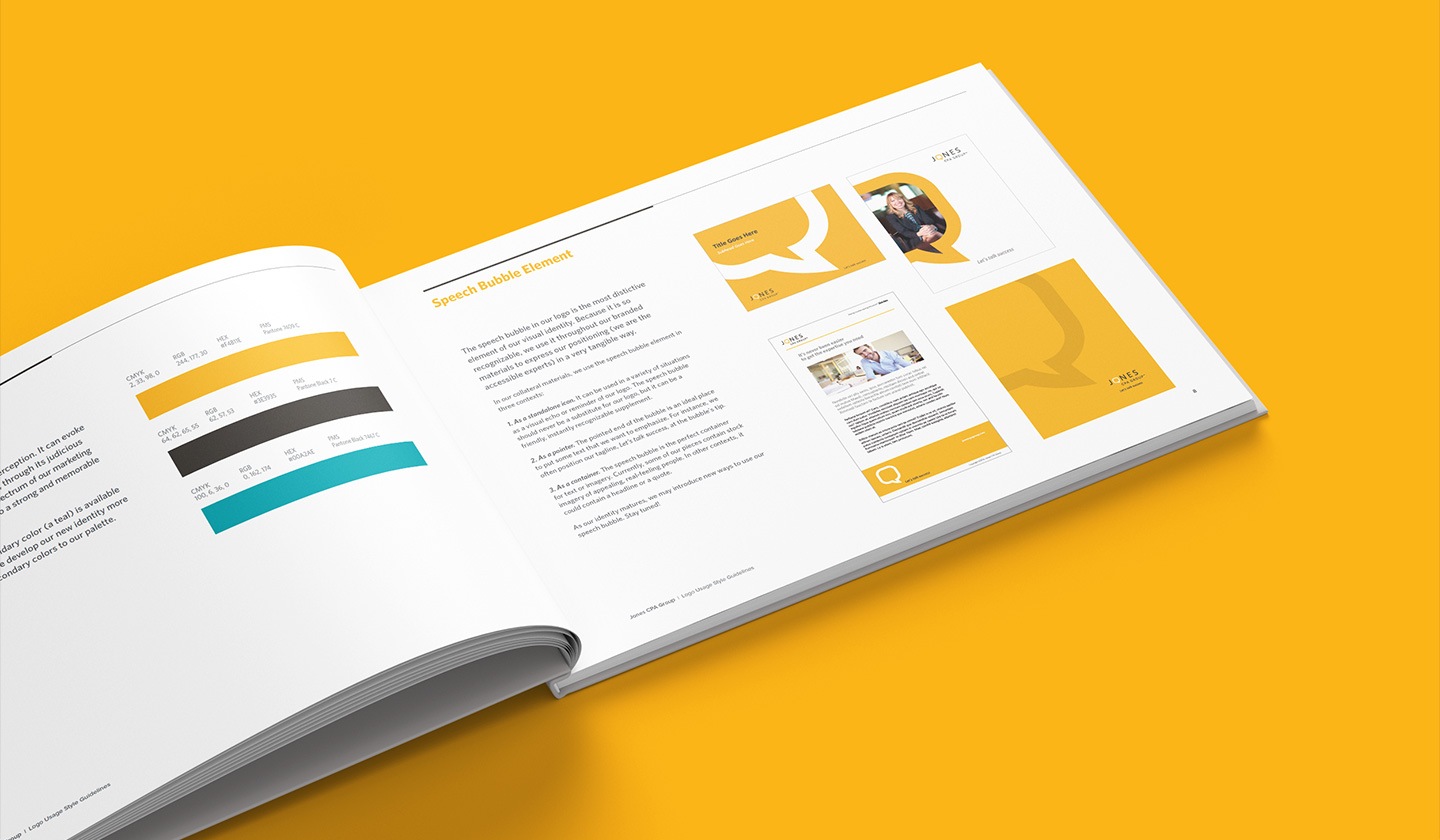 Example 2: S&ME
S&ME was a top-100 civil engineering firm that had grown through acquisitions—and it showed. With more than 30 offices across the eastern United States, they had no unified message or brand. It was time to look, sound, and act like the leader they were.
Hinge conducted research that provided the insights upon which we could construct a new, unified brand. We learned that perhaps their greatest asset was their versatility, so we built their positioning around that concept. To communicate that positioning to the marketplace, we developed a tagline: "Built for versatility."
Next, we redesigned the firm's logo to anchor their new visual identity and give them a modern look unlike any of their competitors. The new mark features the letters S, M, and E configured out of just two basic shapes—a literal expression of versatility!
We developed a new color palette, dominated by a vivid green, and built out the rest of their identity and collateral. Finally, we designed and launched a powerful new high-performance website, featuring the new positioning and equipping the firm to grow with confidence.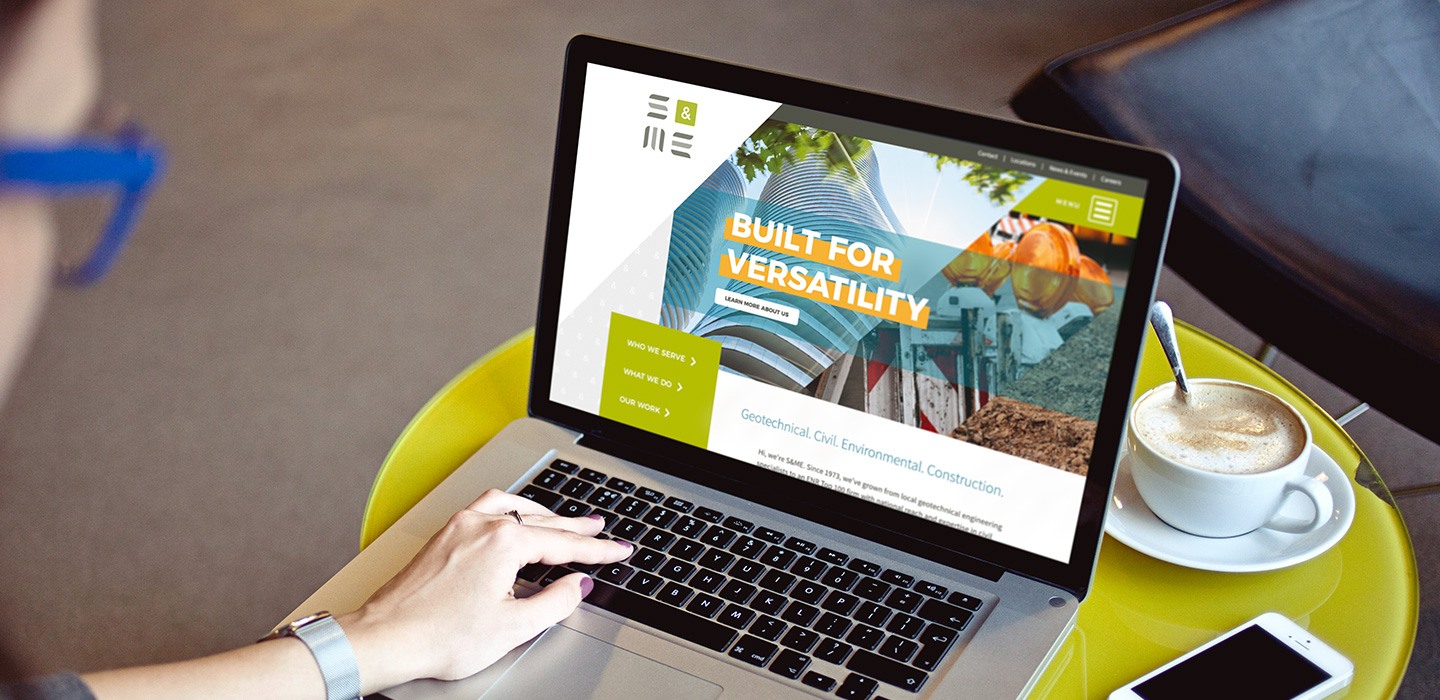 Take a Bold Step Forward
If you are ready to embark on a rebranding journey, use the roadmap we outline above to get the most out of your investment. Change is never easy, but it can be a lot of fun if you approach it with the right strategy and mindset. In fact, rebranding can—and should—be one of the most exciting and rewarding initiatives your firm will undertake. You'll uncover opportunities you never knew existed. And you will give your team, your clients, and your prospects a whole new reason to believe again.
How Hinge Can Help
Develop rebranding strategies that better connect with existing clients and prospects. Hinge's Branding Program can help your firm stand out from the competition and build a brand that drives sustained growth.