Anyone involved with decision making at an accounting or financial services firm knows the industry is undergoing dramatic changes—some which have progressively emerged for years while others no doubt were exacerbated by the global COVID-19 pandemic. The effects of those changes are hitting firms from every angle and producing a whole new set of major business challenges.
At CPA firms across the country, aging baby boomers in senior roles are approaching retirement and driving consolidation. Throughout the marketplace, a pitched battle is underway to secure the top talent. Acceleration in disruptive technology has changed the way buyers buy services. In this demanding and highly competitive environment, the ability to anticipate emerging challenges can spell the difference between market leaders and also-rans.
As part of its annual High Growth Study of professional services firms, the Hinge Research Institute surveyed nearly 1,300 professional services firms of many different industries and firm sizes .
Within this larger sample, we identified 171 accounting and financial services (A&FS) firms. These firms accounted for over $100 billion in revenue and employed over 160,000professionals.
While the study explored many issues, one of particular interest was participants' view of the challenges facing their firm over the next several years. And because this is an annual study, we were able to look at how these concerns have changed since the previous year. The results were revealing.
The Top 5 Business Challenges
So what were these leading challenges, and what do they mean for firms seeking to remain competitive in today's demanding and rapidly evolving marketplace? In Figure 1, we see that many of the top anticipated challenges from last year's High Growth Study have remained in the top 5.

Let's review these top anticipated business challenges one-by-one.
1. The need for new skills
For the second year in a row, the need for new skills is the number one anticipated business challenge for A&FS firms. 47.5% of respondents recognize that changes in technology and best business practices put substantial pressure on them to keep pace with new marketplace standards. After all, if they don't perhaps a competitor will! And keeping up, requires the right people with specialized skill sets.
When we discuss acquiring new skills, two potential solutions that come to mind: 1) training your existing workforce; and 2) hiring new talent who already possess the skills you need. Of course many firms use a mix of both of these approaches, but each comes with unique challenges. On one hand, upskilling your existing staff takes people away from billable work, while on the other hand, hiring specialized talent can be very expensive. Nevertheless, to compete for the best business, firms must ensure they have talent with the right set of skills.
2. Automation/artificial intelligence (AI)
Up from the number three spot in last year's study are issues related to automation and artificial intelligence—although the challenges seem to continue to evolve. Today, it is not only about keeping up with rapidly changing technology. It's also about being replaced by technology. If you offer a routine compliance service, can a cheaper AI-powered solution be far off?
Often, common business challenges in an industry double as rich opportunities, and this is just such a case for A&FS firms. For example, firms that leverage the power of marketing automation have a distinct advantage. We are also seeing an increasing trend toward packaging technology and professional services together as new "products." It's precisely because the field as a whole is struggling with technology that using it successfully can be so effective.
3. Changes in how buyers buy your services
Buyer behavior is shifting and 42% of respondents don't see this trend slowing down in the future. And this concern is not unique to accounting and financial services. Firms across the professional services spectrum struggle with the same issue.
A&FS buyers are increasingly turning to digital channels for answers to their business-related problems. This trend demands that firms continue to improve the maturity of their digital marketing techniques as well as the tools they use to reach prospects on digital channels. High growth A&FS firms have embraced accommodating prospects digitally and see about 30% more leads from digital sources than their no growth counterparts.
4. Downward price pressure on services
Up 16% since last year's study, downward price pressure on services once again finds itself in the top five anticipated business challenges for the future with 41.4% of respondents selecting it. When we talked with top management, it became clear that multiple factors are driving this concern. Unsurprisingly, commoditization of services is front and center. But it is not the only force in operation. Increased competition and automation also play important roles.
One of the most successful strategies to combat price pressure is to focus on making your firm's high-value expertise more visible in the marketplace. You may have such experts in your firm already: individuals who are widely recognized in the industry, and even beyond, for their talents. These well-known professionals, whom we call Visible Experts®, boost the perception of your overall brand among both clients and employees—and they tend to command higher billing rates as the visibility of their expertise increases.
Our research shows that it's possible to cultivate Visible Experts® in your firm through a program of consistent, replicable techniques.
5. Managing a remote workforce
Making its debut in as a top five anticipated business challenge for A&FS, 40% of respondents recognized the challenge of managing a remote workforce. This of course is not a surprise! The global COVID-19 pandemic forced businesses across all professional services to increase their capacity to conduct business virtually. Among all professional services firms this was the second highest anticipated challenge just behind unpredictability in the marketplace.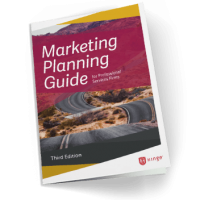 Marketing Planning Guide - Third Edition
The Marketing Planning Guide for Professional Services Firms
Download Now
High growth and no growth firms have different plans regarding their future plans to utilize office space with high growth firms being twice as likely to say goodbye to the office completely and conduct business full time remotely. Of course this is not an option for all businesses—especially those working on site with government agencies. But just as digital marketing and business development has changed the way we attract new clients, it has had a parallel effect on the way we will recruit and manage professionals in the future. The best talent is likely to demand a flexible, remote (or part remote) work environment.
Conclusion
Today, attracting and developing new clients and the talent to service them is a key business driver for CPA firms and other financial services businesses. As clients' needs, buying behaviors and expectations evolve, firms' marketing programs must adapt alongside them. At the same time, these marketing programs must also focus on attracting and keeping the best talent and providing them with the right technology for them to stay competitive.
As accounting and financial services firms attempt to address all of these challenges, they need highly strategic, coordinated marketing more than ever, and many firms may require expert guidance. The firms that are able to build a nimble, multi-purpose marketing machine will be the ones that compete successfully and grow.
How Hinge Can Help
Hinge is a global leader in helping professional services firms grow faster and become more profitable. Our research-based strategies are designed to be implemented. In fact, our groundbreaking Visible Firm® program combines strategy, implementation, training and more.