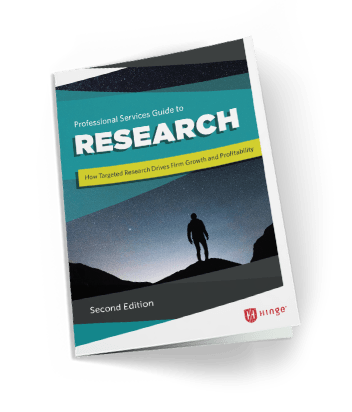 Professional Services Guide to Research – Second Edition
Professional services firms that conduct regular research on their target audience grow up to 10X faster and are almost 2X more profitable than firms that don't. But what kinds of research are best? And how, exactly, does it drive growth and profits?
This easy-to-read guide will teach you everything you need to know to get started. Find out how critical insights into your markets, clients, prospects and even your own staff can help your firm uncover new value and opportunities.
The most successful firms are investing in research. Isn't it time you did, too?
What You'll Learn:
The Impact of Market Research on the Bottom Line
Overcoming Objections to Doing Market Research
How Hinge Uses Research to Grow Professional Services Firms
Defining Your Research Goals
Selecting the Right Type of Market Research
Designing Your Research Approach
Benchmarking and Analyzing Your Results
Collecting Your Data
Tracking and Maintaining Your Brand