What is Brand Positioning and Why Does it Matter?
At Hinge, we've helped a lot of professional services firms position – and even reposition – themselves in the marketplace. We find that many professional services firms float more or less aimlessly through the marketplace, pursuing whatever business opportunities come their way, spreading their net of services ever wider to increase their chances of catching new clients. These firms become indistinguishable from the majority of their competitors, and they find that more and more often they compete on price.
It doesn't have to be that way. And being well positioned will make it much easier for you to develop new business.
Brand positioning is nothing more than a way to help prospective customers make sense of your business. When you position your firm, you begin to stand for something — something distinct and useful. Not everyone is going to want what you have to offer. But to those clients that need your services, your positioning will make your firm extraordinarily attractive.
So how do you develop an effective market position? The process is laid down in layers:
Research
Specialization
Differentiation
Research
Before you can craft a viable brand position, you have to understand the context in which your firm operates. How do your customers perceive you? Who are your true competitors (our research shows that many of them are not whom you expect)? What opportunities exist in the marketplace? Research can answer these and other critical questions. This research is best handled by a third party who can elicit honest feedback from customers, prospects and lost prospects.
Specialization
Once you have collected and analyzed the research, you should begin to understand where your strengths and weaknesses lie. Think about what you do particularly well and which kinds of clients are your best match. Is there a service offering you do better than most of your competitors? Or is there an industry that your firm knows in more depth than others? If you have the courage to specialize, your firm can be richly rewarded with higher margins, better clients and easier sales.
Differentiation
Aside from your specialty, there are many other ways in which you can set your firm apart from the crowd. Perhaps it's a proprietary process or tool. Or it could a different way you approach customer service. Many firms differentiate themselves visually — with color, their logo or ad campaigns. Go back to your research and see what your clients had to say. They often see things that you never noticed. Make a list of your top four to six differentiators.
Putting it All Together
Once you've done the research, selected a specialty (if practical) and articulated how you are different, you have all the elements for a brand positioning statement. At Hinge, we write this as a short paragraph — four or five sentences that describe your firm in the context of the marketplace. It should encapsulate what your firm is and what it aspires to be. If you get the positioning statement right, it will become the foundation for the rest of your brand. All of your messaging — from your elevator pitch to the headlines on your website — will flow from this deep well of inspiration. And you will refer to it again and again as you develop every other aspect of your brand.
Are you positioned for success?
Additional Resources:
How Hinge Can Help:
Hinge, a global leader in professional services branding and marketing, helps firms grow faster and become more profitable. We offer a comprehensive suite of research, marketing and strategy services. Our research-based strategies are designed to be practical for firms of any size. And our groundbreaking Visible Firm®program combines research, strategy, implementation, training and more.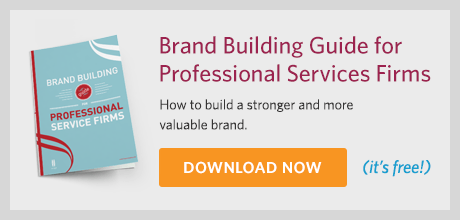 Industries & Topics