Here is a good question: What does it take to become a well-known industry expert?
More important, what value do such experts bring to their firms?
For our book, Visible Experts®, we researched these questions. We discovered that firms with experts who are highly visible in their industry are better known, attract more leads, and grow faster.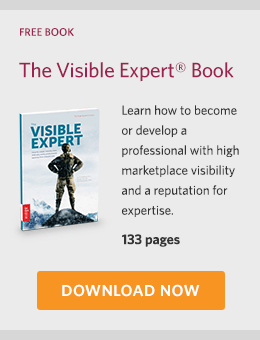 So, the next logical question must be, why does this happen?
The benefits of being a Visible Expert® extend beyond the individuals to their firms and peers. This phenomenon is known as the halo effect. With the halo effect, if a buyer perceives a Visible Expert in a positive light, she will likely believe that the expert's firm is wonderful, too.
SEE ALSO: Visible Experts: Why Every Firm Needs Them
The bottom line is, when Visible Experts rise to the top, they bring their firm along for the ride. For firms, there are a number of specific benefits associated with developing a Visible Expert:
Higher growth—66% of Visible Experts accelerate growth and business development for their firms.
The effect of Visible Experts

Brand building—62% of Visible Experts contribute to firms' brand-building activities.
Generating leads— Visible Experts also produce leads for their firms in a variety of ways, including content production (writing blog posts, articles, whitepapers, and books), highly visible speaking engagements (including keynotes, webinars, podcasts, and interviews), and networking and relationship building. Visible experts also help the firm focus on target markets, brining leads to the firm, rather than the firm searching for leads.
Higher fees—Buyers are willing to pay up to 13X more for an internationally known expert than for the average professional.
Rates buyers will pay for Visible Experts® by level

Of course, not all Visible Experts have the same degree of recognition and influence within their field. While some high-level experts—think Warren Buffett or Bill Gates—have achieved such extreme visibility that they are known well beyond the confines of their field, others enjoy expertise on a much smaller scale. For the purpose of our research, we at The Hinge Research Institute identified five different levels of visibility.
Level 1: The Resident Expert—An expert within his or her own firm and in the eyes of clients.
Level 2: The Local Hero—An expert who enjoys some recognition beyond the firm and may be asked to publish articles or speak at events.
Level 3: The Rising Star—An expert recognized regionally (and possibly nationally) who helps attract better business and can command higher fees based solely on reputation.
Level 4: The industry Rock Star—A widely recognized national name who has the ability to bring in top-tier business and command premium fees.
Level 5: The Global Superstar—The elite of the elite. Not only are these experts at the very top of their field, but they are also widely recognized beyond their industry.
From generating leads and closing sales, to attracting better clients and partners, Visible Experts play a major role in driving growth and profit for their firms.
Additional Resources
 How Hinge Can Help
Want to become an industry thought leader? It's one of our specialties. With Hinge's Visible Expert® Program, we can help you implement a thought-leadership platform that builds your reputation and visibility in the marketplace.