To-do lists, sticky notes, time blocking, daily, weekly, and monthly routines and checklists. These are just a few of the tools that I use to stay organized both professionally and in my everyday life. Some people may find keeping track of all of these tools to be stressful, but I'm stressed without them.
Spending time on social media platforms has become almost second nature to many marketers and professional services firms. And as the world continues to lean more and more into the digital marketing space, many of the best ways to engage your network of business connections are on social media platforms.
As much time as many of us spend on social media, you'd think that it would be easy to come up with fresh content to post. For most people, though, it's more difficult than it seems. But I've learned that it doesn't have to be! 
My secret is to use a social media content calendar to organize my thoughts and strategize our firm's content. With this tool, I feel more comfortable delivering a social media strategy than I have ever been before. In this post, I hope to educate you on the 5 biggest reasons why you need a social media content calendar to keep you on track.
Importance of a Social Media Marketing Calendar
Hinge's latest research on the fastest-growing professional services firms shows that these firms are dedicating more time and effort to content creation and social media marketing than their no-growth peers.
Professional services firms are interested in getting the most out of their organic social media marketing efforts. As we've discussed in a previous post, using an editorial calendar to organize your thought leadership content is instrumental to your success. The same can be said for social media.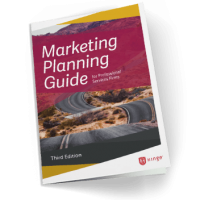 Marketing Planning Guide - Third Edition
The Marketing Planning Guide for Professional Services Firms
Download Now
If the thought of building a social media calendar seems like a daunting and complicated task, don't worry! We'll take it one step at a time. Your social media content calendar will become an essential tool that you and your marketing team use on a weekly or daily basis. Be sure to include when posts are published and who is responsible for posting them.
Here are five reasons why your firm needs a social media content calendar:
1. Your Social Media Content Calendar Will Save You Time.
Using a social media content calendar will ensure that your firm is allocating resources in the best, most efficient manner. In addition to tracking what you will post and when, this tool is also an "assignment board." This will inform individual team members when they are supposed to write content for social posts. It can also trigger team members to engage with existing posts in a timely fashion. Whether you have one person on your team or one hundred people, the best thing you can do to save time on social media content development is to give everyone visibility into your plan. Communication is key, after all.
Using a social media calendar also allows you to plan ahead and research future topics and posts in advance. Because you know what to prepare well ahead of time, you can avoid those last-minute scrambles.
2. Your Social Media Content Calendar Will Keep You Organized.
This may be the best reason for keeping any kind of calendar—especially a content calendar. 
Keeping a record of your posts allows you to see a snapshot of all the topics you've covered in the past so you can maintain a fresh perspective and balance the different types of content you post.
By mapping your calendar to specific social media platforms, you can stay organized across each of the channels you utilize.  Whether you use a simple Excel spreadsheet or an all-in-one automation platform like Loomly or Buffer to schedule content across multiple platforms, find a tool that works for you and your team.
3. Your Social Media Content Calendar Will Allow You to be Timely.
An editorial calendar makes it easy to publish content in conjunction with relevant campaigns and events. That way you won't forget to promote important content for specific occasions or launches. 
For example, do you want to promote new blog posts or other content on social media? What news is going on in your industry that your firm should be weighing in on? What upcoming events or conferences will you be attending?
You can easily include prompts or reminders to post time-sensitive content coordinated with key activities at your firm. This sort of integrated marketing ensures that your clients and prospects see your messages across different platforms.
4. Your Social Media Content Calendar Will Allow You To Be Relevant.
When you plan your social media content in advance, you create time to get feedback from your team members. Your calendar can be easily shared for further input, so you can make sure you're putting out the most relevant social media posts to achieve both your firm's marketing and business development goals.
Team members from different departments can use their unique perspectives to inform the choices you make on each platform. For instance, your business development team might have insights on current trends and client pain points that might make your posts more relevant to your prospects. 
Staying plugged into the market and what's important to potential buyers can also help you increase your ability to close the sale.
5. Your Social Media Content Calendar Will Build Credibility.
Consistency—posting and engaging frequently or on a regular schedule—is critical to building trust and credibility with prospects who may have never heard of your firm before. New followers will quickly learn that you're sharing educational content and that your firm has the depth of expertise to help them.
Followers like to know when they can expect posts from you, so maintaining a consistent calendar enables you to set and meet their expectations. Your audience will soon be able to anticipate your posts, which can make them feel more connected with your firm and the content you share. This can also help with engagement as you build your following and establish your credibility on each platform.
If you've been waiting to create a social media content calendar because you weren't sure you needed one or didn't think it would be worth the effort, it's time to think again. A social media content calendar can elevate your social media strategy to a higher level. Your firm can post, tweet, share and comment more efficiently with just a little extra planning.
How to develop a social media posting schedule
The first step in developing a social media schedule is to look at what the data tells you. Check in on the analytics on each platform and see how you have been performing. Do you notice that your audience on LinkedIn is the most active in the morning but your audiences on Twitter and Instagram are more active in the afternoon? Keep that in mind when scheduling your time to post.
If your individual platform analytics aren't so clear, a quick Google search will bring you some general recommendations for best times to post on each platform. But beware: your audience may behave differently! 
Some additional elements that you can include in this analysis are: most active days of the week, most active times of the day, how frequently you post each day, and if people engage differently with different post formats (for instance, text versus video)..
Once you've established some guidelines for when and what to post, it's time to do some testing. Monitor your analytics and see what you can learn from them. Whenever you think you've learned something, adjust your schedule, post formats or other parameters. It may take some time to determine what schedule works best for you and your audience, but I promise that this is time well spent.
Social media content calendar ideas
Now that you have the structure of a calendar in place, what do you actually share? Here are a few of my favorite types of posts to share on social media—and incorporate into your calendar:
Short sections from pieces of thought leadership with links to read more

Individual data points and insights from your latest research studies

Promotions for upcoming webinars

Videos of your experts sharing research insights

Timely promotions of white papers or executive guides

Mentions of your experts in the media

Highlights of your company culture
Want more ideas for content to share and tips to help you work smarter, not harder? Take a look at this blog post to learn more about one of my personal favorite topics: using research to solve your content production dilemma.


Final Thoughts
Social media is just like other proven marketing techniques—if you are not consistent and don't implement your plan, then it won't make a difference. Using your content marketing calendar to plan your social media activity keeps your entire team accountable for your goals and allows you to make adjustments when new opportunities arise.
How Hinge Can Help
Social media marketing should be a core component of your firm's overall strategy. Hinge's Visible Firm® is the leading marketing program for delivering greater visibility, growth, and profits. Based on more than a decade of research into high-growth firms, this program gives firms like yours the strategies and techniques used by industry leaders.