High quality premium content is arguably one of the most important elements of a successful content marketing strategy. It perfectly aligns with B2B buyers' behavior patterns. 
For example, buyers today are much more likely to research potential solutions to a business problem online than rely on a sales person to guide them. 
Savvy professional services firms and other expertise driven sales teams develop content specifically to educate potential clients and showcase their expertise and areas of focus. In short, it helps establish you as a thought leader in your space.
Despite all these advantages, premium content is often misunderstood as a marketing concept and poorly applied in practice. Let's see if we can fix some of those shortfalls.
But first… What exactly do we mean by the term premium content?
Premium Content Defined
Premium Content is any type of content that is highly valued by the target audience. It is typically longer, more in depth, and not widely available. Access to premium content is typically restricted and often requires either registration or payment. Premium content is commonly used in content marketing campaigns.
Uses of Premium Content
There are two broad uses of premium content. The first is in content marketing or thought leadership marketing programs. In this context, premium content is widely offered to a target audience, often through advertising, social media, or blog posts. To access a premium piece, an individual is typically required to fill out a registration form and provide an email address or other contact information. Since people are often reluctant to share their contact information, the content must be compelling enough to overcome this objection.
However, not all content marketing programs require a form fill to access their premium offerings. Instead, they use open-access strategies to lower the barriers to engagement and rely on the content to be powerful enough to convince prospects to reach out to the firm with their business needs.
The second use of premium content is as a paid product offering. This business strategy is often referred to as a "freemium" approach. It starts by offering an abbreviated free version of the piece, such as an excerpt or summary. Advertisements in the free version encourage the purchase of the full-length or full-featured premium version.
In this article, we will be focusing primarily on the use of premium content in the context of thought leadership and content marketing.
Examples of Premium Content
Research/Survey Reports 
Research and survey reports are widely used in both content marketing and premium product applications. For example, an executive summary of the research can be offered as a free download, either behind a registration form (to build your marketing list), or as open access content to maximize downloads. Within the executive summary, the full research study can be offered for sale as a premium content product.
Figure 1 shows the Executive Summary of Hinge's Inside the Buyer's Brain research report. This Executive Summary is offered for free in our resource library, while the full industry-specific research reports are available for purchase.
White Papers/Executive Guides 
Guides and white papers are primarily used in content marketing/thought leadership applications. For example, you might offer an executive guide that describes an approach to solving some of your target clients' common challenges. In Figure 2 below is an example of the Hinge Research Institute's Research as Content Guide.
E-books/Books
Books are one of the most common—and highly valued—types of premium content products. With modern digital technology, it is easy to offer either a sample chapter to encourage a sale or a full length digital version of the book to accelerate thought leadership goals. Figure 3 below showcases our book, The Visible Expert, which is promoted across our website as a piece of premium content.
Live and On-Demand Webinars
Used primarily for content marketing and thought leadership applications, webinars are a popular digital alternative to seminars and other live events. They are well suited for audiences who enjoy audio/visual presentations. Pre-recorded versions are also commonly available on-demand, either behind a registration page or open access. Figure 4 below shows the cover slide for one of Hinge's on-demand webinars..
Training Courses
Full-length training courses are primarily used as premium content products. As with books, excerpts or summaries can be offered to encourage people to purchase the full version. Figure 5 features some of the premium content available in Hinge's online training platform, Hinge University.
Industry Newsletters
Many firms use industry-focused newsletters to demonstrate their thought leadership content and spotlight key industry specializations and areas of expertise. For newsletter publishers, the picture is more complex with some using an advertising supported free content model and others employing either a freemium or paid subscription model. Figure 6 features an email from Hinge's partner Deltek in which they feature content for their consulting audience.
9 Benefits of Premium Content
Demonstrates your expertise.

Relevant expertise is typically the core reason that a client chooses a

professional services provider

. Unfortunately, expertise is invisible and intangible. How can you demonstrate to a prospect that your firm possesses the right expertise to address your client's challenge? Premium content is one answer. And it is the foundation of

thought leadership marketing

.

Deepens engagement with prospective clients.

Since premium content is almost by definition both in-depth and educational, it is designed to deepen a prospects' knowledge of your firm, its people, and their expertise. In some formats (such as webinars), there are also opportunities for questions and further interaction.

Increases your visibility.

Premium content doesn't just demonstrate your expertise; it can increase your visibility too. As more people experience your premium content, they not only learn that your firm exists (a good start), but they also discover that you might be able to help them. Often, they will share the piece with a colleague or friend.

Attracts new prospects and referrals.

Premium content is valuable and helpful to people, so it is natural that it will be shared with friends and colleagues. This sharing is the engine that drives additional referrals and new prospects as your visibility and perceived expertise grow.

Builds your list.

When premium content is placed behind a registration form, it will grow your email list. The secret to making this happen is two-fold. First, the content title and description must be enticing enough to motivate the right people to fill out the form. Second, the premium content must be promoted in a way that makes it visible to the target audience.

Provides accessibility 24/7 in digital formats.

As remote work flourishes, and busy professionals look for more ways to save time, digital content formats become more popular and practical. Most premium content can be delivered in a digital format, making it available anytime and anywhere. This is a big advantage for both marketers and buyers as it makes their job easier and gives them more control.

Fuels your marketing automation engine.

You must think of your marketing automation platform as a high performance engine. Content is the fuel. However; too many marketers make the mistake of using low-grade content to fuel their marketing automation engines. That is why these marketers often see sluggish or stalled campaign performance. High performance engines need premium fuel. It is the same with marketing automation. Marketing automation performance is driven by the quality of the content not the quantity of the content. Invest the time and effort in premium content to draw the clicks, educate prospects, and deepen the engagement.

Makes digital marketing effective and measurable.

Premium content is content that your audiences will value and trust more and will fill out a form and give up some information to get. You can benefit from this higher level of value and trust by linking to landing pages with contact forms when you promote premium content in email campaigns, paid and digital ads, social media postings, webinars, and more. With those filled contact forms, you can measure the effectiveness of various campaigns and channels beyond clicks, opens, and likes. You can see how many of those filled online contact forms turn into meetings, sales opportunities, and eventually revenue.

Generates higher quality business opportunities.

Perhaps the most important benefit is the role premium content can play in generating higher quality business opportunities. When you consider the other benefits, it is easy to see that a new business prospect that has consumed multiple pieces of your premium content is much better educated about what you do and how you think. In other words, they are self-selected. They know what you do and they like it. In our experience, these opportunities are the easiest to close and the most likely to be great clients.
The Most Valuable Types of Premium Content
All premium content is not created equal. Some types of content are simply seen as more valuable and useful to potential clients. But which types? 
To answer this question, we turn to a survey of content preferences conducted by Demand Gen Report. This survey of B2B buyers looked at two important variables. First, what type of content is most valuable for researching purchases? Second, what type of content is most likely to be shared with colleagues and the buying committee?
Taking both criteria into consideration, five types of content emerge as the most valuable to buyers.
1. Research/Survey Reports
Research tops the list as the most valuable type of premium content. It is both the most valuable for researching business purchases and the most likely to be shared with colleagues and buying committees. 
An established research organization, such as the Hinge Research Institute, can help you fully leverage several key benefits of customized research. First, it is original and not available elsewhere. This is a big advantage in today's crowded content marketing space where everyone is indistinguishable. Second, it has inherent credibility because it is based on data, rather than opinion. Third, it conveys subject matter expertise and focus, which is highly valued by potential clients. And finally, it builds trust in ways that product sheets, white papers, and guides simply can't. Customized research is the "great equalizer" that tears down the walls of distrust and sets you up to build stronger engagement faster.
An important tip: Not all research firms are the same. Look for one that will actually help you promote and explain the findings to your audience. For instance, look for a firm that will help you market and present a webinar about your new research study and its key findings. This is one of the fastest ways to gain more visibility and leads. You can leverage the reputation and following of the research firm to drive more webinar attendance. Having a senior research analyst present the bulk of your webinar will give your firm a higher level of credibility and subject matter expertise.
2. White Papers/Executive Guides
The second most valuable form of content is white papers and their closely related cousins, executive guides. Both are written documents, typically 10-30 pages in length, that provide expert analysis of critical business issues and discuss possible solutions. 
Typically, executive guides are designed with aesthetics and readability in mind, while white papers are often more technical and narrowly focused. Because of its educational nature, this type of content is valued by buyers. Marketers love it because it attracts prospects who are facing very specific challenges. This is very valuable in a content marketing context as it helps marketers gauge the level of interest buyers have in a particular problem or service.
3. E-books/Books                                                                                                                       
Longer than most other content formats, books and e-books allow you to dive deeply into a topic. Being the firm that "wrote the book" on an issue is a strong position to be in.
 This type of premium content does require more commitment from your audience, so it is not as easily shared. However, in many cases, just the fact that you wrote a book on a topic is sufficient to establish expertise—even if your prospects never read it. E-books and books rank third for researching possible purchases and are tied for third place on the likelihood of referring to a colleague or buying committee.
4. Webinars
Ranking in fourth place, webinars allow prospective clients to sample your thought process and engage more deeply with your content. They are especially valuable for those learners who favor listening and watching over reading. Live versions also allow for questions and interaction. Recordings of webinars make great on-demand content that helps nurture and educate prospects. 
Webinars are also great ways to turn leads into sales ready opportunities. Their limitation is that they are viewed in real time. A one-hour webinar takes an hour to watch. This limits their use as content to share in buying committees.
5. Case Studies
Rounding out the list of the most valuable forms of premium content are case studies. They are typically presented in a written format, although video versions are gaining popularity. The real value of case studies is that they help prospects understand how your services can be applied to their situation. 
As an added bonus, they can also help showcase the clientele your firm serves. Both of these characteristics come into play as a prospect moves further down your marketing funnel. Consequently, case studies often play a role in buying committee deliberations.
See also: Hinge's Library of Case Stories
How to Develop and Promote Premium Content 
Start with the needs and concerns of your target audience.
It has to start here. If your premium content is not relevant and enticing, you have nothing. So how do you make sure that it meets these criteria? 
The best approach is to start with research. By far the best alternative is to conduct a custom research study on your target audience. If you plan your questions correctly, this research (or a subset of the research) can become a piece of content that is very appealing in its own right.
If custom research is not possible, consider purchasing pre-existing research on your target audience and their industry. In either case, your objective is to understand both your target clients' business priorities and any preferences they have among the many content formats and channels you could use to reach them.
Determine which of your current or potential services are relevant to a high priority concern.
Now that you know what your target audience priorities are, you can focus on how you can best help them address those challenges. Put another way, which of your services are most relevant and helpful in addressing at least one of their key issues? 
You don't need to address all of their concerns, nor do you need to focus on all of your services that might be useful in some way. You are looking to identify an "on ramp" to a great client relationship. Sometimes that involves modifying or rethinking your offerings. Is there a package of services that offer a great benefit when delivered together? The key is to find an appealing match with client needs.
Develop your special slant on the issue.
Now it's time to develop your special slant on the topic. How do you think about this issue that is different from your competitors? What approaches are unique or offer special value? If you have done a good job in identifying your relevant services, this task may be easy and self-evident. If you have a commodity-type service, it is more challenging.
You see, there is limited value in simply restating conventional wisdom. If you are saying what every competitor is saying, in the same way, you don't really have premium content. It's just more of the same and unlikely to work the way you want it to. You may get someone to download one premium piece, but you are unlikely to win them as a client.
Research the right channels and content types to reach your target audience.
If you did your research in the first step you likely already have this answer. If not, you need to understand which content formats are likely to be appealing to your target audience and which channels are best for reaching your audience. Don't overlook keyword research. You want the content to be easily findable in search engines.
This step is actually more important than you might imagine. We've seen too many professionals choose a content format simply because they saw a competitor using it. Bad idea.
Identifying promotional channels and likely keywords will be a big help when it comes to making your premium content work for you. Here again, try to follow the data, rather than a competitor or your own hunches. It is all too easy to confuse your preferences with those of your prospects.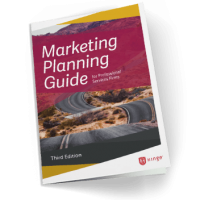 Marketing Planning Guide - Third Edition
The Marketing Planning Guide for Professional Services Firms
Download Now
Get help to do it right if you are not already a pro.
At last, you can finally get to producing the premium content. This is where many people start: Produce the content and then wonder why it is not working. Don't fall for it.
One of the most valuable lessons that decades of content marketing has taught us is that quality really matters. The best content typically wins. What makes content good? First it is relevant to the clients concerns and priorities. That's step 1 above. Second, the content is insightful and helpful—steps 2 and 3. And finally, it is well produced, well written and attractively designed or delivered.
If you are new to one of these content types or uncertain about the skills of your team, don't gamble on it being "good enough." Get some professional assistance to get it right in the beginning. 
There are two paths you can take here. Path 1: You can work with a seasoned agency or contractor—or research firm—to bring your vision to life in the form of a white paper, e-book, or customized research study. Path 2 allows you to license existing research or content—as long as the topic is relevant. Path 1 allows you to be more specific with your audience but typically is more time-consuming and costly. Path 2 allows you to have access to the selected research or content immediately to develop campaigns quicker. It typically costs less than creating content from scratch, but you are limited to available topics. 
Over time, you and your team will hone your skills and learn when to take each path. But don't let mediocre execution ruin a great piece of premium content or sink a winning campaign before it gets a chance to flourish.
Leverage multiple channels to make the content widely available.
This is the part that often gets overlooked or shortchanged. Premium content exists in one format but can be repurposed in other formats and promoted in many channels. An insightful research study may be promoted via email, social media, and blog posts. You can also produce a webinar and multiple podcasts on the same study. 
This is the beauty of premium content. Do it once and use it multiple times and in multiple ways. The accompanying graphic shows some of the ways a core piece of content, in this case a research study, can be promoted and repurposed.
Always include a next step.
When you are developing your premium content, consider what you want the reader or viewer to do next. Is there another piece of premium content that is a good next step to deepen the engagement? Insert an offer for that content into the piece.
This thinking also works in the other direction. What pieces of open access content would be good precursors to the piece you are developing. Put an offer for the premium content in that open access piece.
Think about it this way. You are guiding the buyer through their decision making. What is the next helpful step? What more do they need to know? Don't leave the buyer stranded on a content island with nowhere to go and no way to get there.
Conclusion
Premium content has two distinct meanings. It can be viewed as a paid upgrade to a free service or as a valuable piece of thought leadership to attract potential clients. Within the B2B professional services context, premium content is aimed at demonstrating your expertise and professional focus. As such, it is an essential component of a content marketing strategy.
Many firms struggle to get it right. The good news is that those that do it well stand to gain a tremendous advantage. You are offering your potential clients exactly what they are looking for—insight and perspective. And when the time comes to select a provider, you are likely to be at the top of the list.
How Hinge Can Help
Hinge and the Hinge Research Institute can help you create and leverage premium content—customized research, licensed research, white papers, executive guides, e-books, books, webinars, and more—to generate more visibility, trust, leads, and revenue for your firm.
Additional Resources
Hinge's Research as Content Guide shares what we've learned about how to maximize the impact of research-based content.
How will you get new business in today's changing marketplace? Hinge's Visible Firm Program gives your business the marketing tools, skills and procedures that the most successful firms use to command the marketplace.
Hinge University is the only online learning platform exclusively for professional services marketers. Master the skills of high growth firm marketers.