Even if you're unfamiliar with the term "Visible Expert," you can almost certainly name someone who qualifies. You know the type—the industry leader that everyone has heard of, the frequent keynote speaker, the expert that everyone always cites. Visible Experts aren't difficult to identify because they are exactly that: visible. In fact, they've achieved such high visibility in their industry that, often, their name has become nearly synonymous with expertise.
Of course, not all Visible Experts have the same degree of recognition and influence within their field. While some high-level experts—think Warren Buffett or Bill Gates—have achieved such extreme visibility that they are known well beyond the confines of their field, others enjoy expertise on a much smaller scale. For the purpose of our research, we at The Hinge Research Institute identified five different levels of visibility.
Level 1: The Resident Expert – An expert within his or her own firm and in the eyes of clients.
Level 2: The Local Hero – An expert who enjoys some recognition beyond the firm and may be asked to publish articles or speak at events.
Level 3: The Rising Star – An expert recognized regionally (and possibly nationally) who helps attract better business and can command higher fees based solely on reputation.
Level 4: The industry Rock Star – A widely recognized national name who has the ability to bring in top-tier business and command premium fees.
Level 5: The Global Superstar – The elite of the elite. Not only are these experts at the very top of their field, but they are also widely recognized beyond their industry.
According to our research, as Visible Experts rise up through the levels of visibility, the impact they have on their firm's ability to acquire new business and charge higher rates also increases. And it's not just the top tier Visible Experts that are benefitting their firms—even Level 2 and 4 Visible Experts can have a significant impact.
How Visible Experts Impact Their Firm's Brand-Building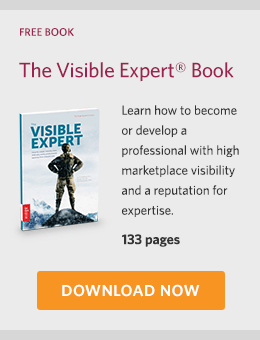 There are several obvious benefits that Visible Experts enjoy… They're more likely to experience greater career success, have access to a broader network of connections, and be offered more opportunities to continue to build their visibility—both online and offline.
However, the firms where these experts work also get a boost in visibility simply by association. When a Visible Expert speaks at a conference, he brings additional visibility to his firm. When someone types a Visible Expert's name into a search engine, the firm's website also comes up.
These are just a couple examples of how staffing a Visible Expert at your firm can help build your brand. In fact, 62 percent of Visible Experts said they substantially contributed to building their firm's brand. Having a Visible Expert on your team can help position your firm as a market leader, build your credibility, and boost your firm's reputation.
SEE ALSO: Top 10 Tools Visible Experts℠ Use to Increase Their Personal Brand
Of course, we all know that simply having a recognizable brand isn't always enough to impact the bottom line. So, how do Visible Experts impact their firm's overall success?
How Visible Experts Impact Their Firm's Growth and Business Development
Our research shows that, as professionals increase their visibility, the hourly rate they can charge also increases—dramatically.
As you can see from the figure above, even the lowest level of Visible Expert is able to charge more than twice the baseline rate. This ability to command premium rates increases exponentially as the level of the expert also increases, with buyers willing to pay over 13 times more to work with a Level 5 Visible Expert.
These results prove how much buyers value expertise. In fact, an impressive 66 percent of the Visible Experts in our study identified accelerated growth and business development as a major benefit of their visibility.
Is a Visible Expert Worth the Investment?
Visible Experts have the ability to help shape the firms they work for by generating additional leads and raising their firms' visibility alongside their own. However, beyond simple brand-building, the bottom line impact of Visible Experts' premium rates is a substantial benefit that firms should acknowledge and support. With even the lowest level expert commanding more than twice the base rate, it's clear that investing in expertise is worthwhile from every angle.
Additional Resources
How Hinge Can Help
Want to become an industry thought leader? It's one of our specialties. With Hinge's Visible Expert℠ Program, we can help you implement a thought-leadership platform that builds your reputation and visibility in the marketplace.