Among professional services firms, there's long been a tendency to value professional staff—the industry and technical experts—above marketing staff. These industry and technical folks, after all, are on the front lines. They have billable hours and work directly with clients.
And among their ranks are the top experts—recognized for their superior expertise and ability to communicate. At Hinge, we have labeled them Visible Experts℠. It's their knowledge and skill that often wins key engagements for their firms.
In professional services, Visible Experts often handle business development. This is particularly true in architecture, engineering, and construction (AEC) firms where the Visible Experts can also be seller-doers. But keeping business development teams and marketing support in silos may be limiting AEC firms' potential for true competitive advantage.
To grow in the highly competitive AEC space, firms must stop thinking of marketing as support staff or cost-center and instead see them as a strategic partner. It's time to develop a purposeful collaboration between your firm's marketing team and your Visible Experts so as to drive firm growth.
Do You Have a Marketing Problem?
For Visible Experts to use their expertise and visibility to develop new business, they need to be in the spotlight. In our research report Visible Experts, we compiled a list of some of the ways prospective clients recognize expertise. Visible Experts are:
Highly recommended by friends and colleagues
Able to make a complicated subject seem understandable
Able to inspire confidence just by talking
Published in prestigious publications
Frequent keynote speakers
Seen frequently in online searches
Known for a book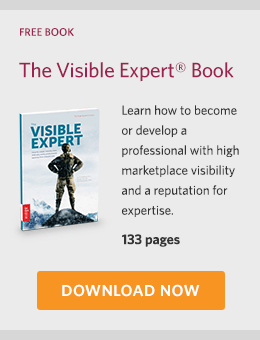 But here's the thing. Visible Experts need to be more than technically superior. They need to be seen. They need venues to demonstrate their expertise. And that's where marketing can help.
But marketing can't do this in a vacuum and it's not the result of performing a set of tactical steps—sending out newsletters, building a website, posting bylined articles on a blog or networking through social media. Marketing is strategic, and your top marketing people need a seat at the table where decisions are made.
To know if you have a marketing problem, ask yourself:
Is your firm a revolving door with a high churn rate for marketing professionals?
Are you concerned that the marketing department is a cost center whose budget is limited and highly controlled?
Do you measure your marketing more by its deliverables (e.g., websites, brochures, newsletters, emails) than lead and revenue generation?
Are you assigning marketing efforts to interns or admin staff?
Does your marketing only consist of responding to RFPs?
Do you know what your brand is and what marketing is doing to promote your brand?
Are your marketing professionals seen as equal members of the team?
Does your top marketer participate in strategic business planning?
If you answered YES to any of the first three questions or NO to any of the last three, you have a marketing problem. It's time to put your high visibility experts together with marketing and let them work in unison to grow the firm.
SEE ALSO: Why Managing Partners Don't Trust Their Marketing Departments and What to Do About It
Build a Collaborative, Strategic Plan
Hewlett Packard co-founder David Packard once said, "Marketing is too important to be left to the marketing department." You might think Packard was diminishing the importance of marketing. But in reality, he knew that marketing is too important to be limited to the activities of one type of individual within the firm. Marketing is every employee's responsibility – especially in professional services.
Here are several steps to take full advantage of your marketing professionals' expertise:
Encourage Collaboration: This starts when you give marketing a seat at the table. When marketers and technical experts work together, they both learn. Marketers will better understand your firm's areas of expertise, and Visible Experts will gain respect and understanding for what marketing can do. When working together, marketing will be able to generate highly qualified leads for the sales funnel and find the best venues to showcase your Visible Experts.
Define Who You Are and Whom You Serve: Every firm needs a mission (your raison d'etre), a vision of how you want to move forward, and a plan for getting there. These are not marketing blurbs not documents that just get filed away, but the rather the blueprint for achieving success. And as part of this process, you need to define your marketplace—the audience best served by your services and the issues these target audiences care most about.
Build a Brand: Branding is more than logos, colors, and typefaces. It's the voice of your AEC firm and how you're seen in the industry. It's reflected in every presentation you give, the conferences you attend, the networking opportunities you pursue and the proposals that are submitted. It's the way you engage prospects through social media, the blog, and your website. Marketing is instrumental in defining the brand, and when everyone in the firm understands the brand, they will all be part of the marketing process.
Create a Strategic Plan. Strategy drives tactics. It's not enough to say that your most gifted experts need to be seen as thought leaders in the industry. Be specific. Identify your ultimate goal and a series of intermediate objectives that will drive every tactic—from website optimization and content development to lead generation and social media.
Measure Results. In our digital world with its sophisticated marketing and analytical tools, it's easier to know what is working and where you should be investing your marketing dollars to deliver the greatest ROI.
It's time for marketing and business development to align and collaborate, using their Visible Experts to create a competitive edge that truly differentiates the firm.
Additional Resources:
How Hinge Can Help:
Hinge is a global leader in helping professional services firms grow faster and become more profitable. Our research-based strategies are designed to be implemented. In fact, our groundbreaking Visible Firm® program combines strategy, implementation, training and more.