From the chaos and confusion that the pandemic and accompanying social change ushered in, a "new normal" is emerging. And while the unpredictability is still there, many firms are learning and adapting to the waves of good news, followed by bad news, followed by glimmers of hope.
And, as though that were not enough, we are experiencing continued escalation in the war for top talent.
Yet, throughout this continued turbulence some firms have managed to thrive, many at unprecedented levels of growth and profitability. These extraordinary firms have found strategies and tactics that work in today's new normal. Hinge Research Institute's High Growth Study 2022 explores how they do it and what it means for you.
About the study
For more than a decade Hinge Research Institute has been conducting research into what drives extraordinary growth and profitability in professional services firms. We have used these insights to educate the professional services community and give our Hinge Marketing clients a powerful competitive advantage.
This year's study covers six specific professional services industries and is the largest and most sophisticated study of its kind. While this study's executive summary covers all industries, detailed reports on each industry are also available here.
About the sample
1,150 qualified firms participated

$216 billion combined revenue

Almost 1.9 million employees
The first figure shows the proportion of each industry represented in the overall sample, as well as the size of organizations. Firms of all sizes participated, with larger firms being overrepresented.
Many firms do business in more than one geographic region. This regional breakdown is shown in the accompanying graphic.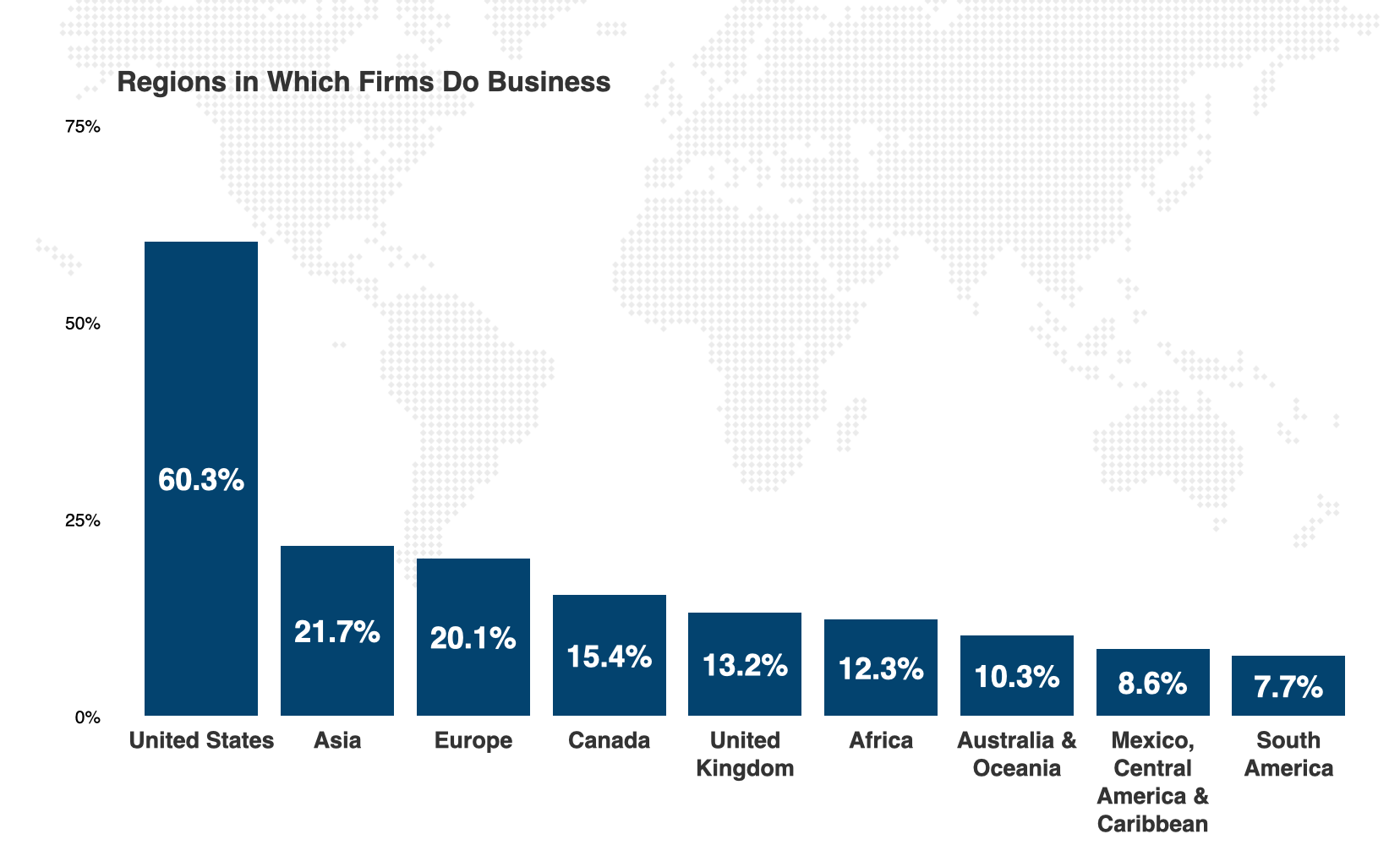 Key findings
After a year marked by a global pandemic, supply chain turmoil and marked social change, professional services firms are searching for a blueprint for continued growth and prosperity. Here is where firms are finding success.
Uncertainty and rapid change have become the new normal.
The pandemic-driven confusion and uncertainty that shook the professional services marketplace as shown in the 2021 study has cooled and firms have begun to regain their footing.
For example, concern around unpredictability in the marketplace was reduced by 25%.
But this good news is tempered by a growing shortage of top talent and an increased concern around rising compensation costs.
Uncertainty and rapid change have not gone away. They have simply become the new normal. And it is a normal that has ample opportunities for innovation and profitable growth.
High Growth firms have found a path to continued rapid growth and high profitability.
High Growth firms are defined as having a compound annual growth rate of 20% or greater over a three-year assessment period. About one in three firms in our sample earned that distinction.
High Growth firms had a median growth rate of 34.5%. Average Growth firms expanded at a median rate of 9.5%. No Growth firms languished at a median growth rate of –6.7%.
High Growth firms grew over three and one-half times faster than their Average Growth peers.
High Growth firms are not only growing faster, but they are also much more likely to be highly profitable and much less likely to experience low profit.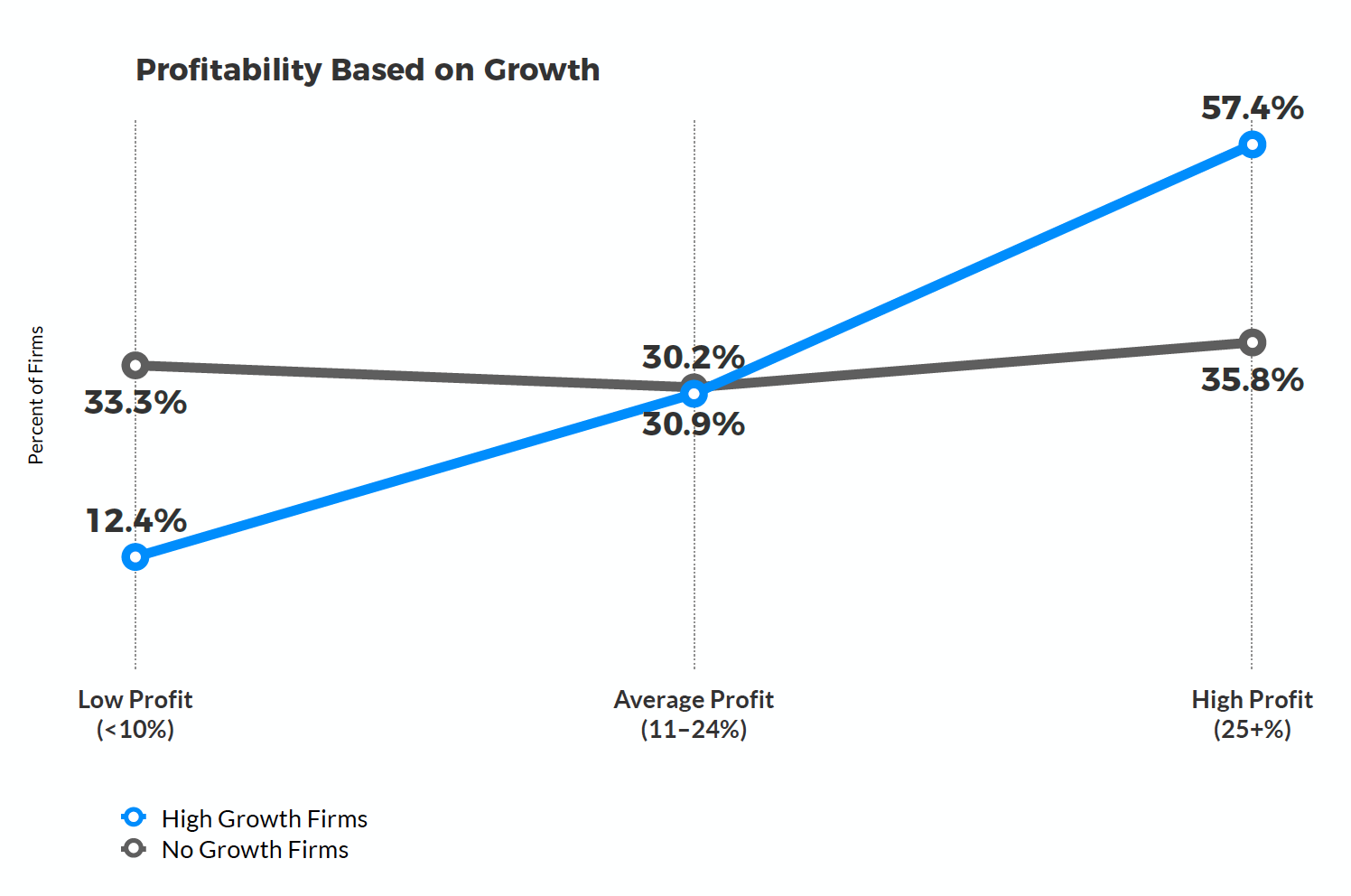 A common perception that rapid growth necessarily diminishes profitability does not seem to be the case.
Key Advantage 1: Talent – the wars heat up and High Growth firms find an edge.
While many pressure points have eased a bit, the war for top talent has intensified. High Growth firms continue to enjoy a small advantage in existing skill sets. 
But perhaps more importantly, they have found a way to expand access to top talent through outsourcing.
High Growth firms are more likely to employ outside talent in the form of agencies, firms, and freelancers. This is especially helpful when searching for highly specialized skills such as SEO or website performance improvements.
Bottom line? There is more than one way to win the war for top talent.
Key Advantage 2: Technology – digital maturity proves its worth.
High Growth firms have also gained leverage by using multiple technologies. From core business processes to marketing and business development functions, they have higher levels of technological maturity and make greater use of multiple technologies to optimize their performance.
For example, High Growth firms are more likely to use a wide range of technologies to support marketing and business development functions.
This allows them to improve important functions such as the ability to track and optimize the impact of business development efforts.
Importantly, the study also found that this type of performance tracking is associated with greater profitability. Put simply, digital maturity drives growth and profitability.
Key Advantage 3: Marketing – thoughtful implementation really matters.
Which techniques you select, and the skill and focus brought to bear during their execution really do make a difference.
Let's start with budget. High Growth firms are finding higher levels of success while spending slightly less than their No Growth peers. They do it with better talent. Remember their skills advantage as well as their greater use of outsourced talent. This results in greater impact from using multiple marketing techniques. 
They also have an important edge when it comes to their selection of techniques. When we looked at the marketing techniques producing the greatest impact, we found that No Growth firms were missing out on three techniques that were producing high levels of impact for the High Growth firms:
Interestingly, these three techniques all "work together" to reinforce each other and form the core of a digital marketing strategy.
No Growth firms are missing out on the impact these techniques have on growth and profitability.
Key Advantage 4: Strategy – digital transformation is providing greater visibility.
Our previous research has long documented the advantage firms have when they incorporate a greater focus on digital techniques in their marketing mix. Clients and prospects have increasingly turned to digital channels to research important business issues and to identify and vet resources with relevant expertise. If you are not in those channels, you are simply invisible.
Layer the COVID-19 pandemic upon this long-term trend and it is easy to see why professional services are undergoing a digital transformation of their marketing function. In many instances, many traditional marketing techniques were simply not feasible. The ability to network on social media provided a digital alternative and High Growth firms were more likely to take advantage of this alternative.
How do you demonstrate your relevance and expertise in the emerging digital environment? As it turns out, conducting and publishing original research is perhaps the most effective approach. High Growth firms are using research to their advantage.
And how can you be found by the right prospects? Here again, High Growth firms are showing the way with their focus on SEO and keyword research. And the payoff?
Greater levels of SEO maturity are associated with higher levels of profitability.
At every turn we are learning that digital maturity is driving growth and profitability. The areas of marketing and business development are no exception. Fortunately, High Growth firms are showing us how to do it correctly and maintain a true advantage.
Where are High Growth firms focused next?
The topics that High Growth firms are more focused on than their No Growth peers is shown in the accompanying graph.
The greater focus on processes and ways to deliver more value to their clients is notable. 
Also of interest is the greater focus on value pricing to capture the added value they are providing. And High Growth firms place a greater focus on employee engagement, which makes sense given the greater investment in talent that so many firms are facing.
A Final Thought
As we emerge from a year of unprecedented change and turmoil a new normal is emerging. There is still plenty of uncertainty and change to go around, but firms are adapting and finding strategies to mitigate the worst effects of the uncertainty and new avenues to compete in an era of talent shortages.
High Growth firms have increasingly embraced technology and are becoming more digitally mature in their processes. The positive impacts of this evolution can be seen clearly in the digital transformation of marketing and business development functions.
But not all solutions are driven by technology. High Growth firms are also enjoying the benefits of outsourcing to ease the impact of skills shortages. And similarly, the powerful impact of choosing the right techniques and actively tracking results are apparent.
So while it is a time of many challenges, it is also a time of great opportunity for those firms bold enough to act.