The human brain is divided into two hemispheres–left and right. Scientists believe there is a tendency for cognitive processes or neural functions to be specialized to one side of the brain or the other.
How is this relevant to B2B marketers?
When going through various stages of the buyer journey, purchasers of B2B and professional services have a list of criteria they use to evaluate service providers and vendors. Being confident that you will receive tangible business results is a logical reason to want to work with a company. On the other hand, working with a company that has a "good cultural fit" addresses the desire to feel a certain emotion when working with them. Some criteria are intended to satisfy one cerebral hemisphere more than the other.
According to a major study by Google, Gartner and Motista, B2B buyers are more emotionally connected to the brands they purchase than B2C consumers. On average, B2C brands had an emotional connection with between 10% and 40% of buyers. Contrast that with a majority of B2B brands had emotional connections with more than 50% of their customers.
I can attest to this from all the user conferences I have attended over the years for various platforms that I have used. At almost every one of these user conferences, there was a strong focus on customers and the innovative ways that they leveraged the platforms to get better performance, productivity, and return on investment. We have all been there. We hear great stories, and we can't wait to get back to the office and try to do something similar for our own organizations. The peer connection is emotionally strong. Those speakers understood our pain. They had gone through it themselves. And they were willing to share their learnings and insights with us – saving us a lot of time and steps.
Relationships Between Research and Growth
The Hinge Research Institute (HRI) has been publishing original research for over a decade. With more than 30,000 buyers and sellers studied and nearly one hundred research reports published, there is no other place with more extensive research on professional services markets.
Early in HRI's exploration of the professional services market, we uncovered different relationships between rapid annual revenue growth and a firm's propensity to do research.
Companies who do frequent research on their target market tend to grow faster. This makes intuitive sense. If you know your audience, you can market to them better.
What's interesting, though, is we uncovered a different relationship between research and high growth. Several years ago, we started to see that the fastest growing businesses in professional services were 3x more likely to use original research in their content marketing strategy. Marketers in these organizations use empirical evidence to reinforce their brand position and boost their appeal to their buyer's left-hemisphere criteria. It is a winning formula.
This supercharged content marketing strategy helps to show the difference between high growth firms and no growth firms year after year. In 2022, our research showed that high growth firms grew almost six times as much as no growth firms. Six times as much. Now that is a compelling argument to boost your content marketing strategy with research!
But if you need more motivation, take a look at the chart below. High growth firms not only grow significantly more than no growth firms—they are more likely to be significantly more profitable than no growth firms according to our 2022 High Growth Study research.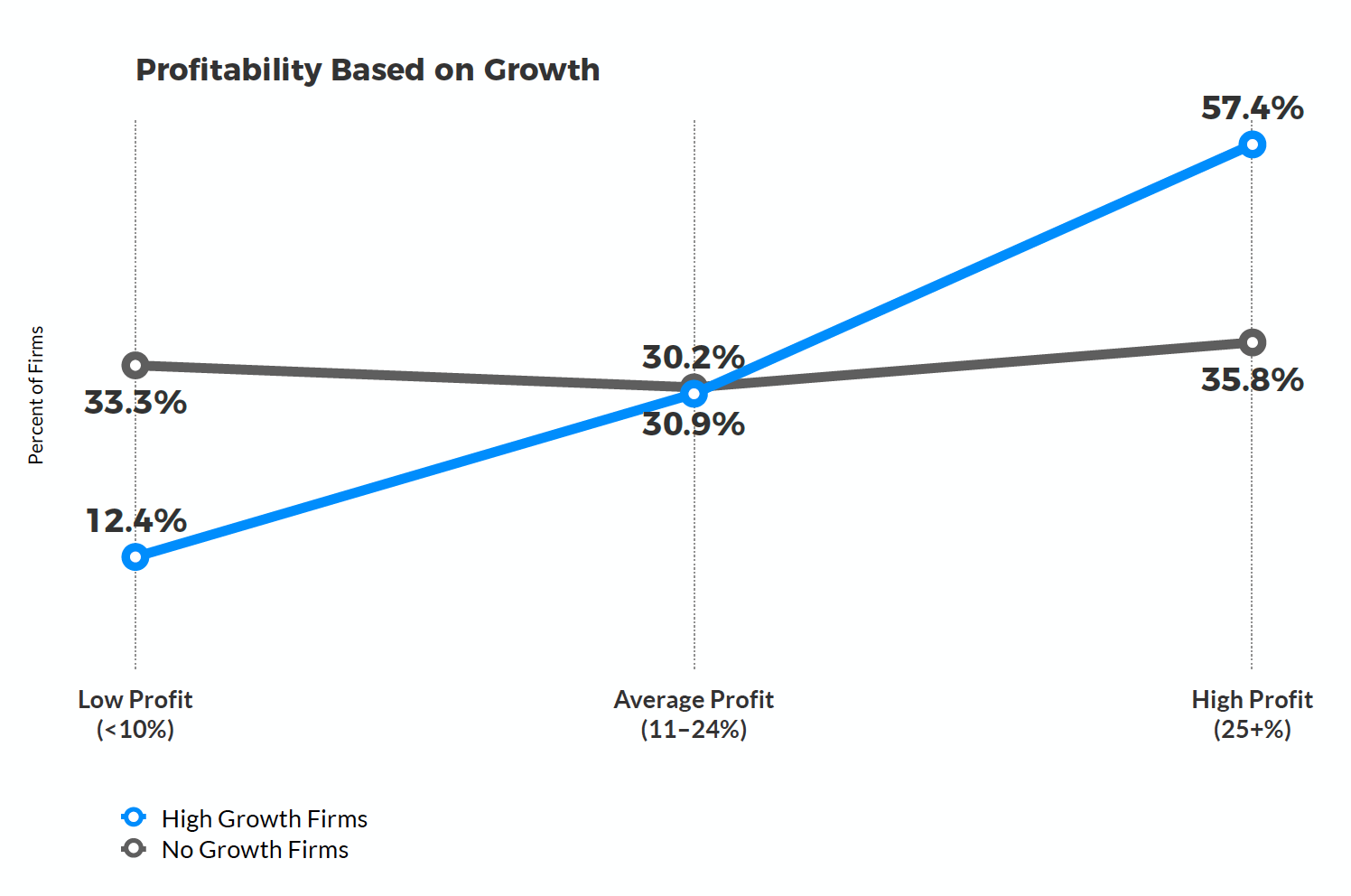 The power of research as a marketing asset is hard to match. Not only can research help marketing, business development, and senior management teams develop more informed planning and strategies, it can also be used as premium content to generate more visibility, trust, engagement, and leads. Research can be used in its entirety or in pieces (charts, findings, insights, quotes) throughout your sales & marketing funnel. It works well as content for social media, events, videos, articles/blogs, speaking engagements, webinars, guides, demos, and consultations.
The diagram below shows where you might use research as premium content to move a prospect through your sales & marketing funnel.
Let's say a prospect is stuck in the middle of your marketing funnel and you need a compelling piece of content to deepen the engagement and move the prospect further down the funnel. This would be a great place to promote a recording of a co-branded webinar with one of your subject-matter experts presenting alongside a credible third party about research on a relevant issue or topic.
By injecting research and data into key messages, you are validating your messaging, adding credibility, building trust, and differentiating your organization's subject matter expertise–therefore strengthening all of your efforts with the prospect.
Hopefully, we have made the case that research can be a game changer for your content marketing strategy. Now let's show you five proven ways you can supercharge your B2B content strategy with research.
1. Don't tackle research on your own
Few marketing or business development folks have research expertise or experience. Yet, some feel compelled to purchase some on-line survey tool and play "researcher" in an effort to save money. Many of them come to us after they have gone through a research study creation project on their own and tell us, "never again!"
Why?
Because every stage of the process requires expertise and experience to get valid and meaningful results. In an effort to save a few dollars would you like to proceed blindly or rely on specialists who deal with research day in and day out. Let's look at some of the key production milestone of a custom research report:
Research Design — What questions would you ask? To what audience? What are the best questions to ask? How should these questions flow? How should each question be formatted (ranking, pick one, select all that apply, open ended, etc.) What do you expect to find? How will these findings support your market position?
Data Collection — What methods will you use to collect data? Do you have the technology for a survey? What is a valid sample size? How long will it take you to collect your data? How will you ensure that you hit your target sample size?
Analysis — Nice data… but what does it mean? How will you interpret the results? What findings are truly insightful? Which ones support existing research?
Narrative Development — What stories does the data support? What's the best way to tell that story and connect the dots? Do you have writing resources that understand research analysis, your target audience industry, and marketing writing—and can connect the dots across all of those disciplines to provide an insightful and compelling story?
Report Design — How will you package the research findings and narrative? How will data be visualized? What themes or colors should you use?
Publishing & Promotion — Where will the report live on your website? How will you bring visibility to the content in a multi-month campaign? What information will users need to give up to download your research report? Are you collecting enough information? Are you collecting too much information and scaring off download requests? Do you have the bandwidth and resources to generate a lot of buzz and engagement for your research? How big is your marketing database?
Each aspect of the research process presents different challenges. If you don't have the budget to outsource all of the research process, make sure you conduct a gap analysis of your in-house skills and expertise and prioritize which aspects of the research process can be handled by your in-house resources and which ones really require outside research expertise. You don't want to spend a lot of time, money, and resources on a research project using just your team only to end up not getting meaningful findings and insights.
Custom research is an extremely valuable asset for many departments in your organization. You can get specific answers to specific questions from specific audiences. That does not happen very often. Keep in mind that a quality, custom research study should be able to provide you with enough content for at least six to nine months and provide an attractive return on investment in terms of amount of visibility, leads, and sales opportunities.
2. License existing B2B research
If leveraging research as premium content is new to you, then you might want to consider licensing existing B2B research.
Institutions that publish research sometimes sell distribution licenses to companies looking to incorporate research into their content strategy without infringing on copyright intellectual property.
For example, let's say your business sells software to a professional services industry and you need to show how your product can help users address a painful business challenge. By providing them with 3rd party statistics that validate your solution, you are positioned as credible.
Licensing existing B2B research enables you to use compelling research the same way you would use custom research—without the price tag or time commitment. Custom research gives you more topic control but typically takes months to produce and is labor intensive. When you license existing B2B research, you are limited on the topics you can choose, but the research is available immediately and is offered at a lower price than custom research.
Think of it in terms of buying a car. You could order a car with the specific features and equipment you want on it and wait a few months. Or, you could lease a similar car for a year (maybe it is a different color and has less features on it) and drive it off the lot today.
3. Sponsor a relevant research study
If a research firm is planning an upcoming study—or has recently published one—you might want to consider being a sponsor of that study. Typically, your corporate logo would be on the cover so your brand would be associated with the research—strengthening your organization's visibility and credibility.
By sponsoring a research study, you are telling your target market you care about their business by arming them with the insights they need to grow and thrive. Your brand will also be associated with the study in perpetuity, making the sponsorship of an original research study a marketing initiative with a very long shelf life.
For companies targeting professional service industries — like accounting, engineering, or consulting — as growth markets, you may consider sponsoring one of Hinge Research Institute's research studies:
High Growth Study — For the last seven years, this annual research study focuses on understanding what high-growth professional services firms do differently than underperforming peers, and the differences between industries. Who is not interested in learning how to get greater growth and profitability?
Culture Clash Employee Experience Study — This study explores the causes of the Great Resignation trend within professional services. Most people believe the drivers are lack of salary or paid time off but that is not the case. This is a great study to get conversations started within your target audiences.
Inside the Buyer's Brain — This study walks you through the psychology of professional services buyers and sellers. It explores how buyers evaluate and select service providers and their client experience. It also documents key firm brand metrics and trends over time. What marketer would not like insights from inside the buyer's brain?
4. Collaborate on an annual or regular co-branded research study
On a co-branded study, you join forces with a credible organization to produce a research report on a specific industry topic, trend, or market. You have the ability to influence key questions and survey design to zero in on the issues and topics most relevant to your specific situation. With time, this type of study will be referenced by many in a specific industry so that they can benchmark their status and progress.
Doing a co-branded study provides your marketing organization with a source of content that can be repurposed in many different ways. Because you own this kind of original research, it acts as a well to go back to for multiple marketing campaigns. You could publish supplementary reports featuring new analyses and result breakdowns. Moreover, many sell their co-branded research studies to create a revenue stream and recover some of their investment.
An example of a co-branded research study would be the AAM Marketing Budget Benchmark Study that the Hinge Research Institute has conducted with the Association for Accounting Marketing (AAM) five times now. It has become the accounting industry's most comprehensive study of accounting marketing budgets. Senior HRI analysts often walk through this research at various AAM events to provide even more credibility and insights.
5. Leverage the power of a co-branded webinar
You've made the investment in custom, licensed, or sponsored research. Now you want to see engagement and a return on investment. One of the fastest and best ways to see those outcomes is through a co-branded webinar. Co-branded is the key. Instead of your organization producing a webinar on its own, it is teaming up with the research publisher. These webinars are the best way to showcase the study's data, findings, and insights and position your organization's subject matter expertise in an interactive forum.
You've never done a webinar or are not set up to host a webinar? No worries. Research consulting firms such as the Hinge Research Institute will:
Set up the registration page
Provide you with a list of all registrants and attendees
Build out the presentation deck
Provide a senior research analyst as a presenter
Host and moderate the webinar
Give you a list of all questions asked
Provide you with a recorded version of the webinar to use in future campaigns
And even promote the webinar through email and social media
Make sure you integrate a co-branded webinar in with your research study investment to start seeing engagement and an ROI as soon as possible.
Conclusion
According to Demand Gen Report, "Research is the most valuable content format for reaching B2B buyers—and the most likely to be shared."
You have a content marketing engine. How is it performing? Is now the time to supercharge it with one of the five proven ways discussed in this blog? Are you ready to accelerate ahead of the competition with a little bit of optimization?
As always, I invite you to connect with me on LinkedIn and Twitter, and contact me at kwaffle@hingemarketing.com.