One of the primary goals of professional services marketers is to showcase the expertise of their firm and its experts—and maybe no modern marketing technique can bring expertise to life more than webinars.
A well promoted and attended webinar puts the expertise of your firm front and center. Webinars open up a rare channel where both experts and potential buyers can engage directly together in a mutually beneficial way. Experts provide educational material for those looking for answers to their challenges and attendees engage and provide feedback on the topics being discussed. And this is not to mention that webinar attendees can be provided with a direct invitation to raise their hand to start a proper business development conversation.
While adoption is low among professional services firms, it is growing. More and more marketers across professional services firms are finding that the investment in webinars are worth the effort.
In this field guide, business-to-business (B2B) marketers can expect read the following:
Research on the growing practice of webinars in B2B
Popular webinar platforms, and tools to evaluate
What topics you should present
How frequently you should host a webinar
How to promote webinars effectively
A checklist for running a successful webinar
Understanding webinar analytics and how to calculate ROI
But first, let's define what we mean by a 'webinar'.
What is a webinar?
Webinars are digital environments where professionals can learn from experts on business topics. Most of the time, the presentations are driven by one or more subject matter experts who share a prepared presentation from their computer screen while adding analysis, perspective and other commentary. Attendees can engage with the presenter(s) by typing questions in a chat box, participate in polls, and respond to offers for deeper conversations. 
What trends should B2B marketers be aware of?
According to ON24's 2019 Webinar Benchmark Report, 76% of marketers studied say webinars allow them to drive more leads and 75% agree that webinars help them to extend their brand reach. Moreover, these events can be done at minimal cost — no travel expenses needed — making these initiatives prime candidates for high ROI.
But marketers beware: this shiny object should be strategically placed along your buyer's journey and within your marketing system. Webinars should purposefully target buyers that are researching issues or evaluating solutions.
(To learn more about the 4 main stages of the buyer's journey in professional services, check out this handy infographic.)
Webinars are also an avenue for attendees to gain continuing education units (CEUs) for professional certifications and accreditations. For example, Hinge is an SMPS approved CEU provider and we offer CEUs for each of our bi-monthly webinars.
The developmental benefits of webinars aren't just for your audience. If you're looking to cultivate Visible Experts within your organization, webinars are a good way to sharpen speaking skills. In fact, data from our 2019 High Growth Study showed that a full third of high-growth firms believed their subject-matter experts to be highly skilled at speaking on webinars and podcasts. 
Additionally, we know from our research on Visible Experts that building a personal brand and perception of expertise opens the door to command higher fees.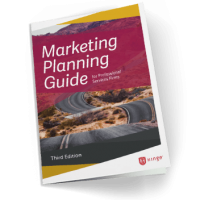 Marketing Planning Guide - Third Edition
The Marketing Planning Guide for Professional Services Firms
Download Now
Are other professional services firms hosting webinars?
Our High Growth Study has measured utilization of various marketing techniques for over seven years now. Back in 2015, only 15.6% of firms were using webinars as a part of their marketing strategy. Seven studies later in our 2021 High Growth Study we see that number is up to 28.4%—more than one fourth of firms.
Some industries were more likely to use webinars than others. Still some—like Software and Technology and Consulting firms—were more likely to see greater impact for their webinar efforts. The chart below shows the average impact ratings of these industries where webinars appeared on the list of most impactful marketing techniques.
With only a quarter of professional service firms using webinars as a primary marketing technique, could they be a way for your firm to differentiate your marketing efforts and stand out from competitors? If so, keep reading.
Getting Started With Webinars
Here at Hinge, we have experience producing or co-hosting hundreds of webinars. There's no doubt that webinars have a lot of moving pieces to coordinate. But nothing compared to other commonly used marketing techniques like sponsoring a conference. The rest of this article will provide research and lessons-learned for you to reference on how to make the most of your webinar efforts.
What webinar software should you use?
For sophisticated marketing systems, some webinar platforms offer very robust analytics and reporting. For businesses just getting started, other software platforms offer basic features. Selecting the right one will depend on your budget, and your strategic goals and objectives.
Here is a list of popular webinar software and platforms to consider:
If you want to take a deeper look at evaluating webinar software, this is a handy resource by G2 Crowd. You should also check out peer reviews from sites like TrustRadius.
What topic should your webinar be about?
One of the most important questions to consider is selecting topics for your upcoming webinars. First, you need to research your target clients. What challenges are they faced with? Do you have the expertise and service capabilities to add value to these targets on their buyer journey? 
Below is a good way to visualize this concept. Focus on the overlap between what's important to your target clients and the services that are important to your firm.
In our experience, we have found success in using webinars as a way to present analysis on original research we conduct at the Hinge Research Institute. Primary research can be a significant investment, but yielded insights can add tremendous value to your audience if you design the research appropriately. And the best part? Those insights can't be found anywhere else!
There are other ways besides research to attract an audience. Webinar attendees seek outside perspective. Creating a presentation around a unique point of view or a proprietary framework in which to approach a specific challenge can be a good way to garner interest.
How frequently should you do webinars?
In the 2019 High Growth Study mentioned above, we saw nearly 22% of firms reported using webinars in their marketing mix. Of those firms, 68% do webinars annually or multiple times per year, 25% did webinars monthly and 7% weekly, illustrated below. 
This means that if we look at all 1,000 professional services firms studied, only 7% did webinars monthly or more frequently. Consistently delivering webinars on a monthly basis could be one way B2B companies can differentiate their marketing efforts.
Does this mean you should be doing monthly webinars? Probably not. It takes time to build an audience that will regularly attend your webinars. In any case, webinars still need to be promoted effectively.
How do you promote a webinar?
Because webinars are a mechanism to deepen relationships with your target buyers, they are most effectively promoted to existing audiences. To expand your webinar reach, you might consider co-branding or collaborating on a webinar with another organization that shares a similar target audience. 
There are natural synergies between companies that share common audiences. Co-branded webinars are a great way for these organizations to collaborate together to increase the visibility of their expertise. 
Email is widely considered the best way to promote webinars, which makes sense given the purpose of driving deeper engagement with an existing audience. Social media can also be effective with a big enough audience.
Promoting the webinar a few weeks in advance is a good way to drive up registrants, but you don't want to start too early. According to GoToWebinar, 59% of registrations occur less than a week before the webinar. Your situation will vary. For most, 2-3 weeks before the presentation date is a good benchmark for a promotions window.
The On24 report mentioned earlier also shows that Wednesdays and Thursdays are the best days to host a webinar. This was supported by separate research done by GoToWebinar. 
Is there a checklist for running a smooth webinar?
Mistakes happen, but they can be mitigated. Technical issues can frustrate your presenter. Even the most basic things need to be checked because you never know where an issue might pop up. Here is a checklist you can use to make sure the webinar runs smoothly:
Before the webinar:
Schedule a test run with presenters to ensure technology works
Set expectations with presenters (ex: who will share screen and will you be on camera)

Buffer 30-60 minutes before the webinar for prep and setup

Test all hardware is working properly — microphones, computers, etc.

Make sure you have a reliable internet connection

Silence cell phones and all notifications
During the webinar:
Moderator introduce presenters and give an overview of the topic

Use webcams as often as possible

Keep an eye on timing

Post key takeaways or important points on Twitter. This builds awareness that you produce webinars, and signals that you actively use this social channel.

Use polls to engage with your audience. This can be a way to use live data in your presentation, or it could be a way to gather feedback from your audience that can be used to improve future presentations.

Solicit questions. Answering questions on your webinar is highly valuable to webinar attendees. And a highly engaged audience will be more likely to continue the conversation after the session is complete. Remind people during the webinar to ask questions.
After the webinar:
Email the slide presentation and webinar recording to all registrants, even those that didn't attend.

Follow up on questions you were not able to respond to during the presentation

Add webinar as on-demand resource to your website
How do you analyze, improve performance and prove ROI of webinars?
There are ways to quantify the return on marketing investment in webinars, but it may take time to run through a few promotion and delivery cycles to gather enough data. For when you are in a position to do so, here is a list of key metrics to focus on:
Number of registrants and attendees

— this high-level metric can be monitored over time to assess the growth of your webinar audience, and which topics attract the most attendees.

Attendance rate

— how many of your registrants actually attend your webinar? 

Engagement/interest rate

— this metric is usually hidden behind proprietary algorithms by webinar software or platforms, but it is an indicator of how engaged your audience is. A high engagement rate could be a leading indicator of leads.

Number of generated leads

—  knowing how many leads can be attributed to a specific marketing channel is powerful. Attributing leads to webinars is relatively easy if your CRM is set up properly. This is a good first step to proving ROI.

Revenue per lead

— by understanding the value of a lead, you will be able to measure ROI of this specific channel. Let's suppose a lead is worth $1,000 for your company. If a webinar cost you $500 to produce and it generates two leads, you have a return of $1,500 for your investment in that webinar event.
The ROI of webinars may also extend to intellectual property and market insights. For example, by keeping track of what questions your audience asks, you will have an idea of what challenges they're trying to solve. This can be used to improve the quality and relevance of future presentations. 
Conclusion
If you have an existing audience and are looking for new ways to engage with them, webinars may be a good fit. If you are new to webinars, do a "dry-run" to work out the kinks before you throw heavy promotional juice behind your first session.
If you don't have a large audience, but are set on pursuing webinars in your strategy you may consider co-branding on a webinar with an organization with a built-in audience.
How Hinge Can Help
Developing an effective, research-driven strategy is a hallmark of our unique Visible Firm Program. This science-based program includes research, benchmarking, strategy development, planning and full implementation support. Depending on your needs, Hinge can help with some or all of the process.
Additional Resources
The most powerful digital content is original research. The Hinge Research Institute helps firms build their reputations through creation and promotion of research-based content.
Hinge University offers a wealth of practical, step-by-step How-Tos and in-depth courses to develop your personal branding strategy and build your skills in a hurry. It addresses many of the specific skills mentioned in the article to build a powerful personal brand.