A brand is a complex organism. This is part two in a series of articles in which we examine a successful brand's component parts.
Companies put an awful lot of pressure on their taglines. Many businesses endow them with colossal significance. And advertisers expect them to seal every deal like a kiss. Yet many company taglines fall flat and fail to engage us. This is a pity, because a tagline can speak to an audience with authority and elegance. At their best, these pithy phrases introduce us to the brands they represent and beckon us to linger a while and listen.
In this article, we'll address three critical questions:
1. What is a tagline supposed to do?
2. What goes into a good one?
3. How does a company tagline fit into an overall brand strategy?
What a Tagline Does
A good tagline should elicit a response from its audience. It should do one or more of the following:
Clarify (what you do, how you are positioned, etc.)
Express an important brand attribute
Support your positioning
Help people recognize and remember you
Next, we'll explore these elements in more detail.
Deconstructing the Tagline
1. Clarify
A tagline that either states the obvious or raises questions is not doing its job. Think of a tagline as an opportunity to articulate your differentiation, express your personality or convey some other important brand quality.
Examples:
"The Land Lawyers" (Walsh, Colucci, Lubeley, Emrich & Walsh)
"Your career is our job" (TheLadders)
"The customer success platform" (Salesforce)
"When banks compete, you win." (LendingTree)
2. Express an Important Brand Attribute
Every brand worth its salt stands for something — a point of differentiation or a competitive advantage that stimulates interest and builds loyalty. Your tagline is a terrific place to articulate and promote this brand attribute.
Examples:
"Imagination at work." (General Electric)
"Think Different." (Apple)
"The Happiest Place on Earth " (Disneyland)
3. Support Your Positioning
Many company taglines are used to support a brand's positioning. If you are different in some way, why not say so through your tagline?
Examples:
"We try harder" (Avis, the #2 car rental company)
"The ultimate driving machine" (BMW, known for its great driving experience)
"All we do is Work" (Jackson Lewis, an employment and labor law firm)
4. Support your Brand
If you pay attention to such things, you'll notice that an awful lot of firms out there either use ineffective taglines (see When Taglines Go Wrong below) or avoid them entirely. This is a mystery to us because a tagline is one of the few ways a company can explicitly articulate its brand promise. Admittedly, writing a great tagline can be challenging, but once it's in place it can add a potent extra dimension to your brand.
8 Ingredients of a Great Tagline
Keep it short
Convey a single simple idea or benefit
If possible, be specific
Be sure your claim is believable
Avoid generic or clichéd statements that could apply to other businesses
Support or explain your positioning
Make it memorable
Stick with your tagline for the long haul
When Taglines Go Wrong
When developing a tagline, stay away from ideas that are vague, bland, stale, or untruthful. And avoid making a statement that could just as easily describe a competitor. Remember, a tagline should make you stand out like, well, a thumb of approval. Unfortunately, many taglines — especially in the professional services — are limp, do-nothing slogans.
Let's look at taglines from recent history that didn't help their businesses.
"We make sure" (Fujitsu Siemens)
The obvious response to this tagline is "Okay. You make sure of what?" The statement is so incomplete and bizarre that we aren't sure at all what to make of it. A tagline that raises unintended questions is not helping your brand.
"Helping clients succeed" (Booz Allen Hamilton)
Well, for the fees they charge, we would hope so! This blandest of platitudes raises a big question: do they have the imagination to help me succeed?
"A passion for the business of accounting" (Grant Thornton)
It's great that they love their jobs. But couldn't just about any other accounting firm make the same claim? (Hint: yes.)
These are large, market-leading companies, but their taglines, like their overall brands, are watered down so that they won't offend anyone. They won't impress anyone, either.
Read Other Posts in This Series: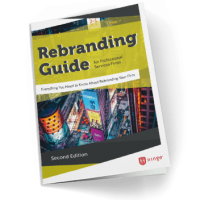 Free Resource
The Rebranding Guide for Professional Services Firms
Learn More
How Hinge Can Help
Develop rebranding strategies that better connect with existing clients and prospects. Hinge's Branding Program can help your firm stand out from the competition and build a brand that drives sustained growth.