Why do marketing plans fall short of expectations? More often than not, it's because they are never fully implemented. Issues arise, time becomes limited and priorities shift. When the going gets tough, marketing initiatives have a tendency slide to the bottom of the priority list — or they get forgotten altogether. Over time, a lack of marketing implementation adds up and has unintended consequences for your business. So, how do you prevent this lack of an implementation?
To avoid this all-too-common situation, you need to map your marketing plan over to a content marketing calendar. When you make your tactics more tangible and visible, then it's far easier to hold people accountable for them.
In this article, we'll share the key benefits of using a content marketing calendar as a key resource for your team. But first, let's simply begin by answering, "What is a content marketing calendar?"
Content Marketing Calendar Defined
A content marketing calendar is a living document that maps out all the marketing activities across an organization. Its purpose is to keep stakeholders organized and accountable to their marketing responsibilities in the future, while documenting the details and timing of what has been accomplished in the past. Ultimately, it is a resource to keep a firm's marketing plan moving forward in the right direction.
Let's look at a few of the benefits of having a content marketing calendar.
5 Benefits of Using a Content Marketing Calendar
Benefit #1: Deadlines and Expectations Solidified
The most obvious benefit of having an active content marketing calendar is being able to plan and track upcoming marketing initiatives. When you assign tasks and deadlines to specific people, there is no room for surprises. It makes it much easier to drive your marketing plan forward.
For example, you should schedule blog posts and articles a month or more in advance, providing thought leaders in your firm with ample time to produce their content, even with all their competing priorities. The deadlines are visible, and expectations are clear. With a little practice and encouragement, what needs to be written will be written.
A content marketing calendar also makes it easy to see when there are too many overlapping deadlines. Is the same person responsible for writing a new premium piece of content, presenting a webinar, and filming an interview for a partner organization in the same week? That is probably too much for even the most experienced professional. Your content marketing calendar will expose these scheduling conflicts early in the process and allow your team to make the appropriate adjustments.
Benefit #2: Ownership Clarified
A well-organized content marketing calendar clarifies who is responsible for each marketing initiative. We recommend that you assign one person to manage the content marketing calendar itself, keeping it up to date, maintaining its structure, and ensuring that deadlines are not missed. This person will have all the answers when questions about deadlines arise.
Of course, the calendar should be readily available to all. It should identify who is responsible for delivering each part of the plan, and when.
Benefit #3: Messaging Organized
Another benefit of a content marketing calendar is related to the management and visibility of your firm's messaging. A content marketing calendar should get very specific. For example, your calendar might include:
Titles of executive guides or e-books
Titles of blog posts
Titles of webinars and presentations
Details of paid advertising campaigns
Subject lines of upcoming email marketing campaigns
By documenting what message will be in the marketplace when, and through what marketing channel, you make it easy for an entire team to keep on track and be productive.
Don't delete old activities. As you build out the next phase of your content marketing calendar, it's helpful to refer back to past campaigns, assignments and timing. Looking back at past marketing activities may help you choose the best times to push different products and messages.
Benefit #4: The Marketing Budget Tracked
Most marketing budgets are fixed early in the year. You may want to add your budget to your content marketing calendar in a column away from the actual content details. While your marketing calendar is not a budget spreadsheet, you may find it helpful to list costs and resource time allocated for each marketing activity, so you can quickly track your budget versus expenses.
Bringing extra visibility to your firm's marketing budget prevents team members from falling into common budgeting traps. For instance, your team won't arbitrarily underspend during the year, opening the possibility for a frantic spend down come planning season. Clarity will reign because the marketing budget will be attached to each activity.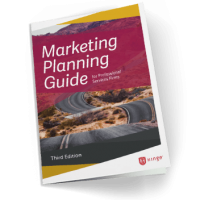 Marketing Planning Guide - Third Edition
The Marketing Planning Guide for Professional Services Firms
Download Now
Benefit #5: The Big Picture Realized
Once assembled, your content marketing calendar will paint a full picture of your marketing activity over the next month or more. Everyone on your team can see how their individual marketing efforts work together. You will be able to see when a particular blog post topic can support an upcoming speaking engagement or when to schedule paid advertising around an upcoming event.
Your calendar also allows your firm to plan according to seasonality and special holidays. Listing holidays on your calendar lets you see at a glance when you should deliver any holiday promotions or messaging.
Who Uses the Content Marketing Calendar?
No tracking resource is effective without clearly defined expectations on who is responsible for updating it (you may need more than one person to update your content marketing calendar depending on its level of detail). And the same can be said about access… A content marketing calendar will not be effective if key stakeholders do not know how to access the document.
How might this look in practice? When it comes to maintenance responsibilities, at Hinge we have multiple team members who are responsible for updating and reporting on various marketing techniques. For example, we have one person who is responsible for updating our content marketing calendar with all data related to our webinars while another person is responsible for all matters related to our blog.
Once team members understand who is responsible for updating the content marketing calendar, a consistent rhythm where progress through the content marketing calendar is reviewed needs to be set. The more frequently the calendar is reviewed by the team, the more adaptable, flexible, and productive the team will become.
Finally, it is essential that the content marketing calendar be accessible to leaders in the organization. This is not a document that should be saved on someone's desktop! Ongoing access to the most up-to-date version of the content marketing calendar is a must.
Getting Started
A centralized content marketing calendar supports your stakeholders and drives your marketing plan forward. Before you start building out your calendar, however, you must have a strategic marketing plan to guide your way. The best marketing plans are grounded in research and describe the messages, frequency, effort level, and resources you will allocate to different marketing techniques.
A marketing calendar weaves your marketing plan together into a practical implementation program, laying down who does what, deadlines, what topics will be covered and expected results. With a marketing calendar working for your firm, lack of implementation should be the last thing that kills your marketing plan.
How Hinge Can Help
Hinge has developed a comprehensive plan, The Visible Firm℠  to address these issues and more. It is the leading marketing program for delivering greater visibility, growth, and profits. This customized program will identify the most practical offline and online marketing tools your firm will need to gain new clients and reach new heights.