Marketing is crucial to the success of any professional services firm. Veteran marketing professionals understand this and have learned how to demonstrate the benefit of their contributions to a firm's bottom line. But if you're newer to marketing it can be difficult to develop that proof of value.
Here are five things that will help you market yourself and advance your professional services marketing career (without making a significant financial investment in additional education and degrees):
1. Know Your Role
Understanding your role and the expectations of your firm is the first step to setting yourself up for success.
Just as perception gaps between buyers and sellers of professional services can lead to significant problems, the gap between what you think you're doing and what your firm wants (or needs) you to do can lead you into to dangerous waters. You may hope for surprise stemming from blissful ignorance, but you run the risk of frustration.
As a marketing professional, your lack of situational awareness is treacherous, especially if your firm doesn't fully understand the marketing function. Lack of insight (from both sides) ultimately leads to the dissatisfaction of all parties and can even lead to separation of employment.
As the marketing professional, it is your job to stay atop marketing trends and innovations. The professional services industry tends to lag far behind when it comes to marketing trends. It's quite common for firms to fall into the trap of valuing their technical staff—industry and technical experts, project executives/managers, etc.—over their marketers.
Educate your firm on what you do (your strengths, your value to your organization) and what you can do. And make sure that education aligns with expectations. Being proactive and broaching new opportunities—clearly explaining the costs and benefits—can help avoid issues down the line.
2. Develop Your Personal Strategic Plan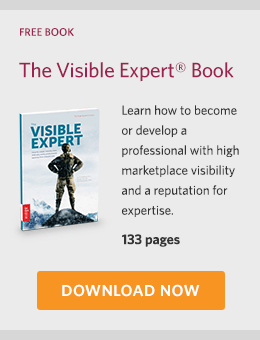 Knowing your role and understanding your firm's expectations is a great start. But what about the future?
What do you see yourself doing 6, 9, 12 months from now? If you have aspirations to become a highly visible corporate marketing officer (CMO) you must market yourself in support of your goal. It may be years away, but it's important to think about these things early in your career.
Your strategic plan should cover your personal goals and incorporate (at a high level) how this trajectory impacts and supports your organization. Take the time to reflect and document your thinking. Be honest with yourself and ask yourself:
What skills, experience do I need to achieve my goals?
What opportunities does the current firm offer?
Does my current firm give me the support I need to achieve my goals?
Can I see myself outgrowing my current position?
This exercise can help you plan ahead and think through impact—even develop a potential exit strategy if certain conditions are not met.
This may seem a bit harsh on the surface, but ultimately it provides clarity to what you hope to (and can) achieve. When you're comfortable, discuss your plan with a trusted colleague. Getting feedback can help you temper goals or give you more fodder for consideration as your career progresses.
3. Shore Up Your Support System
A career in professional services marketing can be daunting. It helps to have few empathetic supporters in your corner.
Ideally, these colleagues should work outside the marketing function but within your organization. They should understand—at least superficially—what you do. These individuals may already be doing their own personal marketing to promote themselves or their practice. They may even be one of your firm's Visible Experts.  
By having a solid support structure in place, you can vet ideas, discuss concerns, and be better prepared for things that come your way. Internal champions can also help advocate on your behalf for recognition of a job well done—or provide critical insights that can help you diffuse a tough situation.
Be sure to have champions outside of your organization too. They could be more senior colleagues in similar roles or trajectories that can help guide you through the ups and downs you may face. Or they may be at your same level and are at least willing to talk shop or share potential solutions every now and then. The unifying thread for these individuals is that they understand the value and importance of marketing in achieving an organization's overall strategic goals.
4. Get Active in Industry Associations (and generally keep learning)
Marketing is constantly evolving and it's important to stay on top of the trends.
Industry associations like the Society for Marketing Professional Services and the American Marketing Association, among others are great venues to help you learn best practices within your industry and beyond.  Connect with marketing peers and exchange ideas in person at networking events or via targeted LinkedIn groups online.
When it comes to associations, you can get even more value by participating on a board or committee. Memberships at credible associations do come at a cost that will often be supported by your firm. Oftentimes, you will have to outline your participation goals to get approval to join.  And board or committee membership (with the side goal of increasing leads for business or partnership) can help sweeten the deal.
Volunteering with an association's membership committee is a great way to meet people and expand your network (outside of events). Participating with the events or education arm help you flex your creative muscles as well in seeing how your industry peers learn and grow. There are many other ways to get involved that benefit not only yourself and your professional growth, but that of others across other organizations and industries. Legal marketers can learn quite a bit from a construction marketing professional, and vice versa.
The Internet is also a great resource for free educational content by way of blogs, guides, ebooks, and webinars.  The more you know, the more efficiently you can add value to your organization and enhance your career.
5. Engage Your Firm's Technical Staff
There's more to working with technical colleagues than proposal writing and pitch preparation.
Scheduling regular check-ins helps you better anticipate issues and increase trust in your working relationships. And it may even help get another supporter in your corner. Start out by scheduling a 10-minute chat with a technical colleague. Keep it casual and high-level. Get to know each other a bit while gathering insights into a concern or obstacle they may be facing. Talk through potential solutions or alternatives they may not have considered. You can also use this time to get their advice or general feedback on how you can help them look good in their role. Everyone wants to be heard and they may be feeling as isolated as you may feel at times, too.
Pro tip: Make it a walking meeting (stroll around the building or to a nearby shop to grab a coffee) to get their undivided attention and to get you both out from behind your desks and computers.
Be sure not to limit the discussion to the "marketing" lens. Looking at challenges or situations from a broader perspective encourages creative solutions. You get the chance to build rapport and help educate your technical colleagues on the mysterious world of marketing.  The added benefit is the chance to find common ground…and potentially be viewed in a different light.
I'd love to hear of your successes and temporary setbacks when it comes to how you are marketing yourself and using the tactics I've described above (or any that you may have tried). Let me know on Twitter (@perspicaciousK) or on LinkedIn!
Additional Resources:
How Hinge Can Help:
Want to become an industry thought leader? It's one of our specialties. With Hinge's Visible Expert℠ Program, we can help you implement a thought-leadership platform that builds your reputation and visibility in the marketplace.