You might think you're already doing everything you can to improve the visibility of your technology firm online, but the constantly changing algorithms used by Google could mean your approach is out of date.
With the crucial role search engine optimization (SEO) plays in increasing visibility and generating leads for your firm, you can't afford to fall short on this essential element of online marketing. Check out the graphic below and you'll see SEO is the most effect online marketing technique used by experts and high growth firms.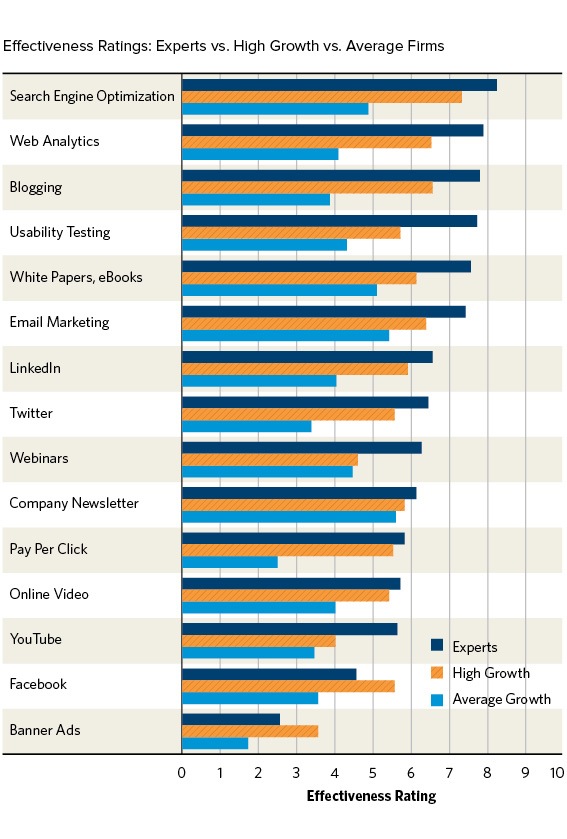 Many technology marketers aren't aware of the numerous ranking factors search engines assess to determine your website's ranking in search results. To keep up with the high rate of change, firms need to regularly monitor SEO news and updates.
SEE ALSO: 5 Ways to Better Connect With Your Technology Audience
If that seems overwhelming, don't worry. We've identified five simple SEO musts that your technology firm can implement to influence your website's rankings in search results.
The Ultimate SEO Checklist for Your Technology Firm's Website
Keyword Optimization
Keyword usage is one of the most common and talked about SEO strategies, because it's one of the most important. The keywords you select for your web copy and content shouldn't be just a "good guess." Instead, your keywords need to be carefully selected based on market research and an in-depth knowledge of what your target audience is searching for.
The keywords used should be incorporated in your web copy as naturally as possible. Remember, you're writing for both humans and search engines. Outdated (and black hat) methods like keyword-cramming or unnatural optimization will get you in trouble with Google.
Not sure where to start finding the right keywords? Try using tools like Google AdWords, Moz Analytics or other keyword ranking software. You can search for keywords that are relevant to your services and content and see how often they are searched.
Look first for keywords that have a relatively low difficulty rating and attract high search volume. However, make sure your selection is realistic – you don't want to select a keyword that doesn't accurately describe your product or service just because it seems easy to rank for. While doing so might make your website come up in more searches, you'll only end up frustrating your audience when they realize you aren't what you promised to be.
URL Structure
Search engines like Google, Yahoo, and Bing are more likely to rank your website higher when it is more organized and easy to crawl. An unstructured, disorganized and difficult to crawl website might lead your site to be ranked below other similar sites.
By following best practices for URL structure, you can help search engines identify your website as one that will be easy to crawl. For the most SEO-friendly website, think of your structure as being similar to a pyramid. Your homepage should link to other sub-pages that then link to other sub-domains. When you build your website like a pyramid, you give search engines a logical crawl progression.
As you plan out your website, try to think in categories and subpages underneath those categories. For instance, a well organized, pyramid-style URL would read like this: www.website.com/category/category-subpage.
Page Optimization
Properly optimizing your keywords goes beyond simply including them in your blog posts and page copy. You also need to integrate your keywords into the code of your different website pages in order to improve your ranking.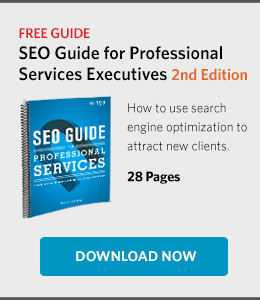 Again, while you want to be careful not to "stuff" your content with keywords, it's important to include them naturally in the places where search engines are looking – most importantly in your title tag, header tags, and meta descriptions. Your keywords also need to be incorporated contextually into the body copy of your page, but take care not to overuse them.
Alt-Image Tags
Search engines don't "read" images, but they do read the alt-image tags attached to the images. Make sure that every image you post on your website has a corresponding alt-image tag that explains what the image is depicting.
While the alt-image tags need to accurately describe the associated image, it's even better if they can achieve that task and incorporate your keywords. Not only will this help your website rank better, but it can also be helpful if your audience is using a text-based web browser.
Internal Linking
Including internal links in your content serves to create an informational hierarchy for your website by demonstrating the significance of your various pages and sub-pages. Essentially, internal links tell search engines that your site is a good source because it has valuable information throughout its pages. Think of your internal linking structure like a spider web, with relevant pages linking to one another in a natural, seamless way.
Use the anchor text – the words or phrase that describe the internal link – to tell search engines what topics are covered on the linked page. For instance, rather than using "click here" as your anchor text, choose more descriptive and unique language. It's also important to avoid using the same anchor text keywords for a single page. Instead, try to use similar variants of a keyword.
Internal links can also be valuable tools for directing your audience through the sales funnel. Link bottom of the funnel content to top of the funnel offers to anticipate where you want your audience to go on your website. Link more frequently to high performing pieces of content and pages that you want to see rank higher in search results.
While the algorithms for SEO are constantly evolving, you can always count on these best practices to build a solid SEO foundation. Use this checklist to take a good, hard look at your SEO practices and see if you're doing everything you can to help your website be more visible to your target audience.
Learn more about how to use SEO to get valuable prospects to find your firm online in Hinge's SEO Guide for Professional Services.
On Google+ or LinkedIn? Follow us +HingeMarketing and join us on LinkedIn.