Brand. It's a word that is thrown around a lot, but what is it really? And how can you measure it to quantify its impact?
Brands are the personality' of a business, whether the business is a consumer good like soda or a professional service like accounting. The emotion, imagery, and associations a person connects with that company have generally been well thought out and planned by a team of people. Companies strive for positive associations with their company  — and spend a lot of money to make this happen. A popular example of this would be the Coke Christmas Polar Bears. They want you to think of Coke when you think of happy Christmas memories, so you want to include Coke every holiday season… or even better, whenever you are having a positive experience.
Professional services brands can be a little different from consumer goods, as you are generally creating a brand around your expertise, rather than a product. You want your brand to portray your firm as capable and trustworthy – and the best in the industry for the service you provide.
The first step in creating your professional brand is to figure out where your expertise fills the gap in the marketplace. Conducting marketplace research will help you uncover where the gaps are. Ask questions – find out from your target clients what they are looking for in a service provider.
By talking to your target clients, and even asking potential clients who chose not to hire your firm, you can find out a wealth of information. You'll find the answers to what type of services they need, what they look for when hiring, deal breakers, why they went with a certain firm, etc. This will help you refine your brand and represent the service level and offerings that the marketplace is looking for.
When you find out what clients want and need, you can look at your competitors and see where they are falling short – this is where to strategically place your brand! Fill in the gap for what the client wants and is not currently being provided by competitors.
Once you've identified the gaps and isolated the opportunities, you can build your brand around these attributes and become known for exactly what the potential clients need.
Remember, all touch points with your brand build your reputation. Everything from an ad online to your website to client interactions to your actual work quality will affect how the marketplace views your brand.
Building a brand takes a lot of work and time. Coke wasn't put into the marketplace yesterday! Once you've identified what makes your brand different and what you want your brand to represent, it's time to build your brand awareness and brand visibility. Do your target clients know that your firm is an option? Building brand awareness and visibility will help you capture more leads and ultimately business.
There are a several ways to achieve brand awareness and visibility in the marketplace:
Optimize your website for keywords. This will help potential clients uncover your firm when they are looking for solutions and may not know whom to turn to. If you can identify the types of terms they are looking for, you will broaden your audience and reach. By using keywords within the copy and headers of your web pages and in the way you talk about your services, you will bring people to your website and therefore educate them on your firm's brand.
Buy ads. As a short-term campaign, targeted ads can help gain visibility for new or newly repositioned brands. Ads are available on social sites such as LinkedIn and Twitter, as well as search engine results pages such as Google Ads. Careful keyword selection and ad copy creation will help keep budgets from getting out of control. These methods need to be closely monitored to see the success of your reach while staying within a budget.
Be active on social media. Your firm should have a Twitter and LinkedIn profile that you can share content from. Some firms also use Facebook and Instagram. See where your potential clients are (by asking) and make sure your firm is represented on those channels. You can gain brand awareness and visibility by frequently posting content that is useful to the target client and making sure they see it, through hashtags and groups. Twitter allows users to search for news and information through #hashtags, so by using hashtags that relate to issues your firm can address, new audiences will be able to see your brand and your expertise. Groups can be utilized on LinkedIn – join groups that your target client will be in and participate in conversations. This will allow you and your expertise to be seen.
Write blog posts. By creating blog posts that are keyword optimized, you will showcase your brand when target clients are using a search engine to find answers to their problems. You will reinforce your brand expertise by discussing issues your target clients are facing. You can also expand your brand awareness by securing guest posts on other blogs that your potential client reads (such as Inc. magazine's blog) and linking back to your website.
Achieving brand awareness and brand visibility is an investment. It takes time and resources to become a brand that people recognize for a certain expertise. By consistently getting your firm out into the marketplace and being in the places that you know your audience is, you will be able to showcase your authority on a subject matter and earn the brand trust that can make your firm successful.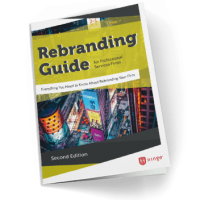 Free Resource
The Rebranding Guide for Professional Services Firms
Learn More
How Hinge Can Help
The best brand building strategies help your firm connect with its buyers, builds your reputation, and increases you marketplace visibility. Hinge's Branding Program can help your firm stand out from the competition and build a brand that drives sustained growth.