Looking back just a few years, I am amazed by how much the marketing landscape has change. Unfortunately, the rapid evolution of marketing has not made things any easier. In fact, marketing continues to increase in both complexity and pace.
But, what does this evolution mean for today's professional services executive? Let's start with a look at three dynamics affecting marketing for professional services: marketing technology, training and skills development, and buyers' expectations.
1. Marketing technologies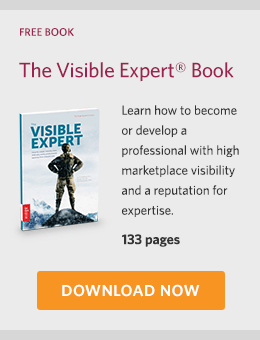 Not so long ago, technology was relegated to your IT department. By the late 1990s, marketing began to join in the technology conversation, if only tangentially. According to an article in Forbes, today's CMOs are expected to oversee more of the IT budget than CIOs next year.
The following are just a sampling of the marketing technologies that we use every day:
Customer relationship management (CRM) systems that manage and analyze interactions with clients and prospects throughout their engagement with a firm
Digital marketing technologies that help us reach out to prospects, convert leads into clients and then retain those clients
Database marketing systems that personalize communications with prospects and clients
Marketing and sales tools that automate and optimize lead generation and our nurturing efforts
Web analytics tools that help us measure, collect and analysis the surfeit of online data so that we may optimize our web usage
Mobile marketing, which pushes our marketing communications to tablets and cell phones
Content management systems that contain the multitude of website assets—images, video, blog content, etc.—for easy upload and editing
Social tools for sharing, curation and networking (i.e., LinkedIn, Twitter, Facebook, YouTube, and others).
Keeping track of the evolution of marketing technology can be overwhelming. Some days, I wish we could give the technology back to the technologists.
2. Training and skills development
Creativity and innovation have long been the cornerstones for marketers. But, as we just read, technology is now just as important. Today's marketing skillset includes more than copywriting and design. You also need online analytics, research, strategy, and a deep understanding of statistics.
A degree in marketing is no longer enough. Today's successful professional services marketing strategies need individuals trained on the latest online and analytics tools. So, ongoing training and skills development will continue to demand our attention and commitment.
3. "Always on" buyer expectations
Just as the role of marketing has changed, so too has the buyer experience and expectations. Today's professional services buyer expects firms to educate them on critical industry issues, best practices and trends. What's more, they expect this information to be freely available. Geographic location is now far less important, but specialization is far more important.
There is a much greater need to unify conversations happening offline, which have a specific start and end, and online, which can happen 24/7.
According to Accenture Digital, "The top three reasons why marketers feel challenged with managing digital content are lack of skilled talent, deficiency in technology, and overall process issues."
SEE ALSO: 3 Great Reasons To Embrace Your Next Generation Of Industry Experts
A 360-degree view
How do these three dynamics square with the firms' brand?
In professional services, brand strength is measured as reputation x visibility. Your brand is potent and educational content can help extend the reach of the brand.
Content marketing can have a tremendous effect on a professional services firm's visibility. However, the majority of firms do not have a good grasp of how to implement a holistic educational content marketing strategy across business units and market segments.
The first lesson is to understand what educational content marketing is not. It is NOT marketing copy, syndicated copy, brochures, case studies or testimonial. Instead, educational content marketing focuses on the issues and topics most relevant to your clients' needs. It's all about what your clients care about, not what you want them to know.
Brand differentiation and proper positioning is also essential for professional services, given that many share the common "it's our people" message. The brand builds awareness and creates a desire for demand. To be effective, brand messages must resonate with the target audiences.
Every message must also consider the firm goals and objectives. Is the firm looking to grow its top line revenue? Bottom line revenue? Both? Does it want to enter a new market? Increase referrals? Identifying the goals and then permeating them throughout the organization will go a long way in keeping those online and offline conversations cohesive.
Bringing it all together
Messages, goals and eliminating gaps in internal and external perceptions can then come together in the marketing execution. Each touch point with the firm's brand is a chance to enhance—or diminish—a client's perception. For example, the types of calls to action and the copy in landing pages should convey a consistent message, representative of the brand. Each proposal and short list interview with your technical professionals must also convey a consistent message between your brand and the issues and topics most relevant to the prospect. Just one negative interaction can damage the prospect or client's perception.
So, what can leadership teams do to shore up the firms' marketing efforts? Recognize that marketing is both strategic and tactical. Launching into tactics will be a waste of effort and dollars if the proper strategic foundation is not established and if the training and skillset development of an entire team does not occur. In the inevitable "right brain/left brain" debate, both sides are needed to successfully keep up with the rapid evolution of marketing.
Additional Resources
How Hinge Can Help
Want to become an industry thought leader? It's one of our specialties. With Hinge's Visible Expert® Program, we can help you implement a thought-leadership platform that builds your reputation and visibility in the marketplace.