What Every Managing Partner Needs to Know About Content Marketing
Content marketing is an effective way to build your firm's brand, demonstrate expertise and give prospects a taste of how your firm can help them. Since professional services firms are driven by expertise and relationships, content marketing is a natural fit! In fact, a 2015 survey reported that 86% of B2B respondents said they use content marketing.
What is it? Why is it gaining so much traction? And what does it take for a professional services firm to become a successful content marketer?
Here's what you need to know about content marketing. First, the definition and then answers to some of the more complex questions.
Content Marketing Defined
Content marketing uses relevant, educational, engaging information (not marketing materials) to attract prospects, build trust and lasting brand visibility. It also touches influencers, potential business partners and prospective employees.
1. Why the Use of Content Marketing Is Growing
Content marketing is not new. Firms have used articles, speaking engagements, research reports and even books for a long time to build their practices and demonstrate thought leadership. However, it's clearly on the rise.
What has given it so much momentum over the last decade? The Internet and marketing automation have made it easier than ever to share content…and buyers now expect it.
2. Professional Services Buyers Are Changing
Got a question? Google it.  Need to buy something? Search online.
Amazon. Uber. Airbnb. These companies are successful in part because they have responded to consumers' desire for a shopping experience that puts all the information they need to make an informed decision at their fingertips.
But searching online is not limited to consumers. Professional buyers live in the online world too. They seek answers to their questions and solutions to their problems on the web.  And use content marketing to educate themselves.
Buyers of professional services expect honesty, a free flow of information and to be able to find specialists that offer five-star solutions. These buyer demands have set the stage for the content marketing revolution in professional services.
3. Content Marketing and Professional Services — a Perfect Match
Professional services are all about applying expertise to solve client problems. With buyers doing more and more pre-purchase research online, it provides new marketing opportunities.
Your prospects can find you via web searches and social media. Ideally, the content you provide, such as articles and e-books, helps them to identify their problems and frame their solutions around the services you offer. And the more potential clients learn from you, the more likely you are to become their trusted partner.
Also, if someone is referred to you, they are more likely to follow through if they find a clear, engaging website and content that reinforces your expertise. If not, you could be eliminated before you even know you're in the running. In fact, over half of the respondents in our study 'Referral Marketing for Professional Services Firms' have ruled out referrals before speaking with someone at the recommended firm.
4. Content Marketing Is About Educating, Not Selling
If you regularly provide high-quality information that is relevant and educates buyers, you will not have to sell.  By showing, not telling, you will become a Visible Expert℠, a well-known industry star.
How do potential clients determine your expertise? First, they ask their friends and colleagues for referrals. After that? They look for someone who makes it easy to understand a complicated subject. When you/wp-content/uploads/2016/03/span>educate, prospects will see you as an expert and also be more likely to/wp-content/uploads/2016/03/span>trust you.
/wp-content/uploads/2016/03/
Back to those referrals. Here's an amazing statistic — 81.5% percent of professionals receive referrals from people who are not clients. How is that possible? Our Referral Marketing for Professional Services Firms study revealed that 94.5% of these referrals were based on expertise, reputation and visibility.
If someone is aware that you specialize in solving a specific problem, they may recommend you to a professional facing that challenge. Also, even if an individual has not worked with you directly, they might have heard enough about your reputation from colleagues to feel comfortable recommending you.
Not surprisingly, a strong reputation plays a significant role in the final selection of a firm. Actually, it's the easiest way to unseat the incumbent. Buyers cite reputation as the number one factor in the selection process.
The good news is that you can build that reputation online and off.
5. Successful Content Addresses Real Client Issues
How can you stand out in the rapidly rising sea of content? Produce content that addresses genuine and critical client needs.
The process starts by clearly identifying your audience. Bear in mind that firms that specialize and have a well-defined audience grow faster than those that take a less targeted approach.
Once you have defined your audience, study them. Learn the issues they face so you can cover them in your content. Do original research on their needs and priorities. It will pay off. Firms that conduct research are more profitable and grow faster.
Don't be afraid of giving away the secret sauce. If you don't educate, your competitor will. Plus, if someone can implement your solution after just reading about it, they're not a real prospect for your service.
6. Content Must Align with Your Brand and Services
There is not always a perfect overlap between the services that your firm wants to sell and potential clients' issues. But where the two intersect is your area of opportunity. There may be many solutions to their hottest issues. While you might want to review several alternatives, you should focus on the solutions you can help to implement.

To ensure your content aligns with your brand and audience's needs, concentrate on issues that support your brand and topics that highlight these issues.
7. Content Can Attract, Nurture and Qualify Prospects
Some content attracts an audience through search engine optimization (SEO), social media and guest posts. Some goes deeper to educate and engage people and nurture relationships.
While you may be familiar with these two roles of content, what may be less obvious is how content acts to qualify leads. If the content is not relevant, someone will not continue to engage in it. Now that's clever.
8. Success Requires Skills, Resources and Time
Content marketing is not easy to do well because it requires a broad range of skill sets.
You need people to develop a strategy, research your audience and create content. Also, content marketing should be supported with analytics and testing, SEO, lead nurturing, social media, pay-per-click advertising and more.
SEE ALSO: Developing Your Content Marketing Strategy
Most firms don't have all of these skill sets or the time to get the work done. This means outsourcing some or all of the marketing strategy and tasks so you can focus on what you do best.
Also, content marketing is not a campaign that will give you immediate results. It's crockpot marketing, not microwave marketing. Give it the time and you'll fill your pipeline with leads. Also, as you analyze your results, you'll be able to tweak and optimize your lead generation process.
To understand the amount of time content marketing might take, you can look at these charts that show the average results for our clients. They show that it takes a full year to experience the full benefit. Give up too early and you will miss the real payoff.
9. High Visibility Experts Are a Natural Fit with Content Marketing
Nothing says expertise like being nationally known — a Visible Expert℠. And Visible Experts℠ are a natural byproduct of content marketing. After all, someone has to be the author or give the presentation.
Such experts often create a halo effect for the entire firm, attracting new clients, partners and employees. That is why it makes good sense to use content marketing to grow your Visible Experts℠.
10. Content Marketing Will Attract Top Talent
People want to work in a firm that is known for their expertise. As you promote your content, you will capture the attention of professionals who are interested in your specialties.
Once again, content qualifies.
Prospective employees who are reading your content are often the best possible recruits. After all, they're interested in what your firm is doing.
Additional Resources
How Hinge Can Help
Content marketing is at the heart of Hinge's flagship Visible Expert℠ program. It is the leading marketing program for delivering greater visibility, growth, and profits. This customized program will identify the most practical offline and online marketing tools your firm will need to gain new clients and reach new heights.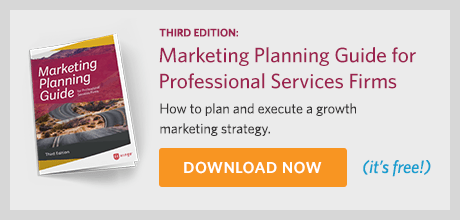 Industries & Topics