Developing Your Firm's Next Generation of Industry Experts
When you ask a managing or senior partner in a professional services firm how they go about securing their reputation as an industry expert, they'll tell you that it's all about their experience and who they know. They mention a strong network that refers new clients based on their stellar reputations.
But today's fast-paced business environment, in which the Internet has made geography irrelevant, has shifted significantly the way new business is developed. Most up-and-coming leaders in professional services firms are aware of this, yet many firms have done little to change their professional development and marketing activities in response to the new paradigm.
Two major changes of note are
the way people are finding industry experts and
where professional referrals are coming from.
Hinge's research team conducted an extensive study in 2015 to better understand these changes. We gathered data from more than 500 professional services firms (including legal, management consulting, accounting and technology companies) to learn what's really happening in the way industry experts are being identified and referrals are being made in today's marketplace.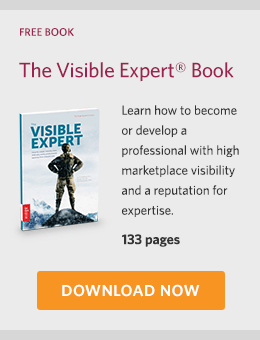 One of the most significant findings was that 81.5% of referrals don't actually come from clients. They actually come from people that have never worked with your company. These non-buyer referrals are often reputation-based or expertise-based referrals. Reputation-based means the person giving the referral has a general awareness of your firm and services. That individual might say, "I've never worked with them, but I believe they can help you with that challenge."
The latter referral type, industry expertise–based referrals, is based on the referrer's understanding of your professional expertise. These referrals are especially common for firms with niche practices or firms that specialize within specific market sectors. The referrer might say, "I saw a presentation (or read an article) by Jane Doe at AAA Firm on that exact issue. I think she will be able to help you."
You may think it's unheard of that someone would refer a firm they've never worked with, but consider this: When you look at your client and prospect lists are you able to readily identify how each contact found you? You may know many personally, but if you are appropriately demonstrating your industry expertise more than you think came to you by other means. Many may have been influenced by what they've seen and heard about you in the public domain. These non-client referrals are driven not only by your firm's brand, but also by the visibility of your firm's individual industry experts.
SEE ALSO: Top 7 Referral Marketing Ideas for Professional Services Firms 
Another reason to demonstrate the industry expertise within your firm has to do with influence. Back when we did not have the answers to all our questions at our fingertips, we used to reach out to our network for insight and advice. When we got a recommendation, we called that professional to help us solve our problem or need. It was a matter-of-fact process from referral to initial contact. That has all changed.
Today, 51.9% of buyers rule out a referral before even speaking with that person. A prospective client could rule out your firm for a number of reasons. Maybe someone else suggested they not use your firm. More likely they did some initial online research online about you.
In fact, when we asked buyers how they vet referred professionals or firms, online research accounted for three of the top four responses (80.8% look at their website, 63.2% search online [e.g. "Google" them], and 59.9% utilize social media). True, 62.4% will ask colleagues if they've heard of you or your firm, but where did those colleagues hear about you.
The potential buyers of your services create a short list of firms based on their network's feedback and then research each firm's website to ultimately rule out half of them.
This evolution to an online-centric buying methodology is partly because your clients are getting younger. But it is also because prospective clients are busy—busier than ever. To save time, they begin their search online. They may reach out to their network after they've short-listed a handful of firms, or search online after talking to them. Either way, they're eliminating firms within minutes, sometimes seconds, by reviewing websites, social media, and review websites.
Developing the visible industry experts of the next generation is vital for your firm's long-term success. But you must go beyond doing good work and following up on client-based referrals. Times have changed, and your marketing and business development efforts must change to keep up. So consider how clients are looking for your services and take full advantage of the opportunities to develop the industry experts of tomorrow.
Additional Resources
How Hinge Can Help
Want to become an industry thought leader? It's one of our specialties. With Hinge's Visible Expert℠ Program, we can help you implement a thought-leadership platform that builds your reputation and visibility in the marketplace.
Industries & Topics