Competition for professional services talent is hotter than it's ever been. This is due to a number of factors including a limited supply of top quality professionals, an improving economy and job market, and changing demographics and priorities of today's professionals. So what can your firm do to be sure it's positioning itself to attract the best candidates? Here are some recruiting ideas that high-growth firms are implementing to achieve a competitive advantage in their recruiting.
Recruiting Idea 1: Build a Brand that Prospective Employees Will Love
So you already know that your firm's brand is essential in conveying its strengths and unique differentiators to your clients and prospects. But have you considered what that brand is communicating to potential employees and top professionals in your field? A firm's brand is a combination of its reputation and its visibility. While there are many firms with good reputations, high-growth firms take their brands a step further. They focus on "living their brand" by developing a culture that delivers on the firm's brand promise. In the same way a strong brand attracts top quality clients it will also attract top quality professionals—people who are increasingly more selective and want to join a firm with a reputation that makes them proud.
Recruiting Idea 2: Focus on Visibility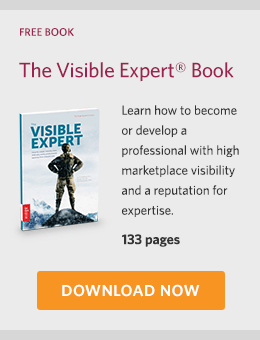 Your firm's reputation is one aspect of its brand, but by itself it's not enough to attract the best talent. Your firm must also be highly visible in the market place. You don't want to be anyone's "best kept secret." The fewer people who are aware of your firm the smaller your pool of potential clients and employees. So you must strive to be visible, particularly online. Why? Because every year more and more firms are discovered and vetted online—a trend that is not going away. That means you need a professional website, and you need to be active on social media platforms such as Linked In, Twitter or Facebook. Social media is a quick way to boost your firm's visibility and make it easier for prospective employees to learn more about your firm's expertise, its people, and culture.
Recruiting Idea 3: Demonstrate Your Expertise
Next, let's now consider what exactly it is that you want your firm and its professionals to be known for. Hinge's research on buying behavior tells us that firms and professionals that have a specific niche and produce educational content around this specialization are more likely to be perceived as experts and are more often preferred over their less differentiated competitors. The best way to demonstrate a focused expertise is to write and speak widely on a relatively narrow set of issues—and to become the go-to experts on them. This buying behavior is just as true for your prospective employees as it is for your prospective clients. Experts attract qualified professionals who want to work with the best.
Recruiting Idea 4: Don't Shy Away from Awards and Recognition
It's one thing for you to describe all the great things about your firm, but it's far more powerful when others say it for you. Receiving awards and recognition from reputable organizations or publications will bolster your firm's reputation and Visible Expertise in a way that can be more compelling than word-of-mouth recognition. Awards and recognition by independent parties are tangible and credible signals to prospective clients and prospective employees that your firm not only "talks the talk" but also "walks the walk." In other words, you're not just saying what you believe people want to hear; you're actually doing what it takes to receive recognition for your work from people and groups outside of your firm.
Recruiting Idea 5: Promote Your Culture
Your internal brand is as important as your external brand. It addresses key questions that prospective employees are looking to answer: What's it like to work at your firm? What do employees enjoy about the experience and what are the key benefits of working there? Does their experience match up with the messages you are conveying externally? If you are being true to your firm's external brand—delivering on your brand promise—chances are your employees will feel good to be a part of the firm and will spread the word about your workplace, which in turn will attract more talent. Encourage your staff to post write-ups on workplace sites such as Glassdoor.com and dedicate a section of your website to describe, in words and pictures, your great work environment.
Closing Thoughts:
Professional services firms are only as good as the people who make up the firm. By living up to your brand promise and making your firm's expertise and culture more visible, you will attract a steady stream of highly qualified professionals who are actively interested in—and in some cases already prefer—your firm.
Additional Resources:
Get the knowledge and tools you need to lead your firm through the rebranding process. Download a free copy of the Hinge Rebranding Kit
Check out the Professional Services Guide to Research and get the tools and knowledge you need to lead your firm through a successful brand research program.
Join Hinge University and get the practical, step-by-step education you need to turn your firm's marketing program into a high performer.
 How Hinge Can Help:
Attracting top talent can be tricky in today's hyper-competitive marketplace. That's why Hinge offers a complete line of research and branding services to help your firm convey a more appealing, sophisticated, and clearly defined image to prospective employees and clients.