Why Personal Brand Building Shouldn't Scare Employers
Brand building should be a crucial part of any firm's business development process. The product of reputation and overall visibility, a strong brand means that your messages are more likely to reach your intended audiences—and your audiences will be more aware of you. In fact, "brand awareness" is one of the key metrics used by high growth firms to measure the efficacy of their marketing efforts.
Improving a brand's perception can do a lot of good for a firm. So why are some organizations leery of their employees' personal brand building efforts? It doesn't necessarily mean they're looking for another job.
Of course, there are times when a sudden change in an employee's behavior might raise alarm. Everything from a poor cultural fit to an unexpected restructuring to a lack of empowerment can affect a good employee's morale.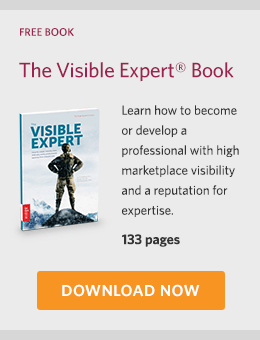 But in the absence of these or other negative factors, investing in personal brand building for your top experts can dramatically improve your firm's fortunes. Here are five benefits that arise from supporting your employees' brand building efforts:
The Halo Effect. When your key employees have a strong personal brand, people are more likely to have a positive perception of your firm as well. This is called "the halo effect," and it goes both ways—a strong firm brand reflects well on the individuals you employee, as well. So be sure that employees have the tools, skills and support they need to be your firm's brand ambassadors.
Higher growth and a stronger firm brand. As your employees position themselves as Visible Experts®, your target audiences will seek them out for their knowledge and experience. We know that 66% of Visible Experts accelerate growth and business development for their firms, and 62% of Visible Experts contribute to their firms' brand-building activities.
Increased reputation- and expertise-based referrals. A whopping 81.5% of professional services referrals don't come from your clients—they're from people who have never worked with your firm at all. Perceptions of your most visible employees—such as their ability to deliver results or their knowledge in a particular area—will stand out in a buyers mind. They'll think of your Visible Expert and, by association, your firm too.
Greater employee engagement and greater satisfaction. Fulfilled employees that understand their role and purpose within an organization may be happier and less likely to leave.
A prepared group of future leaders. Undoubtedly, generational shifts within the workplace are affecting many firms as Baby Boomers retire, Generation X settles back into a set career path, and Millennials seek to find their dream jobs. Often, firms realize too late that their succession plan (or absence of one) didn't properly groom the next wave of leaders. Proactive support of employees' personal brand building helps in myriad ways, including boosting their confidence and grooming future leaders.
Supporting employees as they build their personal brand should not overly tax your firm. As long as you have resources in place—like supportive managers, a strong firm brand identity and a commitment to employee development—you'll find that many employees can do quite a bit on their own. Some employees may be more independent while others need a bit more hands-on guidance along the way.
In the end, there's nothing to be afraid of when your employees want to work on their personal brands. If you support these efforts, employee loyalty is likely to grow. Be the first to approach and encourage key employees to pursue a strong personal brand. This show of support matters more than you may know.
Additional Resources:
How Hinge Can Help:
 Hinge developed the Visible Expert® program to guide individual experts to greater prominence in their industry. This customized program is based on research into Visible Experts and buyers of their services. It provides a clear roadmap, tools and training for any individual who want to take their expertise to the highest level.
Industries & Topics