Accounting & Finance CASE STORY
Reinventing an accounting firm brand
How Hinge built an iconic brand for a regional accounting firm and stimulated powerful new growth.
Hermes Award Winner
"We've seen 40% higher revenues since we rebranded. At the outset, Hinge predicted that a strong reputation and image would generate growth and attract great people. They were right."
Stephen M. Jones, President & CEO, Jones CPA Group
Time to start over
When we first met Steve Jones, his firm Strickland & Jones was at an inflection point. His partner had just retired and Jones wanted to take his 3-city Tidewater Virginia firm in a fresh direction and start growing again.
With Strickland out of the picture, the firm needed a new name—and an exciting new brand to reintroduce themselves to their market.
Naming names
Naming the firm was a priority. Their current name had considerable brand equity and was relatively well known in the region. We considered a range of options, from an entirely new name to no change at all. Ultimately, we settled on an evolution: Jones CPA Group. This name offered two advantages: it communicated what they did, and it retained a connection with the old brand.
A little learning
To begin, we designed and executed a research study. We spoke with 43 clients, influencers and staff members to understand the marketplace and identify opportunities to position them in the marketplace. Like many smaller firms, they work predominantly with their local business communities—concentrated in the cities of Newport News, Norfolk and Virginia Beach. Their services were a traditional mix of tax, audit and advisory. But according to the research, one characteristic stood out: these accountants were highly accessible, exceptional communicators.
So we ran with it.
No bridge required
But what did good communication mean? For one thing, clients were able to reach their accountant with ease. Everything was explained in plain, easy-to-understand language. And in a region splintered by waterways, peninsulas and islands, people loved the convenience of the firm's three offices. It meant they didn't have to brave the often traffic-clogged bridges. There was always an office close-by.
In an age of impersonal digital communications, this firm made it easy to interact face-to-face.
Positioned to talk
So now we had the seeds of the firm's new positioning. Next, we built it out into a formal positioning statement and messaging architecture. We also introduced a simple but inviting tagline: "Let's talk success."
While great communication may not sound like a groundbreaking idea, it was Jones CPA Groups's defining trait. And no competitors were owning it. It just worked.
Let's talk identity
To make their positioning tangible, we baked it right into their identity. A speech bubble is the salient feature of their new logo, and we incorporated that element across all of their identity and marketing pieces. Their brand is not only distinctive and memorable, it communicates as clearly as the firm itself.
A happy outcome
Since the rebrand, the firm has experienced tremendous growth (40%), which CEO Steve Jones attributes largely to Hinge's work. Today, his firm has exceptional visibility in the Hampton Roads region—and a powerful set of tools to differentiate itself in the marketplace for years to come.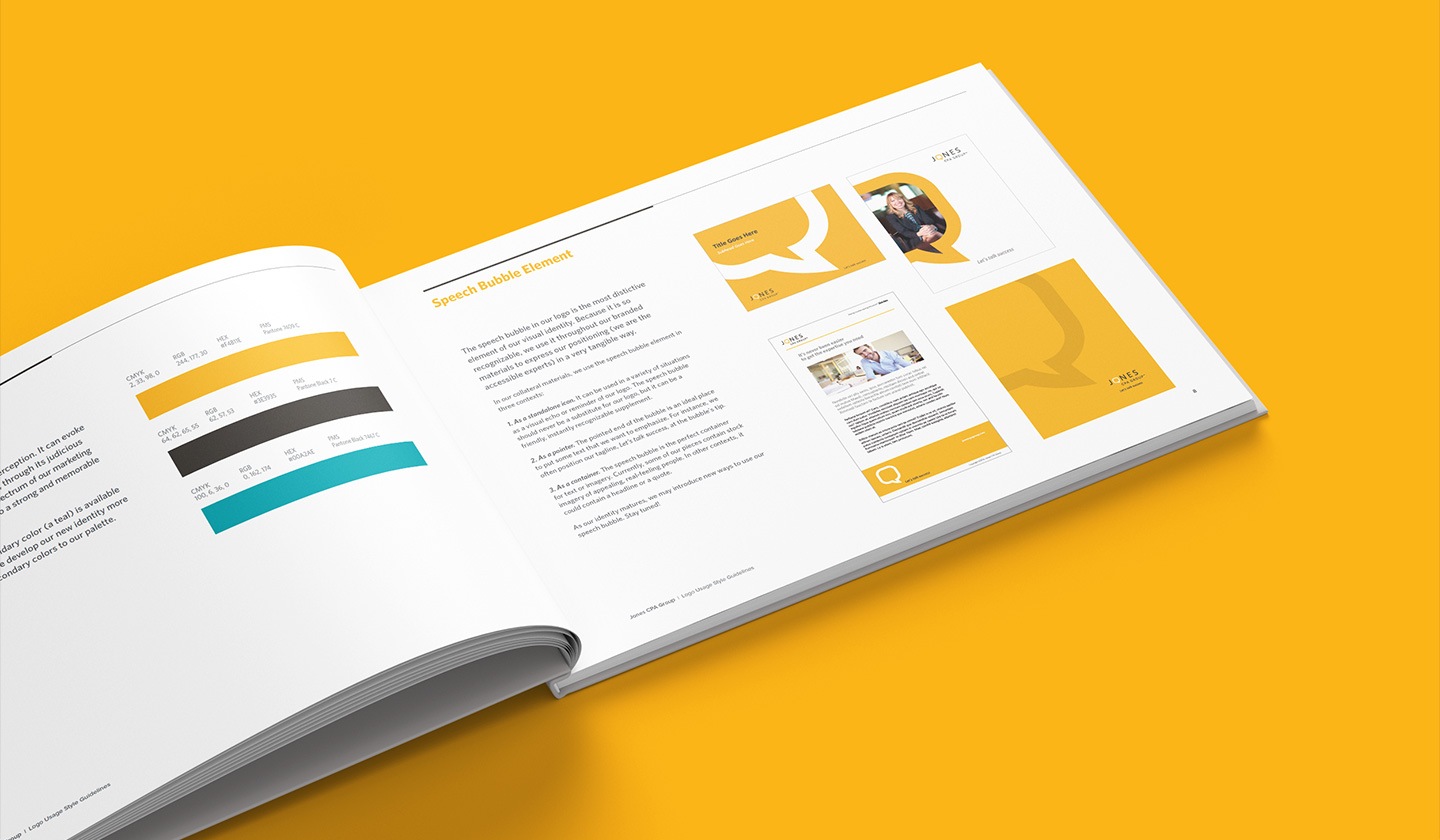 What we did
Branding Services
Research
Naming
Differentiation and Positioning
Messaging Architecture
Logo Design
Stationery
Marketing Collateral Design
Brand Style Guidelines
More Case Stories
BACK TO TOP
Do you have a branding or website challenge?
Let's Talk