AEC CASE STORY
Re-engineering for greater growth
A top 100 engineering firm needed an exciting new brand and fresh marketing strategy to sustain its growth. This is their story.
Hermes Award Winner
AVA Award Winner
Communicator Award Winner
Davey Award Winner
"I was adamantly against that green in the logo. However, Hinge's research convinced me otherwise. I've now gotten to the point where we have some of that color on my office walls. I've committed! We now look and feel like an ENR Top 100 firm."
Steve Pasternack, PE, Vice President/Director of Energy, S&ME
Lost. Then found.
The S&ME team had a huge problem. Started as a local geotechnical engineering firm in the early 70s, they had grown to become one of Engineering-News Record's Top 100 engineering, design, environmental and construction firms through organic growth and acquisitions. However, they had lost their corporate identity along the way and were operating under different names.
They did not have a unified public face. The S&ME team had expanded their services far beyond those that they had started with, but many in their crowded marketplace did not know this. Prospective clients often confused them with other engineering and construction firms.
The S&ME team wanted to be in a position to choose its path forward rather than blindly go where momentum took them. They knew that they needed to make a lot of changes. They needed a new brand that would better reflect their leadership position and separate them from their visually undistinguished competitors. How would they start the process?
Research: the framework for success
The S&ME team is comprised of a lot of engineers — who are very methodical, precise and risk averse. So how did they accept an aggressive brand overhaul that kept their corporate name but threw everything else (logo, website, office look and feel, promotional strategies) out the window?
Research. Hinge's research and accompanying insights that became the blueprints that set the S&ME team moving in the same direction to the overall objective — and validate that they were moving in the right direction.
Let's write your success story
There are many ways to achieve exceptional growth and profitability.
Let's explore the possibilities together.
Talk to Us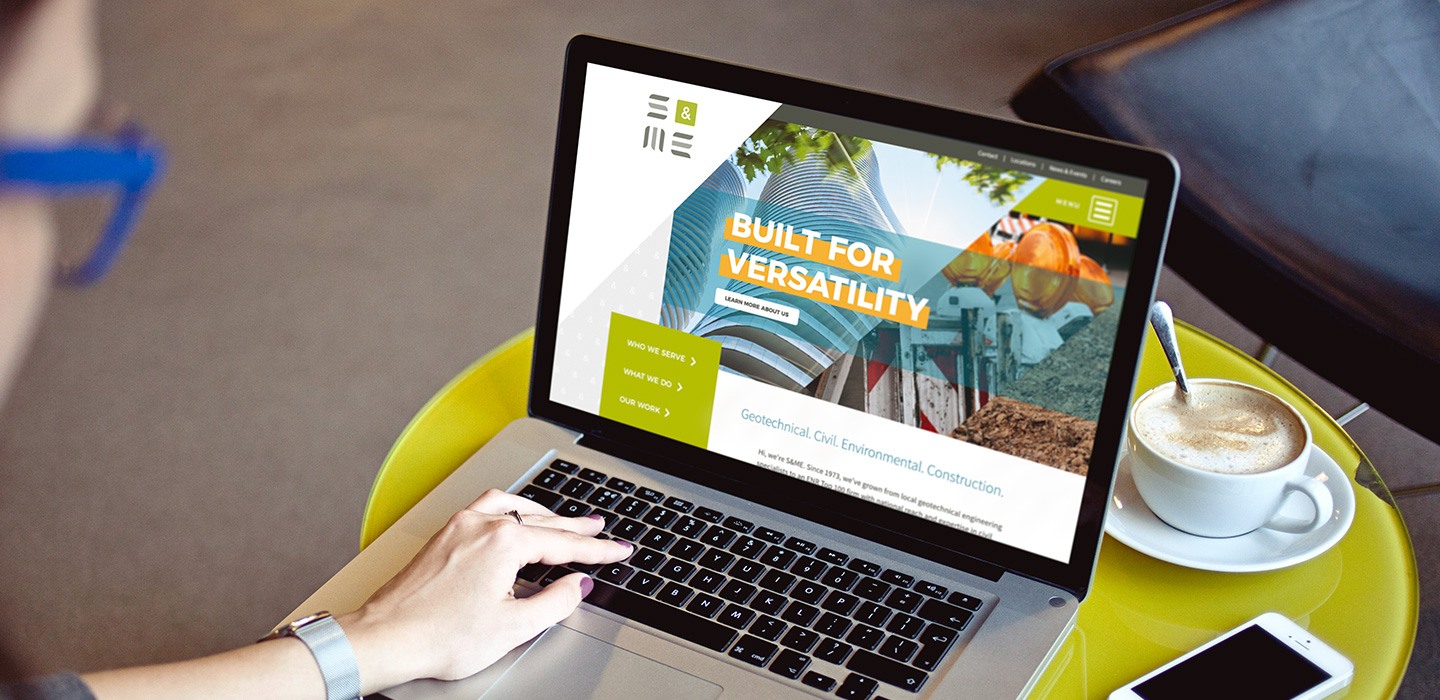 Moving ahead: brick by brick
From the initial research, Hinge went on to help the S&ME team with numerous branding initiatives including a new logo as well as corporate colors and shapes. They implemented Hinge's Visible Firm Program to create a higher level of subject matter expert awareness through guest blogging, article writing, public speaking and visibility research.
Hinge designed and developed a High Performance Website to generate more demand, engagement and business — including strategy development, search engine optimization, keyword research, copywriting, design and more, with one activity supporting the next. The initial research also uncovered that the concept of versatility was a great cultural building block for S&ME.
So Hinge positioned S&ME as an exceptionally versatile firm — captured in a new tagline, "Built for Versatility," each business unit could continue to provide specialized services without diluting their expertise. All the different, merged and acquired entities could finally be consolidated under one S&ME name.
Internal and external launch: blueprints for success
Next, Hinge helped launch the new S&ME brand to the marketplace. A LinkedIn visibility campaign targeted specific audience and roles. Hinge provided a series of webinars to help the internal S&ME team get trained on the new brand. Training started at the C-suite and worked its way through the entire team. We even produced a deluxe, hardcover book and a brand unveiling video to explain and illustrate the new brand and what it would mean to the marketplace.
Today, with a systematic foundation, the S&ME team stands out and grows in a crowded marketplace — positioning itself as the sophisticated ENR Top 100 firm it has become.
What we did
Visible Firm Program
Guest Blog & Publication Opportunities
Keyword Research
Ongoing Consultation
Speaking Engagements
Strategy & Plan
Visibility Research
High-Performance Website
Design
Online Strategy
Search Engine Optimization
Website Architecture
Website Development
Writing
Branding Services
Brand Book
Brand Rollout Plan
Brand Style Guidelines
Brand Unveiling Video
Brochure
Email Template
LinkedIn Ad Campaign
Logo and color palate
Messaging Architecture
Name Exploration
Positioning
Research
Stationery
Tagline
More Case Stories
BACK TO TOP
Want a high growth blueprint for your firm?
Let's Talk