AEC Marketing Trends: 2018 Edition
Whether your business outlook depends on our commercial or political climate (or both), we all know that there's plenty of change ahead and only you can decide if your firm is going to make the most of it.
While many AEC firms will continue marketing the way they have for decades, others will recognize the changes in the offing. These firms will begin adapting their marketing now — before it's too late.
So as we enter into the new year, I'd like to look at five marketing trends that will impact AEC firms in 2018 and beyond. That way, you'll be able to see what's coming and prepare for upcoming challenges.
Download the Marketing Planning Guide: Third Edition
Trend 1: A heavy focus on recruiting
In 2016 and 2017, a tough hiring market has persisted — architecture, engineering, construction and environmental talent remain in high demand, and there are simply not enough qualified people to fill every opening. If the Trump administration's commitment to the nation's infrastructure comes to fruition, the problem is only going to get worse. Savvy firms understand that marketing not only needs to attract clients, it needs to attract talent, too. Look for firms to invest more in recruiting materials, career microsites and branding.
Trend 2: More emphasis on community outreach
Millennials are known as the "cause generation" for a reason. More than the Gen-Xers before them, these individuals are interested in contributing to their communities in meaningful ways. Fortunately, AEC firms live in a kind of symbiosis with the communities they serve — they literally build the spaces where people live, work and play. And their business and government connections make it relatively easy for AEC firms to find ways to give back to the community. In the coming year, we expect firms to support their communities with renewed energy. This social activism will help these firms develop internal cultures that are more appealing to new talent and give existing staff the sense of purpose they so crave.
Trend 3: A transition from relationships to expertise
Relationships have always been a critical driver of AEC firm success. But today's buyers are becoming more discriminating. More than ever, they are seeking out experts with deep, specialized expertise — partners who can navigate complex projects and overcome unexpected challenges with relative ease. Many longstanding relationship-based partnerships will be tested as buyers become less tolerant of delays, cost overruns and permitting hassles. As a result, many firms will be positioning and marketing themselves as leading experts in specific disciplines. In some cases, this may bind competitors together in strategic teaming alliances made up of firms with different core strengths.
Trend 4: Your website will continue to be your most important marketing tool
A generation raised on the web is fast becoming the beating heart of our industry. That means your website is only going to become more important to your firm's success in the coming year. Today, 80% of buyers check out a firm's website during the buying process and a third of the time they rule out the firm based on what they found. But that's not all. As Millennials make more and more of the buying decisions, the way buyers find AEC service providers will change, too. Google will become increasingly more important to the industry as buyers turn to online search to uncover leading experts and potential partners. If you can't be found in search, if your website is not mobile, and if your website cannot convey how your firm helps its clients, you'll be at a significant disadvantage.
Today, 80% of buyers check out a firm's #website during the #buyingprocess and a third of the time they rule out the firm based on what they found.
Click To Tweet
Trend 5: More high-quality content
Forward-looking firms will offer more thought leadership on their websites and optimize it for online search. In this way, they'll maximize their online visibility and begin to nurture prospects, for when the time is right. Thought leadership can take a variety of forms, from blog posts and technical papers to research reports and video. No matter the format, this content will be produced with one goal in mind — to demonstrate the firm's expertise.
Last December, I explored seven trends that would impact AEC marketing in 2017. Many of these trends reflected a transition from old-school to new-school dynamics that was — and still is — occurring in many firms. While all those observations still hold true today, 2018 will bring a new set of challenges.
For AEC firms specializing in the residential and commercial markets, 2018 could continue to cool down. For engineering, environmental and construction firms with a focus in infrastructure and energy, 2018 should continue the upward trend we've been seeing. And, for firms with federal and municipal contracts heavily aligned with the past administrations' goals, new strategies to win have been evolving over the course of 2017. Whatever the new year holds, however, you should be preparing your firm for change. And the five marketing trends I've laid out in this article are a great place to begin your planning.
Download the Marketing Planning Guide: Third Edition
Additional Resources:
Get a copy of our free Marketing Planning Guide to develop a strategy that generates more leads for your firm by building its visibility and reputation in the marketplace.
Check out our free research-based book Inside the Buyer's Brain to learn how your business development team can close more leads by understanding what the buyer really wants.
Our Professional Services Guide to Research gives you the tools and knowledge you need to lead your firm through conducting research.
How Hinge Can Help:
Hinge has developed a comprehensive marketing program, The Visible Firm®, designed to take your firm to bold new heights of visibility. The Visible Firm®Program takes your firm from plan to implementation — a process modeled on the marketing practices of the most successful firms.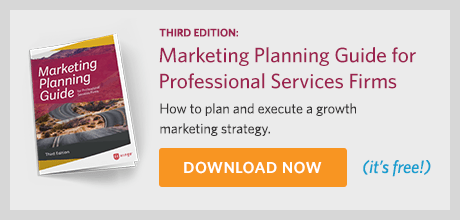 Industries & Topics