There are gaps between how prospective clients address their challenges and the business development approach taken by consultants.  And smart business development professionals will take it upon themselves to understand their target market and adjust to their buying behavior.
Download the Marketing Planning Guide: Third Edition
At Hinge, we're constantly researching the professional services industry to help businesses close those gaps and grow. When we're not working directly with our clients, we're putting our research to work, fueling fresh insights which we offer for free in our library.
But where should you start?  Do you have to completely change the ways you currently win business?  After all, you've been able to stay in business using the current model, right?
We recommend starting with a foundation of research. But that doesn't mean starting from scratch. It would not be wise to upend the business development ideas that have led to success in the past. However, market trends must be factored in so you can continue to win business.
Our latest study on over 1,900 buyers of professional services showed some interesting shifts in the marketplace. We compared specific brand metrics of professional services firms over a seven-year span from 2013 to 2018, then from 2018 to 2020. The graph below illustrates a rise in the perceived relevancy of professional services firms – an indication of demand.
However, firm visibility scores have declined by roughly 25% in the same time span (shown below). Service firms are just not getting in front of their target market as effectively as they were just five years ago.
Another surprising statistic was that of all the industries studied, consulting firms were the least aware of their true competitors. On average, there was only a 23% overlap who consultants and their clients believed to be direct competitors. (For comparison, accounting and financial services firms had the highest overlap at 37%) The takeaway is compelling: your competition is not necessarily who you think it is.
And here lies the disconnect. The demand is there, but service providers are just not keeping up with buyer behavior in the marketplace. As a result, buyers may be solving their business challenges with unrealized competitors.
Of course, your situation may be entirely unique. In which case you may want to think about researching your own clients. If you're interested in learning more, here are some ways Hinge can help:
Download the Marketing Planning Guide: Third Edition
Connecting the Dots: Tactical Business Development Ideas
The way consultants often approach their marketing is at odds with what we're learning about how buyers learn more about their business challenges.  Consulting firms have historically believed in a tried and true recipe – build visibility through sponsorships and find buyers at traditional venues such as events. Hand out business cards and follow up periodically to see if a need has risen up. Rinse, wash, repeat.
The only problem with that is today's buyers have already researched their business challenges online long before they attend a conference.
Our current research shows that if a specific topic is relevant to them professionally, a majority of buyers of consulting services will search online and read an article or blog post. After that, the next most likely method is to download a piece of content or listen to an expert speak about the topic.
This is where today's professionals can add their expertise, develop business and build a personal brand.
Be the expert they find with a Google search. Educate your target market through published articles or video blog posts. And if you stick to it, you will be the one speaking at the podium while other consultants hand out their business cards in the back of the room.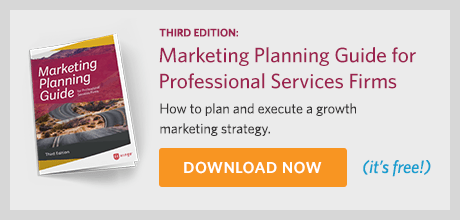 How Hinge Can Help
Hinge has developed a comprehensive plan, The Visible Firm®  to address these issues and more. It is the leading marketing program for delivering greater visibility, growth, and profits. This customized program will identify the most practical offline and online marketing tools your firm will need to gain new clients and reach new heights.
Additional Resources
Download our free book Spiraling Up to learn how to develop a high-growth, high-value strategy for your firm.
Get a copy of our free Marketing Planning Guide to develop a strategy that generates more leads for your firm by building its visibility and reputation in the marketplace.
Our Lead Nurturing Guide for Professional Services explains how you can craft a powerful lead nurturing strategy for your firm, so you can turn leads into clients.