Accounting Marketing: The Essential Guide for Accounting Firms
Of all the professional services industries Hinge studies, accounting firms are among the slowest growers. In our 2023 High Growth Study, accounting and finance firms grew at a median rate of 11%, compared to 12.3% for the AEC sector and 15% for technology and software. In fact, accounting and financial services firms were some of the slowest growing of all professions we studied.
But it doesn't have to be that way. In fact, many accounting firms in our study are robust high-growth businesses, growing 20% or more, year after year.
The difference between high-growth and average-growth firms lies in their marketing. High-growth firms invest more in marketing – both time and dollars – and as a result they are able to achieve extraordinary growth rates. Specifically, they focus on differentiation as their top marketing priority, create educational content to build visibility around their subject-matter experts, and strike the right balance between traditional and digital channels. In short, the marketing decisions you make can dramatically affect the growth and profitability of your firm.
Wouldn't you like to know what high-growth accounting firms do differently? Are there marketing techniques that are proven to work better than others? And can a business like yours emulate the best performing CPA firms? (Yes, it can.)
We've written this guide to provide answers to these and many other questions.
What Is Accounting Marketing?

Accounting marketing is evolving from a geographically limited, relationship-driven discipline to a multifaceted, expertise-based strategy that leverages technology and scientific techniques to target specific audiences across a wide area. This new approach can have a major impact on a firm's reputation, visibility, new client acquisition, service offerings, pricing, client retention and recruiting.
Marketing is often confused with sales and business development. Sales is the process of understanding a specific prospect's needs, offering a specific set of services to address them and convincing the prospect to purchase the services. Marketing, on the other hand, is the process of understanding a market's needs, tailoring your offerings to those needs, generating awareness for a firm's services and encouraging qualified prospects to reach out and request more information.
Or more simply, marketing is about generating qualified opportunities. Sales is about turning those opportunities into clients.
Unfortunately, a lot of CPA marketing falls far short of its potential. We begin this guide by exploring why this happens.
Then we'll explain how you can get the most from your accounting marketing investment by taking a research-based approach to growing your CPA firm. Last, we'll describe the skill sets you need to succeed.
So let's get started!
5 Reasons Accounting Marketing Fails

Sadly, most accounting firms do a comparatively poor job of marketing. According to a recent study, over 70% of firms have made business development a top priority. But in our work with accounting firms we repeatedly encounter five common patterns that work against their success.
1. A Flawed Strategy
Most CPA firms get marketing strategy all wrong.
Here's how it usually works. Late in the year, the firm corrals a group of partners and senior executives (the more, the merrier) into a large conference room to brainstorm marketing ideas, share experiences and try to agree on an approach for the coming year. At larger firms, a marketing director may also be invited to propose a marketing plan to the team.
So what's the problem? For one thing, it's very difficult for a large group of people to reach a consensus. There are just too many opinions. Also, big groups are resistant to change, so next year's plan will look a lot like this year's. Even a seasoned marketing director will struggle to turn this ship. And because most accounting firms are run by accountants, they tend to be conservative about spending, shying away from new, unfamiliar marketing investments.
The resulting strategies are usually a mishmash of gut instinct, political compromise and stale tactics. More of the same.
There's a better way. Delegate your firm's marketing strategy to a small team with authority to make decisions for the group. Conduct research to find out what your target audience is looking for today (needs and preferences change). Build a differentiated brand that gives buyers a reason to remember you. And deploy the tactics that are proven to generate real results.
2. The Wrong Skills
In other areas of your CPA practice, you understand it's important to have the right skillsets in place to deliver high-quality services. But when it comes to marketing accounting services, many firms lose sight of this fact.
Today, marketing requires a broad suite of skills, from writing and search engine optimization to social media and web analytics. Yet when making staffing decisions, many firms seek to minimize expenses rather than maximize the impact of their marketing. They may hire good people, but give them so many tasks that they cannot succeed. More often than not, however, firms simply don't understand what skill sets are required to execute a modern marketing strategy.
3. Failure to Fully Execute
Some firms are able to formulate a workable strategy, but they have trouble taking it to the finish line. Their investment is wasted because it is never fully implemented. An initial burst of enthusiasm quickly fades as novelty turns into work. For example, a firm plans a monthly webinar series, but once they produce the first webinar or two, interest fades and the initiative dies. We've seen this happen with blogging and networking, too — in fact, any marketing task that requires sustained effort over time. It's far easier to put one's attention into paying client work, instead.
Sometimes these efforts are killed off intentionally. When a new technique fails to deliver quick results, it's easy for a firm to lose faith and return to "tried and true" tactics that at least work occasionally. Often they stop just as the technique was poised to take off.
Then there is the problem of oversight and accountability. While many firms require annual business development plans, they don't build in a mechanism to monitor their execution. Where there is no pressure to deliver, there will be few results.
4. A Broken Funnel
Every sales funnel contains three primary parts:
The top, where prospective clients first learn about your firm
The middle, where you nurture prospects and earn their trust
The bottom, where prospects turn into paying clients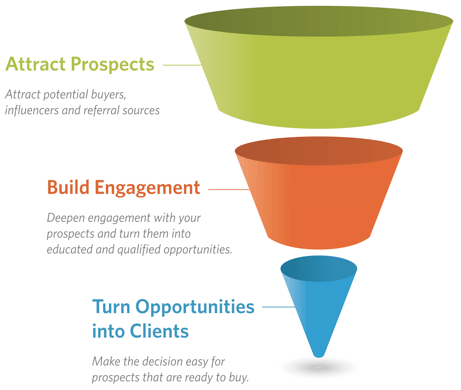 The trouble is, some firms don't connect all the pieces, or they leave out a key element. When this happens, prospects can't move efficiently through the funnel. They get stuck along the way, or they lose interest and leave the funnel entirely.
For example, a firm may focus on tactics that attract new prospects, but they provide no offers to take the relationship further. A firm may write blog posts that attract new readers. But they include no mechanism in the blog post to deepen engagement — no offers for additional content or relevant services. The potential new client is left to guess what to do next.
Every marketing tactic should have a place in the funnel — and each should provide a clear next step that takes the prospect a little deeper.
5. Running While Blindfolded
You wouldn't drive at night without headlights. You wouldn't run while blindfolded. Yet many accounting firms pay little or no attention to the performance of their marketing efforts. They have no tangible evidence of what works and what doesn't. These firms are living dangerously.
Our research shows that high-growth firms monitor more metrics than their low-growth peers. It's not hard to understand why this gives them an advantage: they have the data to make adjustments to their campaigns. These firms also conduct more research on their target audiences, so they have a clearer understanding of what motivates their buyers.
By contrast, firms that rely on anecdotal evidence or gut feelings are far more likely to spend money on tactics that bear little fruit. And they are more likely to spend valuable resources chasing the wrong prospects with the wrong message.
Take a Scientific Approach to Accounting Marketing

John Wanamaker famously said, "Half the money I spend on advertising is wasted; the trouble is, I don't know which half." Since the iconic retailer's death in 1922, advertisers and marketers have struggled with exactly the same challenge: it can be devilishly difficult to tell where to invest your limited marketing dollars.
But in the past few years, all that has changed — at least in the digital marketing arena. Today, it's possible to get a fairly accurate picture of what works and what doesn't. But accessing these insights takes diligence and a more scientific way of thinking about marketing accounting services.
The first thing you need to do is find out what marketing techniques high-performing CPA firms are using today. Fortunately, each year the Hinge Research Institute conducts a High Growth Study to find out what techniques are proven to work. You can use this list to retool your own approach to marketing.
Next you need to perform research on your target audience. After working with hundreds of professional service clients, we've learned that firms rarely have a true understanding of their marketplace. To find out what's really on their minds, hire an impartial third party to interview a sample of clients and prospects. Chances are, at least a few of the findings will surprise you.
But science doesn't end with research. In the implementation of your marketing program, you can take a more rigorous approach, too. Set up scientific experiments — with a hypothesis and control group — to determine what tactics work best with your audience. On individual web pages and email campaigns, you can implement A/B tests to determine which messages, images, colors or layouts produce the best outcomes. Repeat these tests over time, and you will incrementally optimize your marketing performance.
Finally, use the analytics that come with your digital tools to track your results in real time. This way, you can make course adjustments along the way. Firms that track multiple metrics have a relatively high level of control over their marketing program. Many metrics come baked into your tools, while others (such as conversion goals, link tracking, UTM codes and filters in Google Analytics) need to be set up in advance. If you don't track your progress, you'll be little better off than Mr. Wanamaker.
The Importance of Visible Expertise

What's a buyer's single most important criterion when selecting a firm? According to our research, relevant experience and subject-matter expertise is the clear winner. In fact, expertise tips the scale in favor of a firm in 3 out of 4 cases. In addition, expertise is cited as the factor most likely to generate referrals — it's even more powerful than client referrals!
But there's just one problem. Expertise is often invisible.
That's why the fastest growing firms go to great lengths to improve the visibility of their expertise. They adopt specific strategies that raise the profile of their expertise at the firm, practice and individual levels.
These strategies include writing and speaking on topics of intense interest to their clients. And they involve a variety of promotional techniques that expose their expertise to audiences beyond their immediate locale, from search engine optimization to social media to partner marketing.
Key Skill Sets for Successful Accounting Marketing

It takes an integrated team to build a successful modern marketing program. Many firms are already accomplished traditional marketers, but success today requires additional skillsets attuned to today's increasingly digital marketplace. You can build this team in-house or you can source it to outside experts. Either way, they will need to work in concert with your leadership and subject matter experts to establish a productive rhythm.
Below are eight marketing skills that are often missing from accounting firm marketing departments:
1. Research
Research requires a range of specialized skills, including survey design, interview skills and data analysis. It's invaluable for uncovering the opportunities that lie hidden in the marketplace. Here are some common types of market research that successful firms use to sharpen their competitive advantage:
Brand research
Client & prospect research
Competitor research
Market research
Client satisfaction research
Client journey research
Client personas research
What you learn will make the rest of your marketing more relevant and effective.
---
Download the Professional Services Guide to Research
---
2. Strategy
Behind every great strategy is a clear understanding of four things: 1) the marketplace, 2) your audience(s), 3) your competition and 4) your firm. Once you have a grasp of each, you can design a marketing strategy that delivers compelling messages to the right people through the right channels.
The best CPA firm strategies are very specific and include a detailed execution plan, including tactics, schedules and assignments. In short, they are designed to be implemented.
What kind of strategy do you need? That depends on your goals. Here are the four most common types:
Market strategy — The tools and techniques you need to reach your target audiences and referral sources.
Growth strategy — Position your firm in the marketplace to maximize your growth potential.
Brand strategy — Build a differentiated brand that will expand your visibility and reputation so you can become a well-known, easy-to-refer leader.
Content strategy — Leverage your firm's expertise to develop a high-credibility, lead-generating thought leadership platform.
3. Branding
Branding is an opportunity to differentiate your firm — and many accounting firms miss it completely. In fact, differentiation is the top marketing priority of high-growth firms. A full branding program consists of three basic components (though different branding agencies might break them down differently):
Setting your strategy — Before you tackle your visible brand, you need to lay a strong foundation. Do the due diligence to understand your marketplace and define a clear position for your firm that separates you from key competitors. If your firm is large, you may need to think about how each practice area will compete, and how each division fits into a larger brand architecture.
Creating your brand identity — You may have heard that your logo is not your brand. But it is a critical proxy for your brand, a visual identifier that is inseparable from your business. So it pays to get it right, and create (or modify) a logo that supports your positioning and differentiates your firm from similar competitors. Your brand identity will also address your tagline (if any), stationery and brand style guidelines.
Building your brand tools — This is the component of a rebranding where you apply your new brand to the suite of tools you use to market your firm, including your website, brochures, pitch decks, tradeshow materials and more.
Depending on your situation you may need to take your firm through the entire program or just parts of it.
Rebranding requires a specialized set of expertise and experience that few, if any, CPA firms have in-house. When selecting an agency, look for one that has extensive experience with accounting firms, as your industry has a number of unique characteristics, regulations and market challenges that need to be considered as you retool your brand.
---
Download the Hinge Rebranding Guide – Second Edition
---
4. Online Marketing
At the heart of any modern accounting marketing program is a broad set of online tools, techniques and skills used to attract and engage prospects. Here is just a sample:
Content marketing planning and implementation
Landing page design
Search engine optimization (SEO)
Social media strategy and deployment (LinkedIn, Twitter, YouTube, Facebook)
Email marketing
Analytics (web, email, social media, SEO and more)
A/B testing
Web video
Pay-per-click advertising
Each of these disciplines is complex, with technical and strategic components that can dramatically affect the performance of your campaigns. If you want to manage some or all of your online marketing activities in-house, be sure your team gets professional training to ensure you are getting the most out of your investment.
In addition, your program can only perform at its peak if you understand how buyers of accounting services think. The way your services are found, evaluated and purchased have changed in recent years.
5. Graphic Design
Look at ten of your competitors' websites and you'll see the problem right away: most accounting firms look very much alike to the outside world. If you fit into this mold, it can hurt your business. If you don't stand apart — visually or some other way — you blend into the crowd.
In a world of cookie-cutter brands, design offers a tremendous opportunity to stick your neck out and create a differentiated look. (Is this any riskier, after all, than looking like a carbon copy of your competitors?) And when well executed, design can create an impression of authority and credibility.
Design, of course, is only as good as the strategy behind it. Your design needs to perform. Work with a designer or agency who not only understands your firm and its positioning, but the larger industry context that it will fit into. Ultimately, it has to make sense to prospective clients and convey a compelling, persuasive message.
6. Writing
Writing on accounting topics can be a challenge. On the one hand, you want to write in clear, simple prose so that clients from a variety of backgrounds can understand you. On the other hand, many of the regulations you need to explain are drafted in opaque, highly technical language. Many firms struggle to translate arcane concepts into easy-to-understand advice.
The solution is to hire professional writers — former journalists are ideal — who have a background in accounting, legislative reporting or financial issues. These professionals can interview your subject matter experts and review relevant documents, then turn your ideas into simple, precise and engaging language.
If they are supporting a content marketing strategy, your writers will also need a solid understanding of SEO so that any blog posts, guest articles and other Google-facing materials are optimized for online search.
7. Website Design and Development
Your website is the central hub for your marketing strategy. Over 80% of your prospects will visit it to learn about your firm. And the quality of your website is also a top reason that prospective buyers rule out a firm, often before they even reach out. In a content marketing-driven marketing program — the kind favored by most high-growth firms — it is the source of high-quality leads and the engine that powers a sophisticated lead nurturing system that takes prospects from initial contact to eventual sale.
A website is a complex ecosystem, which is why most accounting firms look to outside agencies to build theirs. To create a modern lead-generating website you're going to need a spectrum of expertise: online marketing, user experience, graphic design, writing, SEO, web development and analytics. In addition, your team needs more than a passing understanding of the accounting industry and its buyers so that your new website differentiates you and speaks with authority to your buyers, potential partners and prospective employees.
8. Video Production
Video is fast becoming a marketing staple. Why? According to one study, 59% of users prefer to watch a video over reading text. It's engaging and perfectly suited to today's YouTube-infused world. If nothing else, it caters to a very real segment of your audience who prefers to consume information that way.
We're seeing video being used by accounting firms in a lot of different ways. It's a great way to capture clients' experiences — what's more powerful than watching a flesh-and-blood client praise your firm? Video is an ideal medium to introduce your firm, as well. In a single, well-produced overview video you can combine client testimonials, interviews with your principals and shots of your team in action.
You can also use video to introduce key members of your team, describe individual services, introduce prospective employees to your office and culture or demo a software product. Video can be live action (to express your human side) or animated (to illustrate a point or complicated concept).
Producing a professional-quality video is not a trivial exercise. It takes a suite of skills:  –  concept development (and sometime storyboarding), script writing, lighting, takes a team of professionals , video production and editing – to produce a high-quality piece, but in certain situations a talented individual can pull it off. Of course, your videos will need to be consistent with your brand. You may even want to develop an opening and/or closing animation to add a finishing touch to your videos.
Conclusion
There are plenty of wrong ways to market a CPA firm. That's why the accounting industry is one of the slowest growing in the universe of professional services.
In this guide we've outlined a better approach — one that's used by hundreds of high-growth firms and market leaders. We encourage you to explore the research behind these recommendations, download the research-based resources in our library and read our blog.
And of course, if you ever need professional guidance, Hinge is always here to help.
Happy marketing!
The Hinge Team