Anyone in the management consulting industry knows that today's firms face a host of business challenges, some age-old and some brand new.
The forces driving change are numerous and vary. Disruptive technology, the rise of new business models, and the pressures exerted by intense global competition are transforming the marketplace. And this is coupled with the monumental disarray introduced by the COVID-19 pandemic. At Hinge, we wanted to build a focused understanding of the top issues that are occupying firms—and what that means for the industry at large. So we included this as a part of our 2021 High Growth Study.
Diving into the Research
In order to find the answers, we surveyed nearly 1,300 professional services firms, representing over $270 billion in combined revenues and nearly 1 million employees. The study covered a range of firm sizes and industries. In addition, we investigated a subset of these firms (more than a third of the full sample) that deliver consulting services to understand the challenges and drivers of success in that industry.
In one section of the study, respondents discussed their outlook for the industry over the next 3-5 years, as well as how they planned to respond to those challenges.
These insights allowed us to understand the current state of both the professional services landscape as a whole and the management consulting industry in particular. Ultimately, we were able to identify both broad trends and industry-specific issues.
In this post, we examine the business challenges and priorities of management consulting firms. So, what are those priorities, and what do they mean for the industry?
The Top Business Challenges
The top five overall business challenges for management consulting firms paint a striking picture of the marketplace today. Even though four of the top five challenges were the same as the 2019 study, what is interesting is that in Figure 1 the priority order has changed completely.
Let's discuss these challenges one-by-one.
1. Unpredictability in the marketplace
These are turbulent times, and nearly 49% of respondents agree that unpredictability in the marketplace is a top business challenge. With a remarkable increase of 30% since 2019, respondents certainly have felt the waves of new changes spurred on by the global COVID-19 pandemic.
Nevertheless, unpredictability has been a challenge for management consulting firms for many years now. The consulting marketplace is evolving quickly from one that relied primarily on interpersonal contact to develop new business (think networking or personal referrals) to a wide-open online playing field. Increasingly, that is where the game is played and buyers are selecting the winners.
But there is more feeding the market frenzy than business development changes. The whole landscape is rapidly evolving, too — mergers and acquisitions are happening at a record pace, and new well-funded firms with different business models pop up with unnerving frequency. This churning marketplace is here to stay, and the most successful firms will learn to adapt to the uncertainty.
2. Changes in how buyers purchase services
Following only slightly below uncertainty in the marketplace was how 47% of management consulting firms are worried about the changing ways buyers go about buying services. While our data doesn't include specific details, we suspect that this concern is driven by the increased use of online search, social media, and other non-traditional channels to find and evaluate consulting firms.
Even the way people get referrals has changed. Many referrals today are made by people who never even hired your firm, but they know about you from other sources. Increasingly, firms are building their reputations online — through sophisticated onsite and offsite content marketing programs and direct engagement in social media. No doubt, some firms feel unprepared to adapt to these changes. But time is running out! Consulting firms must embrace the digital revolution if they want to compete in this rapidly changing marketplace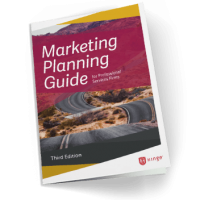 Marketing Planning Guide - Third Edition
The Marketing Planning Guide for Professional Services Firms
Download Now
3. Increased competition
Moving down a position from last year, but still in third place, was the challenge of increased competition. Respondents from management consulting firms worry about competition coming from both new firms (42%) and larger competitors (35.4%), with an edge to the emerging-firm threat. In fact, these threats appeared in the top five challenges of every industry segment we studied.
What does this finding mean? Many firms that are not large, established industry players and don't have a disruptive business model in the works are worried about their ability to stay competitive. After all, a great deal of consolidation is happening in the consulting industry, and new technologies threaten to commoditize lucrative bread-and-butter services. No wonder firms that aren't part of either of these trends are feeling anxious about the future.
4. The need for new skills
Still a top challenge in 2020, nearly 40% of firms identified the need for new skills as a significant challenge for management consulting firms. As new technologies and techniques arise in the marketplace, firms feel an unrelenting pressure to keep up with the constant change. If they don't, a competitor will. And keeping up, requires the right people with the right skill sets.
There are two primary ways firms can acquire new skills: 1) upskilling and reskilling their existing workforce; and 2) hiring new talent who already possess those skills. Most firms use both of these approaches, but each comes with challenges. For example, training existing staff takes people away from lucrative billable work. And hiring new talent in a highly competitive environment can be very expensive. Savvy firms recognize that if they want to compete for the best business they first need to have talent with the right skill sets.
5. Automation and artificial intelligence
Breaking into the top 5 anticipated business challenges for the first time, and mentioned by 36.2% of management consulting firms, are the emerging technologies behind automation and artificial intelligence (AI). This concern is not unique to management consulting firms. In fact, automation and AI was the third highest anticipated business challenge ranked by firms across the professional services spectrum.
Technology that allows consulting firms to automate aspects of their core business or marketing and sales initiatives stood out as a telling example of where high growth firms have a competitive advantage over their slower growing peers. Diving deeper into the 2021 High Growth Study: Consulting Edition, we see below in Figure 2 that high growth firms are 42.2% more likely to use automation in a more sophisticated way.
Conclusion
Turbulent times generate tremendous change, and this is precisely the reality that management consulting firms are facing today. To adapt to rising marketplace pressures, to get ahead and stay there, they will have to adopt an array of marketing techniques. But in adversity lies opportunity — to build resilient and robust brands.
How Hinge Can Help
How will your business stay competitive in today's rapidly changing marketplace? Hinge's Visible Firm Program can help your firm stand out from the competition and build a marketing plan to help your business become more visible, grow faster, generate higher profits and attract top talent.