9 Steps to Building a Unique Value Proposition in Management Consulting
When seeking to engage management consultants, purchasers of professional services want to partner with the firm best suited to improve their performance and solve complex problems that are hindering their firm's growth.
How do you prove you're the management consulting firm to do this?
With a strong value proposition.
A unique value proposition is typically a short sentence or two that communicates your competitive advantage and why a client should do business with you. It's crucial to articulating the value of what you do and why you do it best.
Download the Brand Building Guide
Follow these nine steps to build a unique value proposition that will help sell the value of your services and win new clients.
1. Figure out the why
Why do you need a value proposition? It helps you stand out from competition and provides a clear message for prospects about why they should engage your services.
Look at it this way. If you can't easily articulate why prospects should hire you, prospective clients won't know either. It's important to understand exactly what value you have to offer your clients and be able to express this clearly and succinctly. So take a moment to jot down what value you offer.
2. Really understand what you do
You may be so immersed in the day-to-day that it's hard to clearly articulate what your organization does. But you need to take some time to understand exactly what services you provide so you can communicate this in your value proposition. When it comes to defining your "what," consider these factors:
Areas of business you serve
Types of problems you solve
Types of firms your serve
It may be easier to do this as a team exercise and each write out what you think the organization does and compare. As part of the process, reflect on your firm's positioning statement, if you have one.
3. Clearly define your target audience
You've heard the saying, "if you try to please everyone, you end up pleasing no one." There's often a fear of missing out on a prospective client, but it's better to narrow your target audience and let your expertise with that audience shine. Not only will it help differentiate your firm from the competition, prospective clients will be more likely to engage your services knowing that you really understand their business.
4. Determine the how
Really think about the problems that you solve for your clients. Be clear and specific so prospects can understand how you can help them. Think about the benefits you provide to your clients, when you communicate these make sure you are speaking about benefits, not features. Often, people identify features (such as best approach or best expertise) rather than actual benefits (such as ability to eliminate bottlenecks, improve organizational productivity, etc.).
Again, start with a list and narrow it down. You don't need to identify all the benefits, only those that will make the biggest impact and distinguish you from competitors.
SEE ALSO: Top 7 Branding Ideas for Your Consulting Firm
5. Use proof
Actions speak louder than words. Providing proof of your abilities will create another important layer of credibility. Think about how you can demonstrate that your approach has worked to solve similar problems for others. How can prospects trust that you can achieve what you say you can?
If possible, find a succinct way to highlight some of your successes. Don't be afraid to add specific details such as clients you've served or years of expertise. These are the kinds of details that distinguish you from your competitors.
Download the Brand Building Guide
6. Create it.
Now that you've addressed all the questions (why, what, who, and how) through brainstorming exercises, it's time to put your ideas into writing. To be sure you've covered everything you need to in your value proposition, refer to this simple formula from Consulting Success: Who your customers are + What you provide them + Why they buy from you.
Read over your value statement and make sure you've addressed all three points. Next, be sure that your statement is clear, no longer than a few sentences, and that it differentiates you from the competition. Your differentiators don't need to be completely unique, they just need to highlight something you do well that your competitors aren't highlighting.
Here's an example of a strong value proposition from The Nolan Company:
The Nolan Company specializes in the insurance, healthcare, and banking industries. We provide operations, technology, and strategy consulting services to help our clients improve operations and technology effectiveness. Nolan consultants are highly experienced senior professionals, all of whom have held senior leadership positions in the industries we serve.
This value proposition includes:
Who their customers are: insurance, healthcare, and banking
What they provide: operations, technology, and strategy consulting
Why clients buy from Nolan: experienced professionals with senior leadership experience in the industries they serve
The "why" is also Nolan Company's differentiating factor. Many firms may highlight their professional experience, but few will be able to offer consultants with senior leadership experience in insurance, healthcare, and banking.
7. Use it.
Don't fall prey to spending a lot of time creating your value proposition, only to never use it. Too many consulting firms fail to take the next step and market their value proposition.
Your value proposition is part of your branding so use it everywhere—your website, as part of presentations, on collateral, social media sites, and anywhere else an opportunity exists.
8. Test it.
You need to make sure you've crafted a value proposition that will win new clients. The easiest way to test your value proposition is at networking events. See how people respond to you. Is it clear for people to understand? Do they seem to understand the value you offer? Do they seem to believe that you can deliver on your promise?
If you answered no to any of these questions, head back to the drawing board and try again. It's worth the effort to get your value proposition right.
Download the Brand Building Guide
9. Revisit it.
As your company grows and services expand, you may want to revisit your value proposition. For management consulting, it's especially important as services change and you develop new expertise.
Developing a value proposition for your firm is a crucial way to distinguish yourself from competition and easily be able to explain your services to prospects. So make sure you carve out the time and mental focus to develop one.
Already have a great value proposition? Have more brand building suggestions? Share them below.
Additional Resources:
How Hinge Can Help:
A strong and unique value proposition will help your firm demonstrate its value and expertise. Hinge's Branding Program can help your firm stand out from the competition and build a brand that drives sustained growth.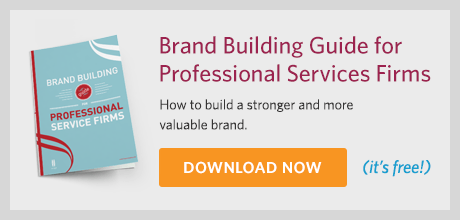 Industries & Topics