The Hinge Research Institute has released a special consulting industry version of its breakthrough study of professional services buyers and the firms that they hire. It's called Inside the Buyer's Brain: Consulting Firm Edition.
Why This Study is Needed
From a global trend perspective, some research indicates that many clients halted, postponed, or reduced projects right now to the point where consulting revenue could be reduced by as much as 15% in North America, 28% in Europe, and 12% in Asia Pacific. This reduction means billions of dollars in lost consulting revenue around the world. Even when clients are spending money, the way they look for and evaluate consulting firms is changing. At the same time, the traditional business development approaches that consultants have been using are becoming less and less effective.
On top of these industry-altering trends, add a global pandemic and a rapidly growing competitive marketplace and it is easy to see the stress and uncertainty that many consulting firms are experiencing,
Fortunately, there is a way to cut through some of this uncertainty and gain some real insight into what buyers of consulting services think today and where the trends are likely to take both consulting buyers and sellers in the future.
About the Study
The original study was published in 2013 and provided the first comprehensive look at the differing perspectives of buyers and sellers throughout the entire professional services buyers' journey.
A second version of the study was published in 2018. This study revealed a rapidly evolving landscape that presented new challenges and opportunities.
The pace and scope of change was so profound that we decided to follow-up with the current study just two years in 2020. This study also saw the addition of industry-specific versions of the report, such as this one.
Purchase the Inside the Buyer's Brain, Third Edition: Consulting Edition
The timing could not have been better. It allowed us to capture the first real indication of the emerging buyer concerns and preferences.
Focused on Consulting Firms
In the current report we are focusing on consulting firms. We explore the challenges consulting buyers are facing and the roles they see their consulting firms playing. We also look at the new client journey from their first exploration of a business challenge to the final selection of the firm they choose to work with.
We then explore the client experience and how it does or doesn't translate into an ongoing relationship and referrals. To put the findings in perspective, we compare key consulting firm results to other professional services verticals such as Accounting & Financial Services and Technology & Software.
Sampled Both Buyers and Sellers
Using phone interviews and online surveys, we researched 362 buyers and 369 sellers of consulting services. Because the buyers bought services from the sellers and there were almost an equal amount of both, we were able to study both sides of the relationship and how they see each other. We were also able to identify disconnects that can derail a professional relationship or business opportunity.
Cross Industry Comparisons Included
In addition to reporting on the industry data, we also looked at the findings from other angles. This report examines the responses from Consulting firms and puts them in the context of three other major professional services groups:
The results of the study are organized around four questions that capture the most impactful steps in a consulting services buyer's journey.
What are Consulting Buyers' Business Challenges?
Most professionals believe they understand the challenges their potential clients face. This data demonstrates the fallacy of that belief in some key areas.
Professionals in consulting firms have some significant disconnects when it comes to understanding the top challenges of their clients. It is hard to be relevant to buyer concerns if you do not understand what they are. Strategy and planning are issues that continually top the list for challenging businesses, yet many consultants feel that motivating and managing people is a greater client challenge.
Look further down the list. In many industries, meeting ever-evolving regulations and requirements is a perennial challenge. Many organizations do not have the expertise on staff to address these directives. Yet, most consulting firms don't consider compliance a top 10 client issue. That's a big miss.
How Do Clients Feel About Their Consulting Firm?
More than three fourths of consulting buyers (76.7%) would recommend their consulting firm to a friend or colleague if asked. That was the highest response to the "buyer recommendation" question among all industries in the overall Inside the Buyer's Brain study. In fact, only the consulting industry had an increase (17%) in a client's willingness to recommend. All the other industries have seen decreases in the last two years — decreases as high as 23%.
There is another means of measuring how buyers feel about consulting firms: relevance. Fortunately for consulting firms, buyer perception of relevance to buyers' most important challenges is highest compared to all other studied industries — almost 50%. That is a percentage change of 93% in the last two years.This is significant because relevance impacts both willingness to recommend and client loyalty. This is great news, but consulting firms still have room for improvement.
High-level relevance to the prospect's key issues not only wins new clients, it also helps you keep them. Firms that are viewed as highly relevant to clients' current issues are 82% more likely to be highly recommended by their existing clients. High relevancy ratings are also associated with a 76% higher likelihood of having highly loyal clients. 
How Do Buyers Search for Consulting Firms?
While the Inside the Buyer's Brain overall research shows that referrals are down in most industries, personal recommendations still play a key role in consulting buyers' searches.
The research also shows that digital channels such as web searches, articles/blog posts, webinars, and social media are gaining importance as consulting buyers search for information on work-related topics. LinkedIn remains the most dominant social media platform for consulting buyers with more than 83% using it. Facebook and Twitter are growing in popularity with more than 42% saying they use it platform. We believe that events like the global pandemic are likely to accelerate the use of digital channels, as live events and interactions are canceled or restricted. 
Purchase the Inside the Buyer's Brain, Third Edition: Consulting Edition
Social media platforms play a key role in firm visibility. In the overall research, consulting firm visibility is slightly ahead of all other industries. While it is still low at 25.2%, it has soared by 160% over the last two years. Consulting firms need to continue to increase adoption of digital channels and social media platforms as part of a larger branding and messaging strategy to ensure that their visibility rises.
How Do Buyers Evaluate Consulting Firms?
While nurturing existing relationships has long been foundational in many consulting firms, we are seeing the limits of this strategy. Buyers are less likely to stay with an existing firm, especially if a competitor has more needed team skills, relevant experience, and industry knowledge and subject matter expertise.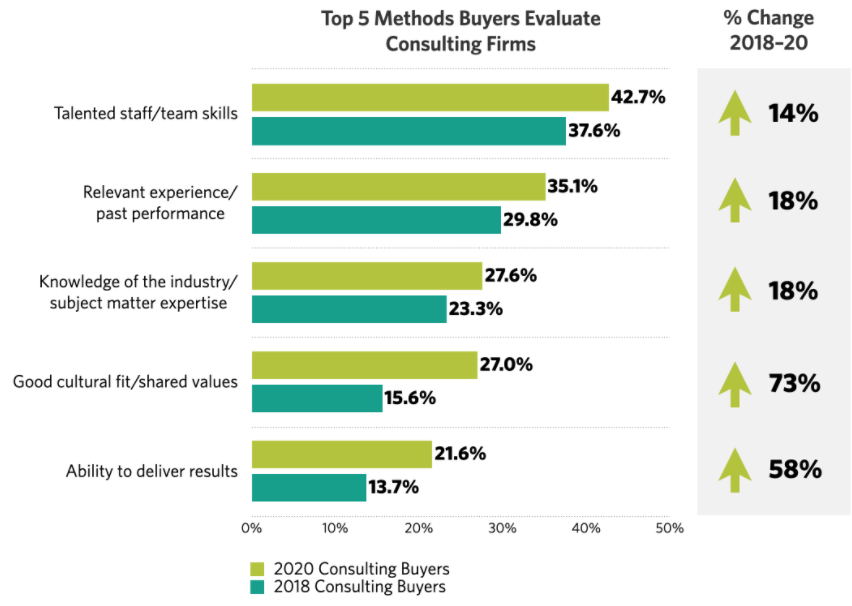 Talented staff/team skills that can fill the gaps in many buyer organizations are now the top deciding factor for almost half of buyers. Relevant experience and strong industry knowledge and subject matter expertise are also becoming much more important in closing the consulting firm engagement sale.
What Does This Mean for Your Consulting Firm?
These are changing times for consulting firms. While no one can know for sure how these times will play out, some conclusions are clear. You may have to do some things differently.
Recognize that you probably have dangerous blind spots when it comes to understanding your buyers. While we may feel that we really understand our buyers and their challenges, the data paints a different picture. There are blind spots or disconnects that will cost you new business unless you adapt to your buyers' lists of priorities. It is important to leverage or commission research on a regular basis to ensure that you stay connected to study findings, not your assumptions, to ensure you confidently make decisions that will impact your firm's growth and success.
Listen. Check your ego at the door and carefully review what buyers are saying about their challenges and how they evaluate consulting firms. This research reflects the experiences of hundreds of buyers—not just one. Listen. Then respond.
Be honest with yourself. As you review this report's top-five and top-ten lists, do you see areas where your firm could be doing things differently? Are you willing to make the important and tough decisions to get there?
Pursue relevance. Consulting buyers reward relevance with higher visibility, stronger reputation, deeper loyalty, and longer relationships. It is a constant balancing act. If relevance drops, those other factors usually follow suit. It takes specialized expertise and in-depth industry knowledge to beat the competition. Regular research helps you stay current. 
Realize that talent acquisition is now a business development function. Having great talent is the top factor that tips the scales for buyers. That means the quality of your team directly affects the bottom line. Make your expertise visible to potential recruits as well as prospects.
We've tried to give you a look inside the buyer's brain from a consulting firm perspective. Obviously it is just a small glimpse. If you want to learn more key findings, insights, and actionable tips to help your consulting firm, please consider buying a copy of the Inside the Buyer's Brain: Consulting Firm Edition report or licensing it to drive some of your content marketing strategy and campaigns.
Purchase the Inside the Buyer's Brain, Third Edition: Consulting Edition