Is your firm ready to start generating significantly more new business leads online? If so, you'll need to develop a lead generation website — the engine that will drive your online lead generation program.
A professional services lead generation website presents some unique challenges. It must build trust and credibility while describing complex and technical services offerings.
If you aren't careful, a lead generating websites can come across as pushy, eroding your credibility. So you have to take care to build the brand at the same time as you are generating new leads.
While a bit tricky, it is well worth the effort. Our research shows that firms that master online lead generation grow 4X faster and are 2X more profitable.
So how do they do it? Here are 10 tips for planning a successful lead generation website for your firm.
1. Start with a content marketing model. While there are exceptions, most professional services firms have a content marketing approach that is the model or framework upon which the lead generation website is conceptualized and designed. The model we use (see the figure below) recognizes that you must attract, nurture and convert visitors if you are going to convert them into clients. You do this with content.
2. You must have a content strategy. Your strategy will specify what type of content will be useful to your target clients at various stages of the buying process. In the early stages of engagement, that content must be optimized for search engines (SEO) so potential clients can find it. As the nurturing cycle progresses, greater involvement and interaction is needed to build trust. A content strategy lays this out and identifies exactly what is needed at each stage.
3. An offer strategy is also needed. How do you move prospects through the buying process? What types of offers are required at each stage? Where do they appear on the website to facilitate maximum lead generation? What do the offers look like and how are they worded? These are the types of questions you will need to address in an offer strategy. The offer strategy is a roadmap to convert great content into actual leads.
4. The content needs a home on your website. Typically this is a section called Resources or Library or Insights. It is a place where a growing portfolio of content can be organized so it can be easily found and indexed by the search engines. Over time, it will become the most valuable section of your lead generating website.
5. You will need a blog. Why? Because this is the easiest and best way to add fresh, valuable content to your website. Each individual post becomes its own web page that is optimized for specific keywords using SEO techniques. These posts then attract new visitors and convert them to early stage leads when they respond to offers within each post. What are those offers? Effective offers usually promote a juicy piece of content, such as a whitepaper, study, executive guide, or webinar from the resources section of your website.
6. SEO is a must. We talked above about the need to use SEO to attract visitors to your content. But before that can happen, the individual content pages of your website must be optimized. But you should not stop there. You'll need an ongoing link building process to increase the authority of your website. This is an ongoing cost, but it is a cost that pays great dividends in new business leads. SEO requires content. But content without SEO is of little value.
7. Email is an integral part of the process. Email is the way you reach out to your prospects and make additional offers that will convert them to higher levels of engagement. Think of it as your primary lead nurturing tool. Your email marketing efforts can be closely tied to the premium, gated content you have on your website.
8. Don't forget social media. Wondering where social media fits into the lead generating website world? It plays two important roles. First, it is a great way to share and promote content. Second it is a way to directly engage prospects. It extends the boundaries of lead generation and nurturing beyond your website. If your website is the hub of your online activity, social media tools are the spokes.
9. Design in your brand. Great design should be reflective of your firm's brand and help drive the desired user behavior. Don't settle for a poor image simply to get more clicks. By the same token don't sacrifice performance simply to look pretty. You can do both. Great brand design really is a competitive advantage.
10. Analytics and automation make it possible. I don't believe it is possible to have a lead generation website without good analytics. Without them you do not know what is happening and will be very unlikely to be successful at lead generation. While automation of the process (so called marketing automation) is not absolutely essential, it is very, very helpful. Make an effort to learn about these tools and plan to integrate them into your lead generation website. Analytics and automation will make your lead generation program more successful and consistent.
As you step back and reflect on it, one thing becomes clear. A lead generating website is much more than just a website. It is an entire marketing process. You must plan and budget for it accordingly.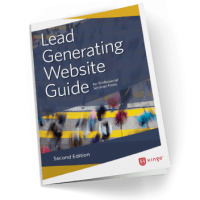 Free Resource
The Lead Generating Website Guide
Learn More
How Hinge Can Help
Your website should be one of your firm's greatest assets. Our High Performance Website Program helps firms drive online engagement and leads through valuable content. Hinge can create the right website strategy and design to take your firm to the next level.