Email marketing has proven to be an effective strategy for maintaining relationships with prospects and encouraging clients to become repeat clients. However, the personal nature of the email inbox can sometimes require email marketers to walk a fine line between doing too much and doing too little.
This list of do's and don'ts will help you break free from the constant "should I?" or "shouldn't I?" questions about email marketing.
DO: Grow Your Email List Organically
The reasons behind this "do" are pretty obvious: the more clients and prospects you have on your mailable list, the more people you can connect with through your email marketing campaigns.
Gate your premium educational content with a registration form to grow your list of subscribers who have already consumed your open-access, undated content. Include a button on your website for visitors to easily subscribe and encourage them "not to miss out!" on quality new content.
DON'T: Buy a Purchased List of Contacts
We've found these lists to be largely ineffective. Since these contacts have not expressed interest in your firm or its services, they tend to have much lower open rates and will most likely get your emails flagged as spam. While it might seem like a simple solution for growing your email list, a purchased list can actually end up being more costly for your marketing efforts in the long run.
DO: Utilize Drip Email Campaigns
Drip marketing campaigns are a great way to nurture contacts that aren't currently ready to buy. These campaigns email out relevant educational content and offers to contacts over time to help nurture them through the sales funnel.
Contacts generally require an average of 8 touch points to get an initial meeting. So, it's essential that your drip campaigns contain content on topics and issues that are most relevant to recipients. Which issues and topics have they already show interest in? And remember to allow people the opportunity to contact you directly for your services whenever they're ready.
DON'T: Bombard Your List With Too Many Emails
Stuffing your contacts' inboxes will only make them more likely to delete your emails without ever opening or—worse—hit the unsubscribe button. If you currently send out other emails in addition to a drip campaign, you may want to consider omitting certain subscribers from the drip campaign so as not to overwhelm them with too many emails at once.  Be strategic and look at the total number of emails you send per month and keep a close eye on your unsubscribe rates.
DO: Send Educational Content
The email communication you have with your subscribers is an important opportunity to showcase your firm's thought leadership and credibility on common client issues.
Send content that speaks to your prospects' biggest questions and problems. Mix up the format of the content you send to appeal to the different ways people like to learn information. For instance, you can send links to your recent blog posts, newly published guides, or upcoming webinars.
DON'T: Forget to Send Hard Offers
Remember—your email subscribers represent an opportunity to grow your firm. Your email marketing should ultimately convert contacts into leads, so include emails containing hard offers that make it easy for people to contact your firm to learn more about your services.
Consider offering contacts a complimentary consultation or allow them to schedule a review directly so they'll know exactly what next step you want them to take.
DO: Have Mobile-Friendly Emails
Since more and more individuals are using their phones to consume information, don't be left behind with an email that doesn't render properly on mobile devices. If your prospects need to pinch their screens to zoom in on your content, they may decide that the inconvenience isn't worth it.
Sending emails that aren't mobile optimized can also make your firm look out of touch and outdated—two qualities that are a significant turn off for buyers of professional services firms.
DON'T: Make Your Emails Too Basic
However, just because your emails are mobile friendly doesn't mean they have to be bland and unappealing. Your email template should have a simple design that remains consistent with your brand and also still includes all of the relevant information to get your point across.
DO: Create An Email Content Calendar
Your email marketing shouldn't be a last minute scramble that gets pushed to the bottom of your to-do list. Email marketing is still one of the most effective marketing tools out there. Create an email content calendar to stay organized and plan your emails so you have relevant copy and design elements ready when you need them.
A calendar will also help you create a schedule that includes the right mix of topics, content types, and hard offers.
DON'T: Make Your Email Content Calendar Static
Your email calendar should be a living, breathing document. It should be flexible, so your firm can respond to timely industry trends and news. This will also allow for a more cohesive marketing strategy.
Reminder: your email marketing should support your other marketing efforts as well. Create an email schedule that compliments the other content you're creating and services that you're looking to grow.
DO: Test Your Emails
Despite all the recommendations out there for effective email marketing, you won't know what works for your unique audience unless you track and test. Continually test email campaigns to see how your audience responds. Test your email subject lines, preheader text, images, calls-to-action, and copy.
Keep diligent records comparing different approaches and the open and click-through rate of each. Then analyze the trends in order to make informed decisions about your email marketing strategy.
DON'T: Forget to Segment Your List for Easy Testing
Since you may want to test how different audiences respond to different types of content, make sure you segment your list to ensure you send the most relevant content to each audience. For instance, you may choose to segment by industry, location or level of interest already shown.
While email marketing may force marketers to walk a few fine lines, it can also play a significant role in lead conversion. By embracing these do's and don'ts of email marketing, your firm will begin to see better results for your efforts.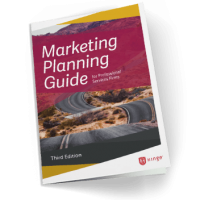 Marketing Planning Guide - Third Edition
The Marketing Planning Guide for Professional Services Firms
Download Now