For technology services and software firms, automation tools and the inclusion of AI into products and platforms makes this a time of tremendous opportunity–in an environment that is increasingly complex and challenging. As firms combat hypercompetitive, disrupted, and uncertain environments, effective IT marketing is non-negotiable if any kind of growth or evolution is on the aspiration table.
With so many channels, so many techniques, and so many opinions on what works and what doesn't, what's a firm to do? In a previous article, I advised that in order to achieve not only growth, but profitable growth—today's IT marketing strategy should be less about one or two high-performing techniques and instead about a system of high-performing techniques. Our research shows that technology and software firms exhibiting high growth and high profitability deliver this systemized approach to marketing at a higher and more mature level than their no-growth peers. They run their marketing like a well-oiled machine, built around a system of integrated parts that work in concert to generate robust growth and profitability in almost any environment. In this article, I'll offer a detailed roadmap for building such a system.
IT Marketing Defined
The first step is to be clear about what we mean by "IT marketing".
IT Marketing is the process of understanding your marketplace and competitors, defining your firm's market positioning, pricing and services, promoting your firm to your target audience and explaining how they might benefit by working with you. Put another way, marketing is about offering the right services with the right benefits to the right prospects.
What about the role of marketing at high-growth organizations? At different firms, marketing means different things — from a low-level support function charged with basic implementation responsibilities to a comprehensive team of specialists who deliver the full spectrum of strategic and operational skills. Our research shows that high-growth technology services and software firms consider the marketing function to be more comprehensive as compared to their no-growth peers. Most notably, the marketing departments of high-growth technology and software firms are 44% more likely to be involved in implementing growth and profitability strategies and are 60% more likely to be tasked with staying on top of performance metrics as they tie to marketing campaigns.
High growth firms also appreciate that marketing expertise does not necessarily need to reside in-house. In fact, they are more likely than their no-growth counterparts to consult with outside agencies or freelancers for several core marketing services, including website improvements, SEO, and thought leadership development.
High-Growth Marketing Strategies Assume a Highly Competitive Environment and An Ongoing Talent Shortage
Which challenges are most pressing for high-growth technology services and software firms, and which initiatives are they prioritizing in order to get ahead? Our annual High Growth Study tracks these trends — and identifies the evolving strategies and tactics favored by the high-growth firms compared to their slower-growing peers.
Consider, for example, the top five marketplace threats cited by technology services and software firms.
When compared to results from across other professional services industries, increased competition from both legacy players and newcomers is a shared perceived threat. This will only grow to be more of a challenge as more and more competitors enter the technology marketplace to vie for a limited number of buyers.
There's a major difference between technology services and other industries, however: the two-sided impact that automation and AI brings to the fore. On the one hand, these innovations help firms bring new and better offerings to market that can be delivered faster/better/cheaper than ever before. On the other, the very innovations that help propel legacy firms forward also make it easy for newcomers to enter the market, who either can or purport to match the offerings of more mature firms – thus the downward pressure on price as the marketplace crowds and feels, at least to the buyer, more commoditized.
6 Essential IT Marketing Strategies
How do technology services and software firms address these threats and build competitive advantage? Our research revealed six key strategies that can help firms win:
1. Build Digital Maturity
High Growth firms separate themselves from their no-growth peers in the maturity of their digital technology. In fact high-growth technology services and software firms are more than twice as likely to have led their organizations through a digital transformation, as show in the chart below:
In
 this year's study, we also measured five levels of digital maturity, ranging from the earliest stages where nearly all processes remain manual and use of spreadsheets is prevalent, to a highly mature stage where data is complete and consistent, processes are fully aligned with business needs, and the company has the ability to include other people, such as customers, into the process. Our findings showed that over half (55%) of no-growth firms are in one of the two earliest stages of maturity, while one in five high-growth technology and software firms has reached a stage of high digital maturity.
2. Educate Audiences Through Content Marketing
Again and again, we return to educational content – and that's because it is the engine behind your entire IT marketing strategy. In fact, the "content funnel" is key for IT services marketing, attracting relevant audiences and working to drive closer and closer engagements that qualify leads and ultimately generate new business.
Content marketing encompasses a variety of content types across a variety of channels, including your own web properties – your website, blog, and social media presences – as well as other web properties. Through media, professional partners, content syndication, and guest blogging, you can spread your expertise to a range of new audiences.
And this is the core goal of content marketing. By educating target audiences and addressing their challenges through content, you will build credibility and visibility that will ultimately lead to new business and to growth.
3. Turn Brochure Websites into High Performing Business Development Assets
In the past, many tech firms grew by word of mouth. The technology almost sold itself, so they didn't have to market much – which is why many tech firms have poor websites with poor user experiences. Websites are sometimes treated as a static brochure, with little or no way to actually engage or interact with the firm and its experts.
These days, though, particularly in the technology services industry, websites must be built to perform around engagement and conversion. For prospective clients, it is a direct indicator of a firm's credibility. Our research on referral marketing shows that an unimpressive website–one that has generic messaging, generic imagery, and generic visitor experience, is among the top reasons that buyers rule out referrals.
But a website isn't just a tool to help firms avoid getting ruled out. It serves as the primary hub for a firm's online presence, joining expert content, differentiated explanation of services, social media platforms, and more. That's why, according to our research, 80% of buyers use your website to check you out – making your website the most common source for information about your firm.
Remember, too, that websites have to perform however they are displayed, whether on a phone or a tablet or a desktop. Mobile browsing has become so important that Google is making mobile-friendliness a factor in search rankings. For these reasons, you should ensure that your site leverages responsive design to adapt to the form factor of a visitor's device.
4. Publish Original Research
High-growth firms separate their content strategies from those of their no-growth firms by publishing original research. In the opening of this article, I noted that high-growth firms build their marketing muscle through the lens of a system of interconnected parts rather than relying on a limited number of disparate techniques. Publishing original research takes this theme to the next level. Not only can research help marketing, business development, and senior management teams develop more informed planning and strategies, it can also be used as premium content to generate more visibility, trust, engagement, and leads. Research can be used in its entirety or in pieces (charts, findings, insights, quotes) throughout your sales & marketing funnel. It works well as content for social media, events, videos, articles/blogs, speaking engagements, webinars, guides, demos, and consultations.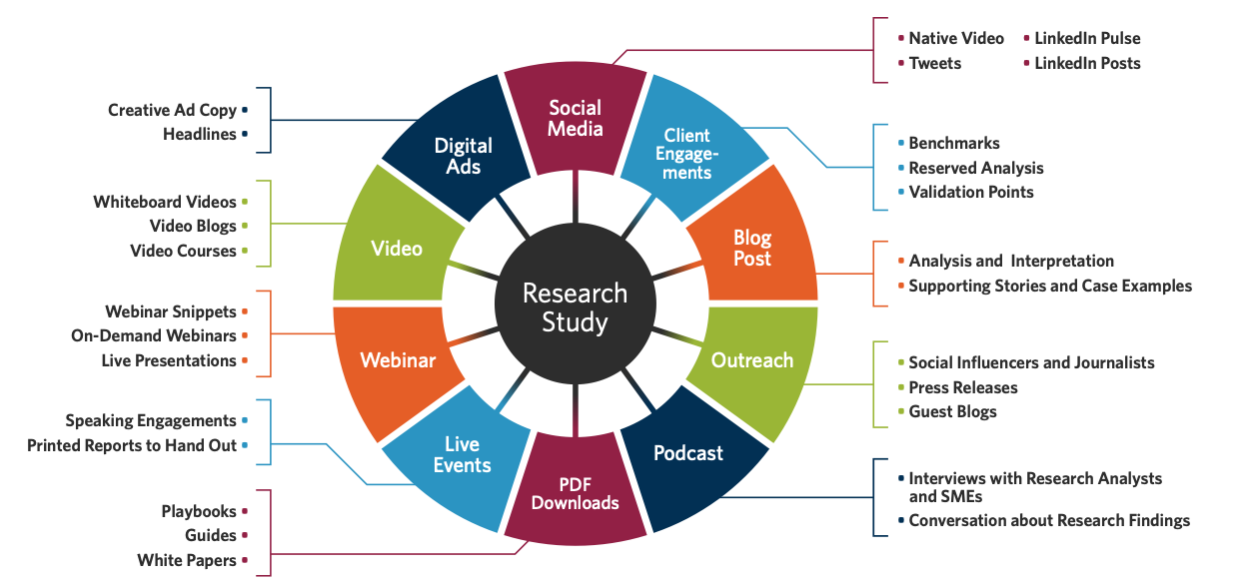 5. Build a Differentiated Brand
Our past research has shown that high-growth firms are almost three times more likely to have a strong differentiator. There is good reason that high-growth technology services and software firms prioritize differentiation as a top strategy: in addition to setting firms apart from their competition, a robust brand differentiation strategy allows firms to be more targeted in their marketing efforts, speaking directly to the most relevant audiences. Worse, if you don't have a strong differentiator, the only option left is to compete on price – and that's a race to the bottom. Put simply, your brand's differentiators are among your most important assets. They facilitate your relationship with buyers and influencers and they ultimately drive your reputation and pace of growth.
6. Prioritize Search Engine Optimization (SEO)
Like the technology services and software marketplace as a whole, SEO is constantly evolving – and it's crucial to keep up. Yesterday's best practices can become today's cause for penalty. But in a hypercompetitive environment where visibility is critical, effective use of SEO is mandatory.
What do firms need to know about SEO? The key is this: "on-site" SEO (in a nutshell) increases your site's relevance through strategic use of targeted keyword phrases associated with your services and expertise, in combination with a strong technical SEO foundation on your website.
"Off-site" SEO increases your site's perceived authority through earned links, social media, brand mentions, and external thought leadership pieces like guest articles. For a more detailed plan of action, we've developed an SEO strategy for B2B firms.
Conclusion
There is a lesson to be learned from the firms that are thriving in this still uncertain environment—firms that are not only growing at a rapid clip, but are highly profitable, too. That lesson? Think of your marketing and business development strategies—and the people, processes, and programs that support them—as a system of interconnected parts. A system that runs like a well-oiled machine, using data and analysis to eliminate guesswork, automation to create efficiencies, and sophisticated content marketing tools and techniques to build visibility and deliver a steady stream of high-quality leads. This is the lesson of the High Growth firms.