There are numerous benefits to guest blogging. Hinge's research found that blogging is one of the most effective online marketing tools, right up there with SEO and web analytics. In fact, when done properly guest blogging is one of the most effective ways to reach new audiences, strengthen your reputation and build a critical collection of backlinks to your website.
With the proliferation of blogs and online publications, you'd think that securing a business guest post would be easy. But it's not. Guest blogging has never been more popular, and publications have limited staff to field all of the article requests that come their way.
Today, I'm going to share a strategy to cut through the noise and build a reliable guest blogging program. Starting a guest blogging program requires a time commitment and diligence before you even begin writing your first article. And while the time involved may seem daunting at first, the payoff is worth it.
FREE Download: "Content Marketing Guide"
Here are some tips to help you overcome the initial hurdles and lay the foundation for a successful, ongoing business guest post program.
Develop a Plan
When starting a business guest post outreach program, you'll need a plan for ongoing outreach and follow-up. If you are going to manage this process on your own, be sure to put time and reminders on your calendar from the get-go so your outreach and follow-up doesn't fall through the cracks. If you have an employee who can manage the process, check in at regularly scheduled intervals to ensure steady progress.
At Hinge, we use BuzzStream to manage our media outreach across internal teams. This cloud-based program gives teams access to all the historical information about a publication that their co-workers have uncovered. This provides internal efficiencies and allows for seamless communications.
If you are starting a new program for yourself or just a few individuals, a spreadsheet will work just fine, too. Create columns for publication name, contact name and title, contact email and phone, status, published URL and any notes. If you are pursuing publications across different industries, organize your data for each one. The status section is key, as that's one of the best ways to track your program and make sure that you don't let too much time elapse between communications with each publication.
Select Your Publications
After creating your spreadsheet, you'll need to make a list of the top online publications your clients and prospects read, and then identify the five you'd most like to be published in. There are several ways to create this list. Include publications that you currently read, ask colleagues and clients what they read, and do an online search of publications within an industry. For many industries, you should be able to find a list of "top blogs" or "leading publications." These are a goldmine if you can find them.
Review the types of articles these sites publish — are they the type of articles you plan to write? For instance, some industries, such as manufacturing, have a plethora of publications that focus on news and case studies. If you are planning to write evergreen articles on process improvement in the manufacturing industry, these publications are probably not worth pursuing. Research the remaining publications on your list until you find a few that publish the type of content you want to write.
Find the Editor
Once you've identified your target publications, you need to identify the appropriate contact person (usually the editor) at each one. Some publications will have a "write for us" link, which will either provide an email address or an online form. Obviously, if you can get an email address, that's all you need. If your only option is to complete an online form, you'll have more work to do.
When completing the form, be brief and ask for the editor or the person in charge of guest articles. Often, these online form requests do not elicit a response, so set a reminder to follow up in a couple days if you do not hear back. You may need to search the site for email addresses of other staff members to contact. Sometimes the first person you contact will forward your email to the appropriate person, but sometimes you'll need to contact a few people before you get to the right person. If that approach doesn't work, LinkedIn may help you find people who work at the publication. The trick is to find an actual person (or persons) whom you can email — someone who will put you in touch with the right person. It can take weeks of follow up before this happens, so be prepared.
Communicate with the Editor
When you reach out to the editor, your goal is to make it easy for her to approve your article. Briefly explain who you are and describe your expertise. If possible, include links to other articles you've written. Editors want to see that you can write well and have an interesting point of view. Then provide 2-3 proposed titles that would complement the sorts of articles that run in that publication. Keep in mind that if they just ran an article on, for instance, cloud computing, you should suggest a different topic — doing your research can make all the difference. Finally, provide a few bullets that outline the key points of your proposed article. Keep it short but engaging.
If the editor isn't interested in your topics, be prepared to respond right away. I have found that responding immediately is the most effective way to keep your opportunity alive. Propose a couple of new titles — and ask if there are any specific topics she would like you to cover. The key to success here is responsiveness. If you let even a few hours pass, your window is likely closed for good.
Write the Guest Post
Once your business guest post has been accepted, you enter the relationship-building stage. You want to demonstrate that you are someone the editor will want to continue working with. Ask for the editorial guidelines and deadline up front. Then follow the guidelines to a tee and, most importantly, meet that deadline. If you are easy to work with, reliable and produce quality content, you should have little trouble establishing an ongoing relationship.
FREE Download: "Content Marketing Guide"
What's next? After your article has been published, read the publication on a regular basis to develop a solid understanding of their editorial preferences and point of view. Then start brainstorming new topics. After a few weeks, contact the editor with your ideas and begin the process again. Maintain contact at regular intervals to build a relationship and stay top of mind.
As you can see, developing a successful, sustainable business guest post program is 20% process and 80% perseverance. Of course, you've got to have pretty good writing chops, too — or at least a good personal editor who can turn your stuff into easy-to-read, grammatical prose. So now that you know the secret, get out there and make your expertise more visible!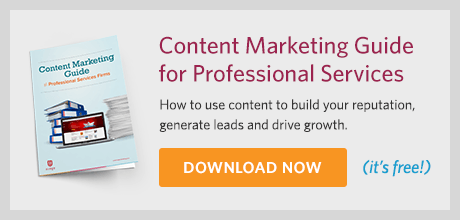 How Hinge Can Help
Hinge has developed a comprehensive plan, The Visible Firm®  to address these issues and more. It is the leading marketing program for delivering greater visibility, growth, and profits. This customized program will identify the most practical offline and online marketing tools your firm will need to gain new clients and reach new heights.