Today, the AEC industry is a tumultuous place.
As firms work to recover from the economic rollercoaster of the last decade, many must grapple with a more competitive marketplace, slower growth, and the industry-wide commoditization of their services. Still other firms have merged to create new brands that require thoughtful management.
In short, AEC marketing is a whole new ballgame, and there are important new rules that firms need to understand if they want to succeed.
What are the new rules? Why are they so important? And how can firms go above and beyond to succeed in this new marketplace? Let's dive right in.
1. Remember that your website is more important than ever.
Your website is among your firm's most important assets. It's more than your public face or online presence – it is, at its most effective, a machine for attracting, nurturing, and qualifying new business. Your website is visitors' number one source for information about you. It's where they come to understand and engage with your expertise, and it's where many of them will reach out to you and ultimately become clients.
Your website also demonstrates to clients and other industry audiences what league you're in, establishing your credibility. It is particularly important for AEC firms to showcase their actual work on a polished, professional website. Using stock imagery on a template website is the swiftest way to look like amateurs.
Make no mistake, however – your website is as much an opportunity as a necessity. When crafted correctly, it will give your audiences a view into your firm's culture and demonstrate the depth of key individuals' experience. Your website is one of your best chances to explain who you are, what you do, and why it matters to clients – in a nutshell, your differentiators.
2. Clearly identify your differentiators.
Most firms have heard that they should differentiate themselves. But in today's AEC landscape, you must identify your differentiators to succeed. Just as importantly, they have to be real differentiators.
What makes a real differentiator? It must meet three criteria. It has to be:
True
Relevant to your audiences
Provable
What this means in practice is that you must identify – or decide upon – demonstrably true qualities that genuinely matter to your target audience. For example, consider Howard Stein Hudson in Boston, MA. When we started working with them, their differentiators sounded much like any other engineering firm. Today, they've positioned themselves as "The keystone of complex projects," as related to complex transportation engineering projects.
Lots of firms say that they have "great customer service" or "the best people," but the fact is that these qualities are typically too vague to prove and not necessarily relevant to clients in the first place. Plus, so many firms make these claims that they don't do much work to set you apart.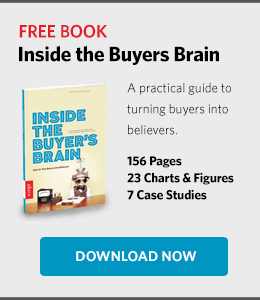 Instead, conduct marketplace research to understand what matters to your clients and if there are untapped opportunities in your marketplace. Is there a novel business model you can offer or an underserved area of specialization? These are demonstrable and potentially relevant qualities that can truly differentiate you from your competitors – and today, such differentiators are necessary.
3. Prospects want to be able to find you on their terms.
Here's a little secret for AEC firms trying to succeed in the digital age: Google can help you nurture prospects online, but only if you help yourself.
By "helping yourself," I mean taking the time to ensure that your website is search engine optimized. In order to help your audiences find your content, you must include keyword phrases that matter to them, relating both to their challenges and your expertise.
Identify the most opportune phrases through keyword research, and then sprinkle these phrases organically throughout the copy on your website and the content on your blog. Ideally, you should be able to select phrases that you can use organically both on your website and in social media. The more specific you are with your keyword targeting, the better.
Zero in on your target audience and speak directly to them. And always remember – keyword targeting is about connecting with readers, not speaking to algorithms. Make sure all of your writing is clear and accessible.
4. Social media is mandatory for AEC.
The days when you could ignore social media are over. Today, research shows that it's one of the most popular ways buyers check out your firm, with almost 60% of firms checking you out on social media before buying.
Figure 1. How AEC Buyers Check You Out
For the greatest impact, focus primarily on LinkedIn and Twitter. LinkedIn is the powerhouse among social media platforms for AEC, playing host to countless conversations between industry leaders every day. Twitter is an excellent space to share real-time updates, new educational content, and insights into your culture.
Having a presence on these platforms isn't enough – for real results, you need to engage with your audience and the larger industry community. Join LinkedIn Groups to showcase your thought leadership. By engaging in conversations about today's top issues, you can show how you approach challenges – and how to solve clients' problems. 
SEE ALSO: Top Trends in AEC Marketing for 2015
5. Buyers expect transparency.
With a wealth of information so readily available online, it's impossible to hide details about your firm or work that you would rather not come to light. Plus, people are no longer afraid to call you out on social media for a job not-so-well-done.
In this environment of seemingly endless data, potential clients expect to be able to learn everything they need to know about you. The best thing you can do is to meet that expectation. Be honest and authentic. Don't exaggerate your experience, and don't add fluff to your message to seem more impressive.
Instead, showcase how you've solved problems through blog posts and how you've helped clients through case studies. Let prospects see and learn more about the teams that make up your firm. The more information you share with buyers, the more reason they will have to seek you out and trust you.
6. Free education is the best way to build trust.
The idea of trust leads us straight to our next rule. If you're still thinking of blogging as a fad, you're years behind the curve. The fact is that blogging may be the way a prospective buyer first finds you today. More importantly, it's one of the most crucial ways your audiences come to trust your brand. By reading your educational content, coming to know you, and coming to understand how you solve problems, readers may not only become clients themselves but may become a reliable referral source for years to come.
For this reason, don't be afraid to give away the "secret sauce." It can seem counterintuitive to some, but you can never give away too much – and all this free education helps build credibility with prospects. Buyers aren't looking for a secretive firm. They're looking for a transparent one that they can trust.
7.  Visible Experts℠  will grow your firm.
Our research shows that high-visibility professionals help your firm grow faster and be more profitable. For this reason, you should try to cultivate Visible Experts both through hiring and ongoing education.
When you develop these figures, they have a sort of "Halo Effect" on the firm as a whole. It's not just them that shines – instead, they help boost the reputation and credibility of the entire firm. They even raise the rates that your firm can command.
Figure 2. Hourly Rates Buyers Will Pay for Visible Experts by Level of Visibility
Every time Visible Experts give a keynote address or publish an article, your firm benefits. And as your firm's star rises, it helps carry the expert's reputation forward. It's a mutually beneficial cycle.
There's no doubt about it – the rules have changed. But for AEC firms that pay attention and work to stay ahead of the curve, there are wide-open opportunities to succeed and grow.
Additional Resources